3 Great Ideas for Valentine's Day
February 9, 2016
|
2 min to read
Sook San Wan Valentine! Glad alla hjärtans dag! Happy Valentines day!
This coming February 14, couples will exchange gifts, children will exchange cards, and consumers will spend upwards 19 billion dollars celebrating.
Here's how three WPN stores are taking advantage:
1. Two-Headed Giant Events
Something of a no-brainer. Oath of the Gatewatch pairs well with Two-Headed Giant and Two-Headed Giant (2HG) pairs well with Valentine's Day. All three stores featured in this article run 2HG events, each with their own twist.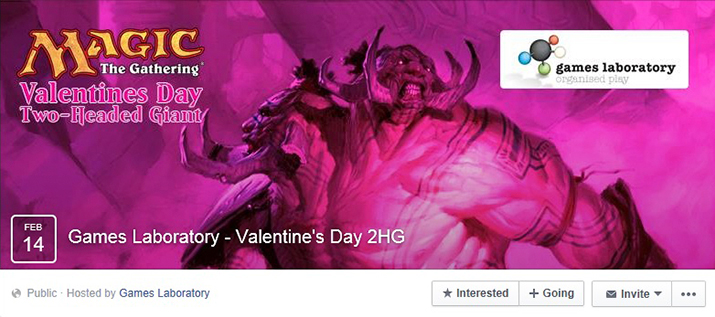 At Games Laboratory in Australia, the twist is the format. Couples pick their eight boosters randomly and build decks from sets going back to Theros.
Games Laboratory
Location: Melbourne, Australia, pop. 4 million
WPN level: Advanced Plus
Joined the WPN: 2011
Everyone's invited, of course (not just couples).
Guide your players through 2HG with the Quick Start Guide on our Marketing Materials page. It's under "Event Accessories."
2. Digital Valentine's Day Cards
Gryphon Games adds some romance to the prize pool at their 2HG Valentine's event: the winning couple earns a gift certificate to the restaurant of their choice.
They even take the theme a step further with a series of video Valentine's Day cards on their website.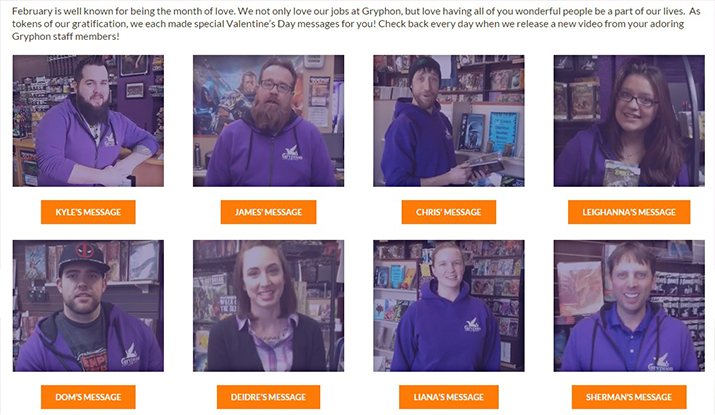 "We not only love our jobs at Gryphon, but love having all of you wonderful people be a part of our lives"
—View the messages
here
.
Some messages are cheeky, some messages are sincere, but each one is an easy, novel way to show some love to their customers.
Gryphon Games and Comics
Location: Fort Collins, Colorodo, pop. 150,000
WPN level: Advanced Plus
Years in Business: 10+
3. Valentine's Day Care Packages
April Olsen at Rocket's Hideout puts together "Starter Kits" designed for players with "a partner or friend who may be on a different competitive level."
Rocket's Hideout
Location: Baton Rouge, Louisiana, pop. 230,000
WPN Level: Advanced Plus
Joined the WPN: 2008
The package includes two Boosters for Mini-master, plus lands, candy, and instructions in a Valentine's-themed deck box.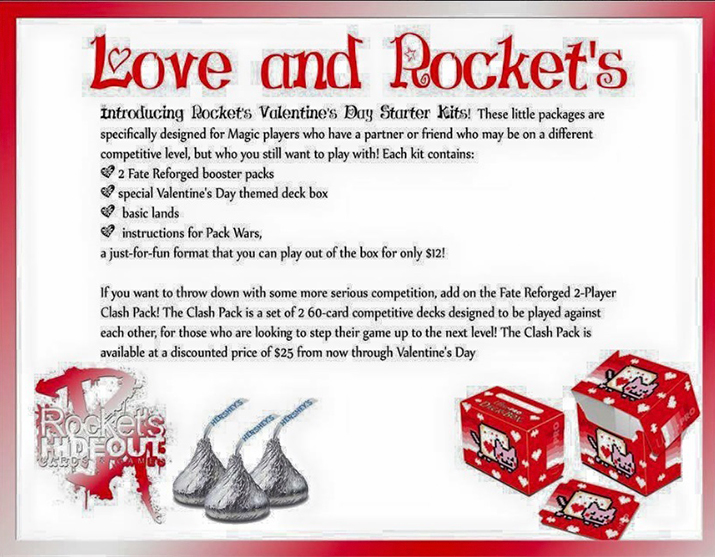 It's not too late—Valentine's Day is this Sunday. Start planning now!