3 Ideas to Boost In-Store Commander
October 31, 2016
|
2 min to read
With the release of Commander (2016) just around the corner on November 11, here's some ideas you might try to boost Commander play in-store that's worked for other WPN members.
1. Commander League
Adam of The Orc's Lair, built-up his Commander scene from scratch using league play.
Players meet every week on Wednesdays to play one match of Commander. They are split into pods of three to five players. They follow the Commander Format rules and enforce the banned cards list.
The winner of each pod gets one booster pack and the first player out gets a complimentary snack or soda.
A modest entry fee at each league event contributes to the prizes, including a new Commander (2016) deck for each player who completed all of their games at the end of the league.
Adam plans on continuing to build his player base by rebooting the league at the release of Commander (2016).
2. Casual and Competitive Pools
Brian of A Muse N Games, at the request of his players, split his Commander night into casual and competitive pools.
Rather than incentivize knocking players out and winning, the casual pool encourages unique and interesting interactions. Players get to nominate fun and exciting plays from their tables that they feel are deserving of an FNM premium promo card.
The competitive pool competes in a single-elimination tournament in pods of three to five players for the chance to win a Dual Land card in addition to an FNM premium promo card.
For a full breakdown of the rules, check out their website.
3. Pre-Constructed Star
At the release of Commander (2016), entice players to purchase the pre-constructed decks with a Star format multiplayer event that uses the new product right out of the box.
The Star format is based-off of the enemy color feature in Magic where each color has two counter colors opposite of it on the back of every Magic card. For example, Green's enemies are Blue and Black.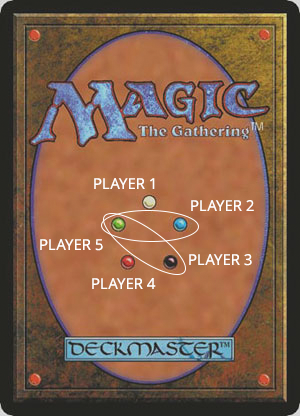 In this example, Player 5 is trying to eliminate Player 2 and Player 3. If Player 2 and Player 3 are eliminated then Player 5 wins the match, even if Player 5 is already eliminated.
To incorporate the Star format for Commander (2016), simply follow the enemy system in the original 5-player variant where the two players across from a player—not adjacent—are their "enemies" and need to be eliminated in order for that player to win the match.
Pick and choose the ideas you think will work best for your store and player community or head to the WPN Facebook group and spark-up a discussion with other retailers for more ideas!
Do it soon, though, as Commander (2016) releases November 11!