4 Things You Might be Missing on the WPN Site
January 30, 2017
|
2 min to read
This website changes every day, and not just with new articles like this one.
New marketing materials to help you advertise product, new support tools to help you avoid time on the phone—we're constantly evaluating the site's features for ways to make life easier for WPN members.
With all the updates and additions, here are four resources that may have slipped by you:

This is where you go to alert us to any changes with your store—new address, new tournament organizers, etc.
It may seem minor, but what you put in this form is what appears in our Store and Event Locator. A significant number of players use that search engine every day, so it's crucial to stay current.
Likewise, adding organizers to your store is how they get access to WER. It's important that everyone log in with their own Wizards Account, to avoid sticky accountability issues.
As you probably know, we curate a suite of official assets for each Wizards release. If you're ever creating an event page, printing off a set of table numbers, or updating your ecommerce site, this should be your first stop (and now you can see a preview before downloading).
But you may not know that we also produce evergreen tools to help streamline events, boost your outreach efforts, and more—like these D&D and Magic letters for Libraries, or this Wizards Account System walkthrough flyer.
You'll find those under the Wizards of the Coast tab.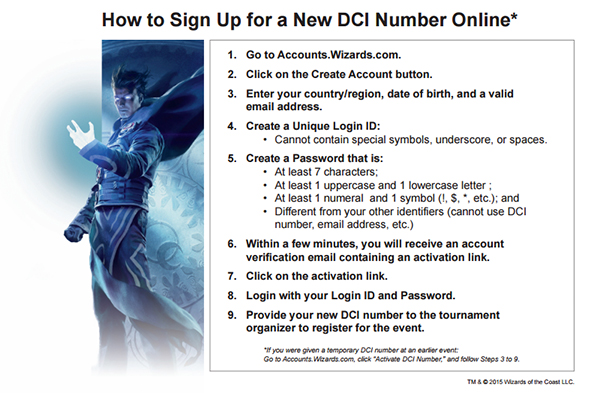 There's a lot to know about Wizards Event Reporter, and not all of it is perfectly intuitive. Next time you get stuck, save yourself a phone call and check out our FAQ page for super-short (like 5-10 seconds) how-to videos like this one.
And if you've got a question we haven't answered, let us know so that we can produce a walkthrough. Just reach out to us at…
We're honored to feature guest contributors from all around the Wizards Play Network: Some of our most popular and most illuminating content has come from folks like Alejandro Sorroza of Jr. Game or Nick Nazar of Phoenix Comics and Games.
In many cases, we first hear about their stories through our inbox: WPNStories@Wizards.com. If you're ever up to anything special, or you've got a story you'd like to tell, we want to know!