5 AKH Cards You'll See at Game Day
May 17, 2017
|
3 min to read
Standard season makes up most of a Magic set's lifecycle, and the Pro Tour sets its course. However a player chooses to enjoy Magic—be it with the deck with the highest win percentage, the lowest barrier to entry, or the quirky combo engine—the Pro Tour showcases new ways to do so.
Last week's Pro Tour Amonkhet did just that. New cards energized classic archetypes, recent bans took existing strategies from decent to dominant, oddball build-around cards proved irresistible (if less than viable).
All this augurs strong attendance as we head into Game Day and the remainder of Standard Showdown. Here are some key cards from Amonkhet that have players excited about the format:
1. Dread Wanderer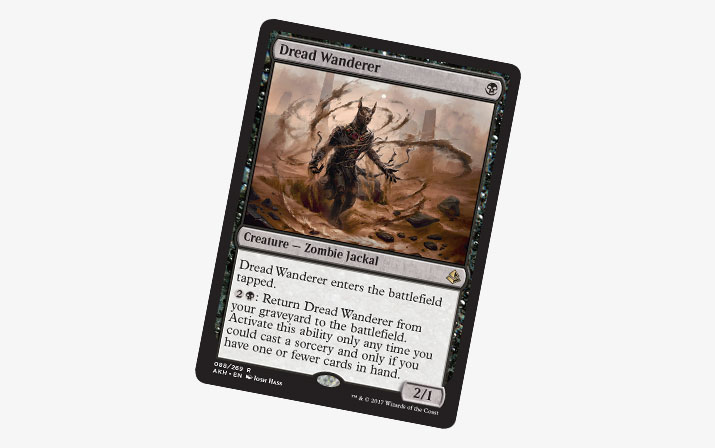 It's the most played card from Amonkhet and a crucial piece of the event's top finisher, Mono-black Zombies. The deck has a million ways to win, most often putting the opponent on defense early and eventually snowballing into a giant zombie hoard.
2. Magma Spray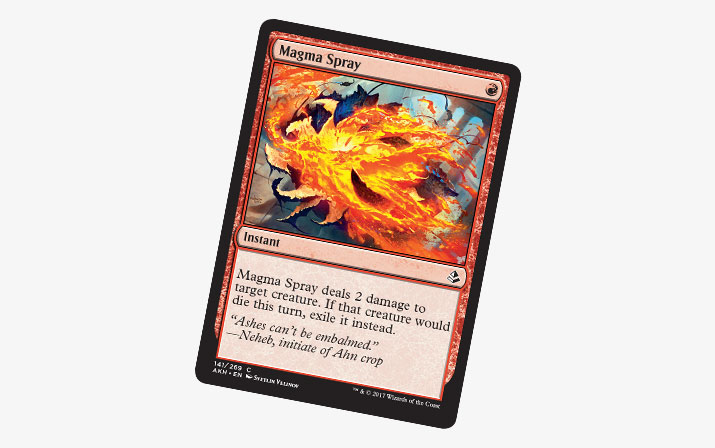 Amonkhet's second most played card will show up a lot, most notably in Temur Aetherworks, a Blue/Red/Green deck that uses Aetherworks Marvel to cast near-unbeatable creatures early in the game. The strategy's been around a while, but it exploded after Felidar Guardian was banned.
3. Glorybringer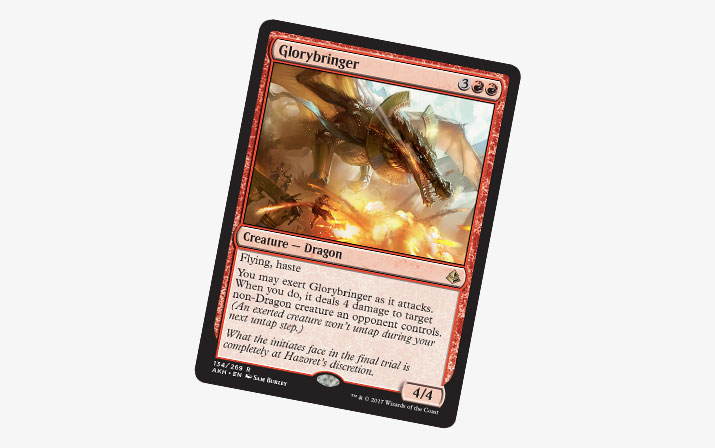 It looks tailored for aggressive decks, but it's proven a utility player in all sorts of strategies: 116 copies of Glorybringer were played on day two, spread out across not just aggro but control and midrage, too. It's an especially welcome addition to Mardu Vehicles, which dominated Pro Tour Aether Revolt and will likely remain a major force at your events.
4. New Perspectives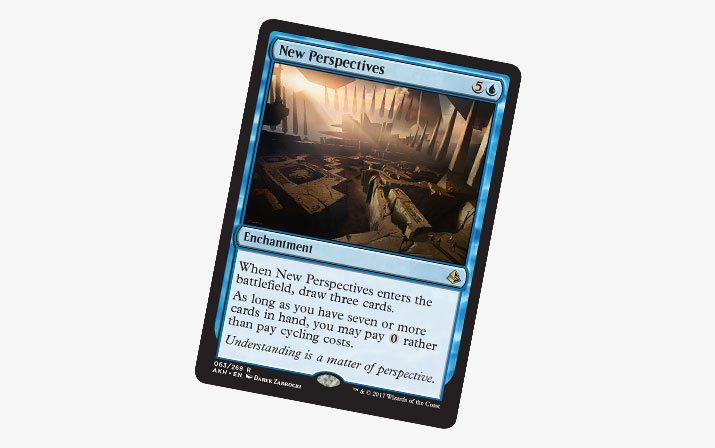 It's not a true contender, but every Standard needs a deck like this, and every store has players that can't resist them*. Basically, it's a combo deck that wins by cycling a lot and eventually casting Approach of the Second Sun twice. It doesn't always work, but it's a lot of fun when it does.
*me
5. Canyon Slough and the Cycling Lands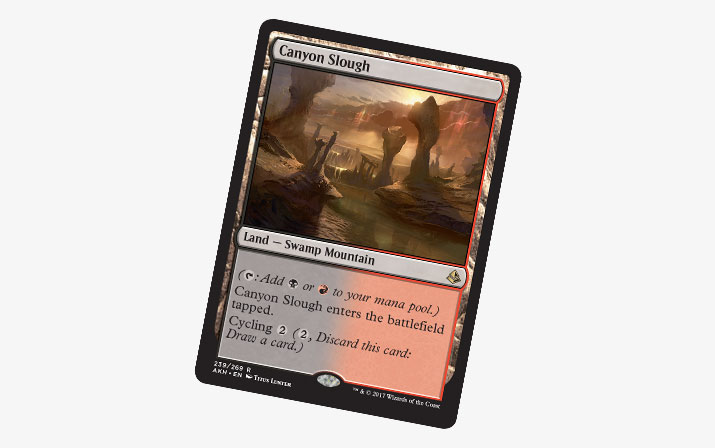 The latest dual lands (affectionately called "bicycle lands") are key to this Standard environment, not just for fixing mana but for mitigating land draws late in the game. They were predictably ubiquitous at the Pro Tour. The most common is Canyon Slough, which turns up in Mardu Vehicles and some others.
Every Magic set has its tail, and the arc of that tail will ultimately determine the set's success. If players are enjoying Standard, if they're having fun with a variety of cards, if they're entertained by the metagame and excited for your events, Amonkhet is likely to have a long tail.
So while it's not the final word, the Pro Tour is a good predictor of the health of Standard, and it's looking great so far.