5 Need-to-Know Tips for Building a Commander Community Through Events
April 4, 2022
|
3 min to read
The five crime Families in Streets of New Capenna are vying both for power over the city and for your players' loyalty. One of the best ways to pit Family loyalties against each other is through Commander events.
For Streets of New Capenna, we're maximizing your opportunities to get players engaged with Commander at your store by introducing the Commander Launch Party, kicking off April 29–May 8 to coincide with the Streets of New Capenna Launch Party.
Commander Launch Party Promo: Swiftfoot Boots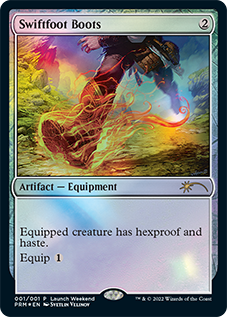 At Commander Launch Party, your players will use unmodified, preconstructed Streets of New Capenna Commander Decks to play against each other and prove once and for all which Family is the strongest.
Players can receive the Promo Swiftfoot Boots with purchases of preconstructed Commander Decks. They can receive multiple Promos if they purchase additional Commander Decks for additional games during in-store play—which is one way to encourage interested players to try out more than one Family's deck.
5 Key Tips for Commander Events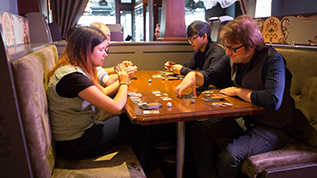 Commander is a great format for players interested in Magic: The Gathering but unsure where to start, as Commander Decks are ready to play right out of the box. The multiplayer format is also ideal for players to try out their Family-themed Commander Decks against each other.
When scheduling Commander events for your community, keep these tips in mind to make sure both your Commander Launch Party and any following Commander Nights are a success.
1. Pick a Consistent Commander Night
For stores trying to start a Commander community, a consistent night is key. Like any other format, Commander needs the right number of players in the store to succeed, and having a consistent night allows players to plan ahead.
If you host multiple Commander events each week, try making one new player friendly. Post it clearly for your players, and make sure to have a staff member help guide newer players at the event. This not only guides new players to friendly events; it also signals your other players to act accordingly.
2. Schedule Events in Advance
No matter what day you pick to host weekly Commander Nights, be sure to schedule ahead of time in Wizards EventLink. Scheduling early ensures that your store shows up in the Store & Event Locator, highlighting your store's events to players searching for Commander in their area.
In addition to scheduling, you'll want to be sure to promote your event schedule on your store's social media outlets. Use the marketing materials from our marketing materials page to help encourage sign-ups.
3. Promote Factionalized Product
Consider having your players pledge loyalty to one of the five Families of Streets of New Capenna to add a factionalized element to your events. Players may earn points for their favored Family by participating in Commander events throughout the season.
Keep a tally of total wins for each Family and consider awarding the 5 players who scored the most points for each Family with a special prize of your choice—whatever works best for your community.
Be sure to have plenty of each of the five Commander Decks on-hand to sell, keeping a couple aside to demo with interested players.
4. Focus on Casual Fun
Commander is a free-for-all format where wins and losses may have more to do with circumstance than the one who made the "best" play. One way to keep the focus on casual fun is to avoid distributing prizes based on wins and losses.
Using flat or achievement-based prizing works well, and our Commander Nights assets include a template of achievements to use at your events.
If you're interested in starting a Commander League to encourage more in-store Commander play, we recommend using Commander Nights achievements as a framework for an achievement-based league, then modifying it to meet your and your players' needs.
Remember, the line for casual and competitive is not the same for everyone. Be mindful of which players are especially competitive and consider steering newer players away from their pods at first. You may try guiding players of similar skill and experience level to play in the same pods.
5. Have a Commander Event End Procedure
Remember that Commander games typically take longer than other formats. Games can last hours—and you don't want to find yourself waiting for a game to end.
As players begin a game, be sure to declare an end time. You may also announce a 10-minute warning as you approach your end time. Be sure to allow players 5–10 minutes after your end time to wrap up.
Streets of New Capenna promises to be full of Commander event opportunities—so start scheduling in Wizards EventLink and get your community ready for a season full of casual fun!