Act Now—Get a Demo Copy of the New D&D Card Game
September 10, 2018
|
2 min to read
Note: Dungeon Mayhem Launch Events are available in the US only.
Jordan Comar and Roscoe Wetlaufer, Codesigners of Dungeon Mayhem
Greetings! Jordan Comar and Roscoe Wetlaufer here, and we want to tell you about Dungeon Mayhem—the new Dungeons & Dragons card game that we codesigned—including how you can get a demo copy to help run a launch event in your store.
Let's dive right in:
What is Dungeon Mayhem?
Dungeon Mayhem is an easy-to-learn card game, pitting the strength and cunning of a party of adventurers against one another. Two to four players choose one of four decks: Barbarian, Paladin, Rogue, or Wizard.
It's a lighthearted free-for-all where players can cast spells on one another, call upon their allies for help, string together combos, or use mighty powers to abruptly change the course of the game. Players have split the party and now it's an all-out brawl!
Games are fast—five to ten minutes. It's the perfect game for bringing new fans into the world of Dungeons & Dragons.
The game can be a quick pallet-cleanser between marathon D&D sessions or make for a full night of gaming as match after match escalates. Novice players can learn how to play in under five minutes. It's the perfect fit for groups of any age and any gaming level.
Schedule Now—Get a Demo Copy AND a Marketing Kit
Scheduling Dungeon Mayhem in Wizards Event Reporter takes thirty seconds at most. Put a pin in this article, launch WER, schedule your event, and come back.
Done?
Great! You've got a demo copy and marketing kit with giveaways for your players. Now let's talk about how to run your launch event.
How do I demo Dungeon Mayhem?
To play Dungeon Mayhem is to love it! That's why we're set on sending you a demo copy.
Here's how to play:
Players take turns, going clockwise. Each turn, the player draws a card and plays a card. Players begin the game with ten hit points, and when those run out, they're out of the game.
Your demos can be full rounds of Dungeon Mayhem, or quick premade scenarios. If you've got a line, consider starting all the players at five hit points.
It's time to meet Mayhem's characters. This is Sutha the Skullcrusher (barbarian), Azzan the Mystic (wizard), Lia the Radiant (paladin), and Oriax the Clever (rogue).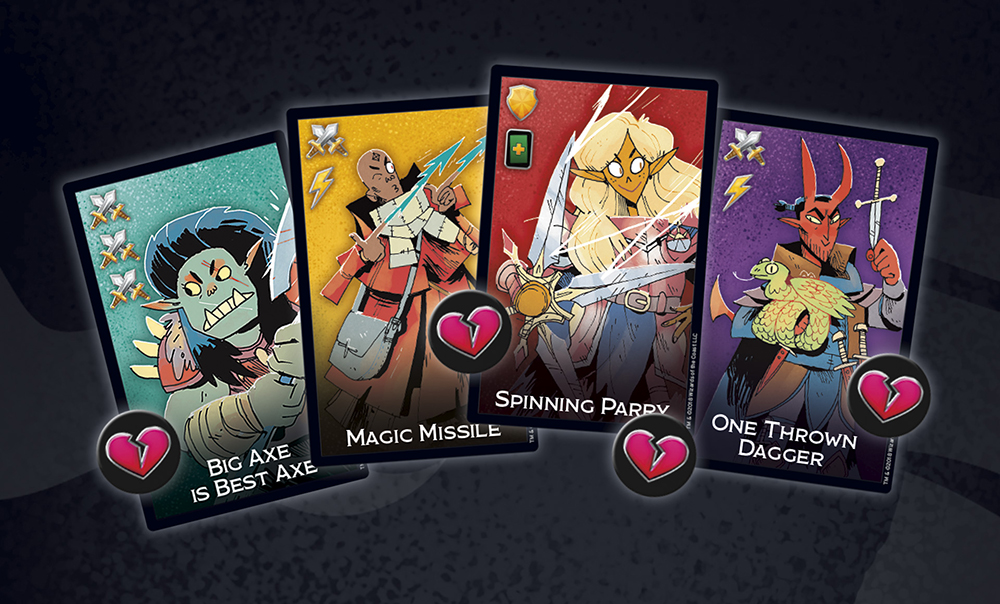 There's no way you're ready for this much mayhem!
The game releases November 16. It's the perfect party game, leveraging the world-renowned Dungeons & Dragons brand. Schedule Dungeon Mayhem in Wizards Event Reporter to secure your demo copy and marketing kit today!