All About The New FNM Promos
September 28, 2017
|
2 min to read
Friday Night Magic is the heartbeat of the game, bringing recursive traffic into your store week after week. Ixalan brought a change to FNM aimed at advancing that goal by giving players multiple promo card options within the same month.
The full season's worth of promos shipped together, in quantities determined by your store level and the number of weeks you scheduled. Naturally there have been questions about how to distribute them.
It's pretty simple:
You decide how to hand them out each week.
Give out promos equal to the number you received for that week (Core: 4 per week; Advanced: 8 per week; Advanced Plus: 16 per week). Which promos to give out and why is all up to you. Best practice here is to simply let player preferences guide you.
Ixalan Friday Night Magic runs fourteen weeks, from October 6 to January 12. Be careful to ration them out for the whole season.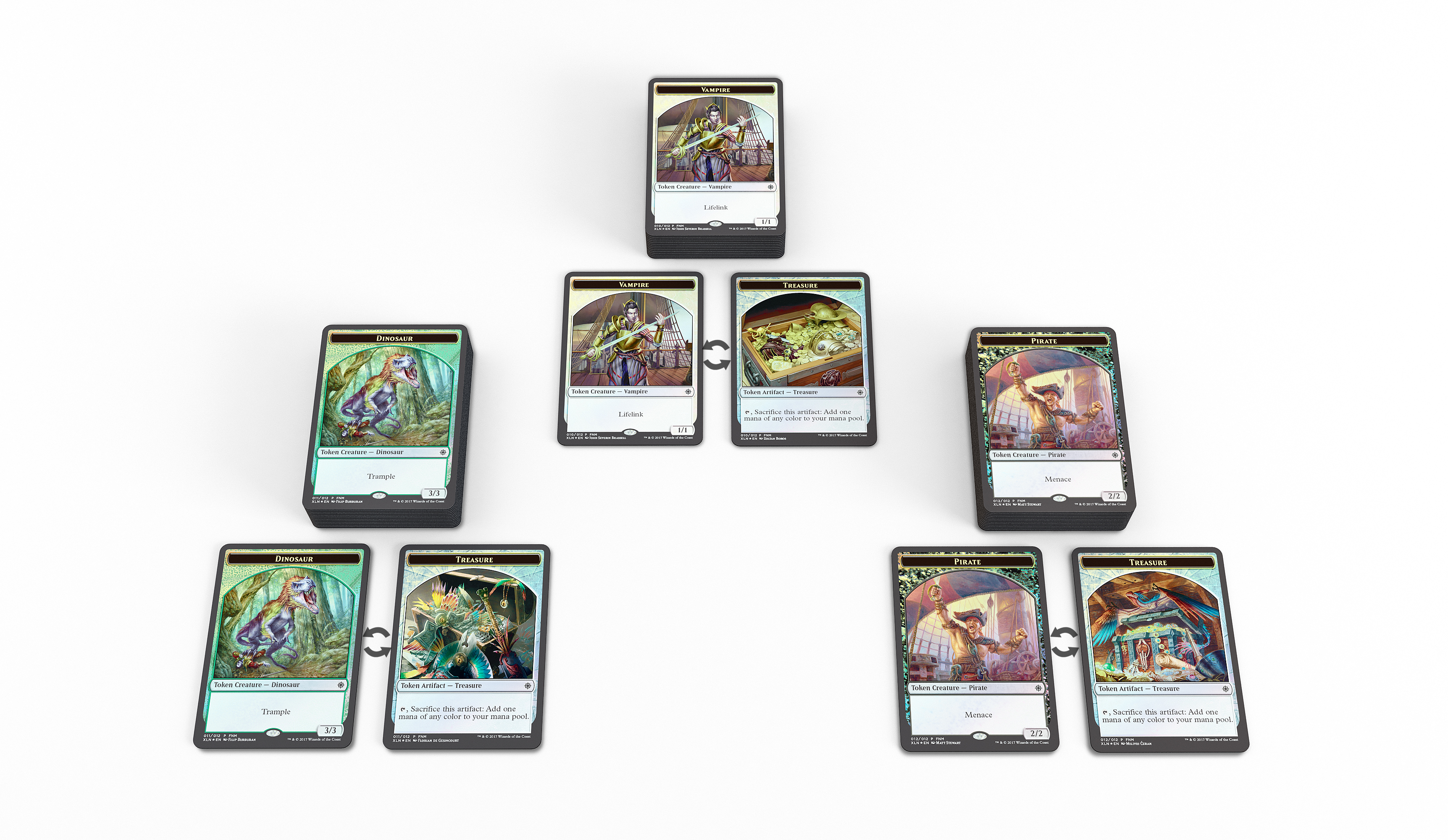 Ixalan's FNM promos are double-sided tokens: a 3/3 dinosaur with trample, a 1/1 vampire with lifelink, and a 2/2 pirate with menace. Each is backed by treasure token, and each has unique art.
Just like before, you decide how players can earn their promo. A good paradigm is to save a certain number to reward top performers, plus some to reward what's good for your store: trying FNM for the first time, bringing new players to the community, and turning out regularly.
We recommend guaranteeing a promo to these player groups:
1. League players
For newer players, League is a rehearsal for FNM. It's meant as an introduction to the habit of in-store play, and a guaranteed FNM promo makes a solid incentive to take that next step.
2. Players who bring a friend
Just like most players learn Magic from someone they know, most players join their first event on the suggestion of a friend. Both the existing player and the new player deserve a promo for helping to grow the community.
3. Players who come every week
A big part of FNM's is its dependability—every week, players know they can count on FNM for friends, fun, and battles. Reward players who turn out consistently.
Ixalan FNM starts soon—get your FNM promo plan together before October 6.