Are You Doing This for Draft Weekend?
April 24, 2017
|
2 min to read
With Amonkhet Draft Weekend beginning this Saturday, here are some details you might have missed that could help keep the events running all weekend long:
Run as Many Drafts as You Like
Draft Weekend celebrates the release of a new Magic set with a weekend dedicated solely to Booster Draft events.
You can run and report as many draft events as you want over the weekend!
We recommend running drafts on demand. As players come into your store for draft, start your events as soon as your players are ready.
You Don't Need Exactly 8 Players
A good target number for a draft pod is eight players but it is not necessary to have exactly eight.
You can run a draft event with as few as two players—a "Winston Draft" is a fantastic two-player draft format that uses six booster packs. Just schedule and run it as a "Magic Casual Event."
For larger groups (twelve or more players), avoid placing all players in one pod and instead split the group into multiple pods. This will ensure the strategy of "wheeling/tabling a card" remains in the drafting experience.
You Don't Have to Run Tournaments
Eight is the ideal number for a perfect three-round tournament, but you don't have to run all your drafts as tournaments.
You can also run an open-play draft event where players choose who they play without any structured rounds or pairings. (This is how we run our Employee Draft Weekend event at Wizards of the Coast!)
Draft Weekend at Wizards
Each participant gets a match card to record their number of matches played.
Prizing is purely based on the number of matches played with a cap at three or four matches. But every participant receives the Draft Weekend promo card.
Just select "Magic Casual Event," choose Booster Draft for the format, and check the player list only box.
You can find printable casual match slips under "Event Accessories" on the marketing materials page.
Help Boost Retention with the Trials Activity Card
In their Prerelease Packs, players will receive a trials checklist card that lists five challenges. The Trial of Zeal requires players to attend a Booster Draft event.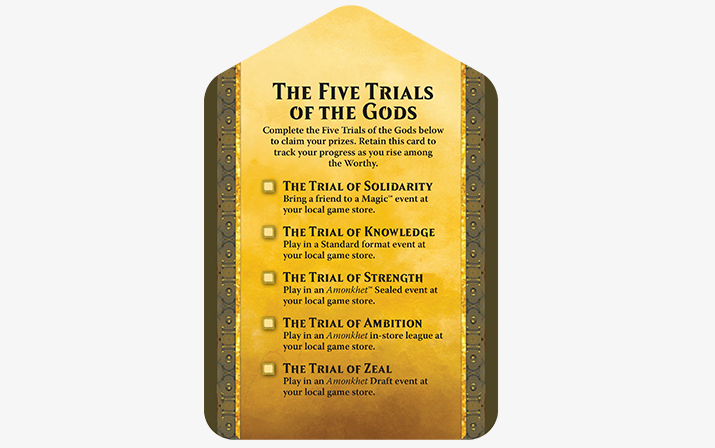 Hand out one lazotep four-sided die—found in your Amonkhet event kit—to each player that presents their activity card to you and then mark off the challenge.
Then lead players back for more play by encouraging them to join your in-store league, bring a friend to an upcoming event, or play in your next Standard event to earn another lazotep die while supplies last.
If players didn't attend Prerelease, or didn't bring their Trials card, you can download and print more from the marketing materials page.
Advertise Your Drafts
Especially if you're planning to run casual drafts on demand, be sure to let your community know all the options you'll be providing and the rewards for those who participate!
Cater to all your players this weekend by trying a variety of casual and tournament-based Booster Draft events!
By Jordan Comar