The Benefits of Coordinating Your Area PPTQs
February 11, 2015
|
2 min to read
A player can't be in two Preliminary PTQs at once.
That's why organizers from Cincinnati to Portland are making community-sourced PPTQ calendars to create bigger events and better experiences for players.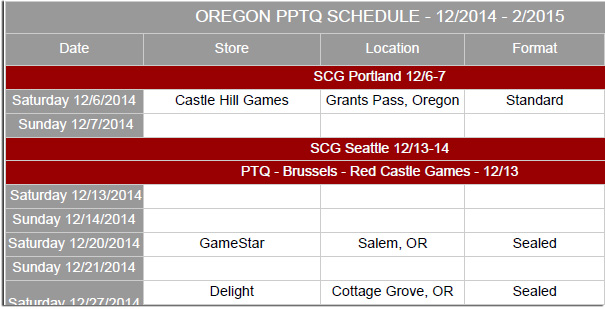 A spreadsheet listing Oregon area PPTQs, including date, venue, and format.
How They're Doing It
Minh Vu is the only Level 2 judge in Cincinnati. So when PPTQs were announced last November, Minh suspected his profile was about to improve.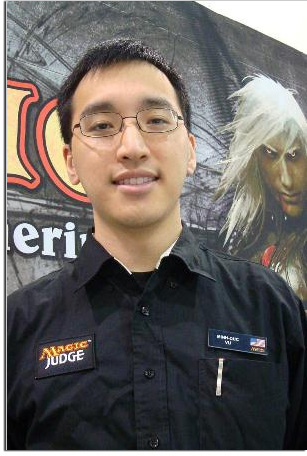 But he was already a familiar face. When he made L2, Minh visited every area store (call it "pulling a Yokota") to introduce himself.
Toward the end of 2014, he used that familiarity to contact Advanced level stores, discuss their new Premier Play opportunities, and compile a Google Spreadsheet of local PPTQs.
"It's about building the community," Minh says. When retailers cooperate, players get more options and more opportunities—and stores get bigger events.
Challenge: Minh Vu struggled with getting the comprehensive schedule in front of players.
Solution: Make the schedule highly visible
Fold it into your announcements, publish it online, or post a copy in the store.
Why It Helps
Charles Webber, L1 and owner of Oregon Trail Games, agrees: "Having four events all on the same day, in the same format, and all within driving distance from each other will lessen the number of players at each event."
Charles worked with fellow retailers to keep schedules in accord, ultimately producing a spreadsheet almost exactly like Minh's. He and judge comrade Brandon Welch keep players abreast via Facebook group Portland Magic Players.
Charles says the list illuminated the PPTQ landscape as a whole: "Having it all in one place made things very glaring, such as the lack of Modern format events." So GameStar changed their PPTQ to Modern.
"Gamestar PPTQ 1/11 changed from Sealed to Modern." The attachment is a .PDF of the schedule.
What You Can Do
Minh Vu's advice: "Talk to each other."
Charles Webber's: "Talk to each other!"
Aligning with other stores is in your best interests, the best interests of your players, and the best interests of your judge community.
So reach out to area stores and coordinate!