Drafting New Players
June 6, 2016
|
2 min to read
Josh Petrik of Dungeon Games recognized a pattern among a few of his customers whenever a new set was released.
They'd come into the store to purchase some booster displays and Intro Packs then immediately leave to play at home.
Determined to transform these infrequent customers into regular players, Josh came up with a simple plan, and it's been drawing these kinds of players back to his store ever since.
The Pitch
If you buy a box, I'll show you how to draft. You can invite your friends and we'll give you one of our game rooms to play in.
The personalized experience piques the interest of his infrequent players by adding extra value to their purchase.
The Payoff
He tries to schedule these unique events at the same time as their regularly scheduled Magic events.
Nine times out of ten, other players will walk by and ask, 'Oh, hey! What are you guys doing?' and they start a dialogue [with the draft group].
It's a natural, non-intimidating way to introduce infrequent players to the store's Magic community. "As soon as they start engaging with other players," Josh explains, "they feel like they're starting to make new friends and are in familiar territory."
Josh seals the deal with a final pitch to come back and play again in one of their regularly scheduled events for a chance to win additional prizes, meet new friends, and play the game in a friendly environment.
The Opportunity
Try out Josh's idea with the Eternal Masters Draft Pass!
The Eternal Masters Draft Pass is a ticket designed to encourage players to draft in your store using the booster display they preordered or purchased.
Use it as tool to convert Eternal Masters preorders into events.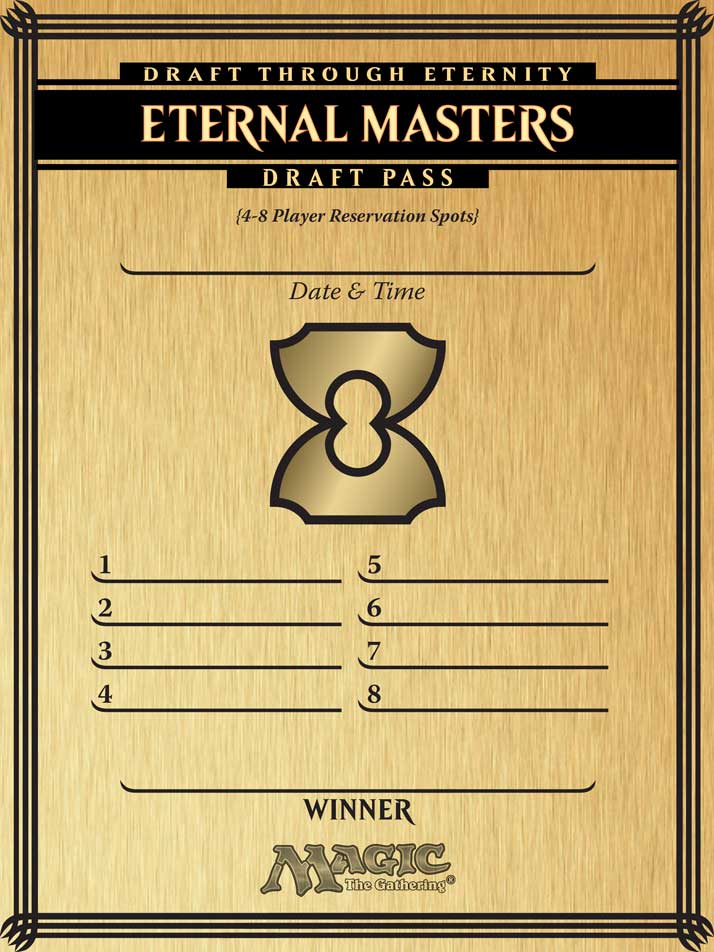 When a customer purchases a display of Eternal Masters, offer them an Eternal Masters Draft Pass to reserve a table time to draft with their group of friends.
This will keep more of the pack-opening excitement in your store instead of walking out your door.
You not only get a sale, but you also get an additional draft happening in your store. When each draft is complete, fill in the winner's name and let them keep the pass to commemorate their experience.
Note: Please keep the Organizer Code of Conduct in mind when planning events for specific groups. If an outsider asks to participate in the event, you may explain that the event was organized for that group, but anyone is welcome to join if they would like to. If you have any questions, contact Retail Support for further guidance.
Start transforming your infrequent customers into regular players today with Josh's strategy and the Eternal Masters Draft Pass!