Got A WPN-Related Question? Start Here.
May 26, 2020
|
2 min to read
Next time you've got a question for Retail Support, save yourself some hold time and try this resource first: we recently launched a new-and-improved Knowledge Base, with answers to WPN-related questions from "How do I apply for WPN Premium?" to "How do I add TOs to Eventlink?"
This resource comes straight from the experts—our Retail Support team built the Knowledge Base from the ground up, starting with the most common questions they get from WPN members every day. And they're constantly adding and revising to make sure you're getting the most up-to-date information.
Here's the short version of how to use it.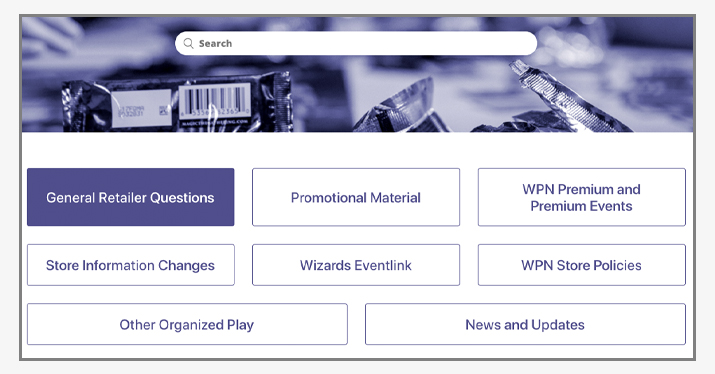 The Knowledge Base makes it simple to search for the information you need. Just click on a category and dig in. Let's say you want to know more about Wizards EventLink. Click the EventLink category and learn everything about the tool, from how to log in to how to submit feedback.

For more specific questions, you'll want to use the search feature. Type in a keyword and see what suggestions the Knowledge Base has related to your question.
If you want info on the Love Your Local Game Store Promotion, for example, you can type "love your local game store" into the search bar and find your answer alongside some other helpful information.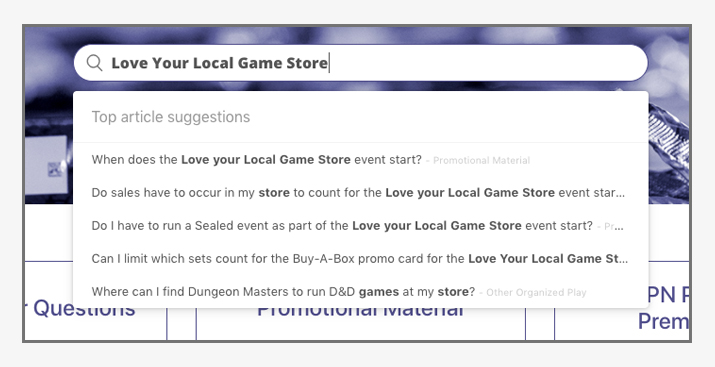 It's also simple to bookmark any important information you may need to refer to later. Click on the individual question, add that webpage to your bookmarks, and you're all set.
If you've browsed through the Knowledge Base and still have questions, just click "Submit a Request" in the upper left to quickly get in touch with your representative and find out what you need to know.
The best part about the Knowledge Base is that it isn't finished—and it won't ever be. It will continue to evolve alongside the WPN and improve the more retailers use it.
Retail Support constantly reviews the analytics, noting which categories get the most traffic, which terms are typed into the search bar most frequently, and which questions retailers ask their representatives directly. With that information, they're able to keep updating the Knowledge Base to suit the needs of the people who use it.
And we have even more features planned to make the Knowledge Base an even more valuable resource. Try it out and help us build exactly the resource hub you need.