Here's an Amazing Store Design Idea
May 25, 2016
|
3 min to read
Looking for something new to spice up your store design and set your store apart?
By empowering players to share their artistic prowess, these two stores created incredible statement pieces, using Magic cards as the building blocks.
Magic Mandala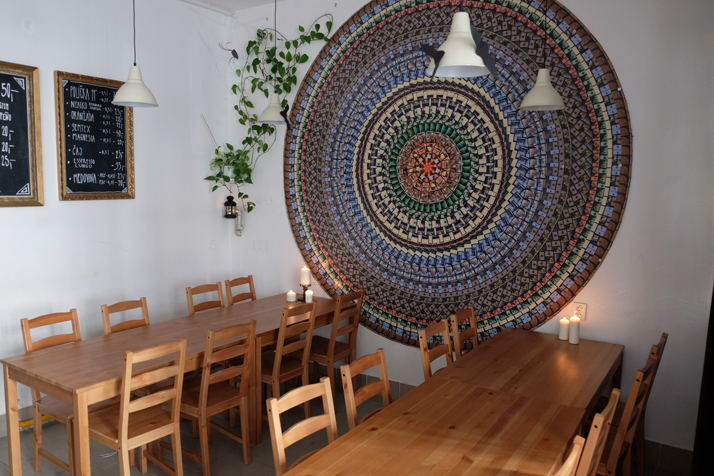 This impressive Mandala is made entirely of Magic cards and serves as a centerpiece of Rishada.cz, a store in the Czech Republic.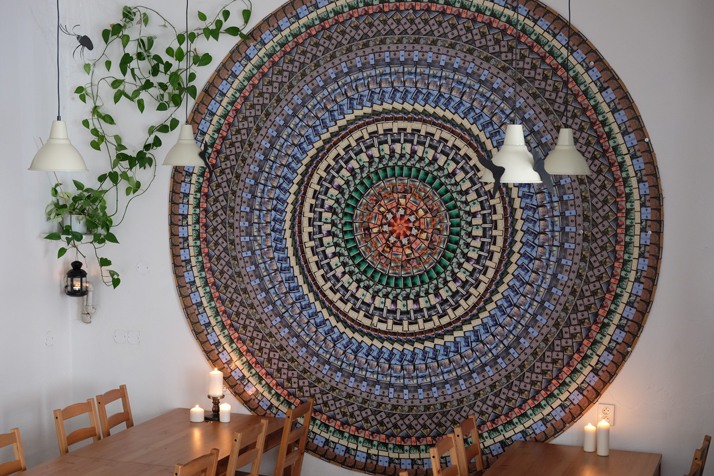 "My brother's girlfriend is an artist," explained Zdensk Sury, owner of the store. "She always wanted to make an outstanding mandala."
The mandala was made over the course of two weekends and is comprised of basic lands glued to a wood base. The artist created the mandala by drawing leading circles—everything else about the pattern was made ad hoc by hand, and sealed with a matte finish.
Store Stats
Rishada.cz
Location: Brno, Czech Republic
WPN Level: Advanced Plus
Website:Rishada.cz
Jace the Mural Sculptor
At Raven's Nest, a player at the store created a fantastic mural of Jace, the Mind Sculptor.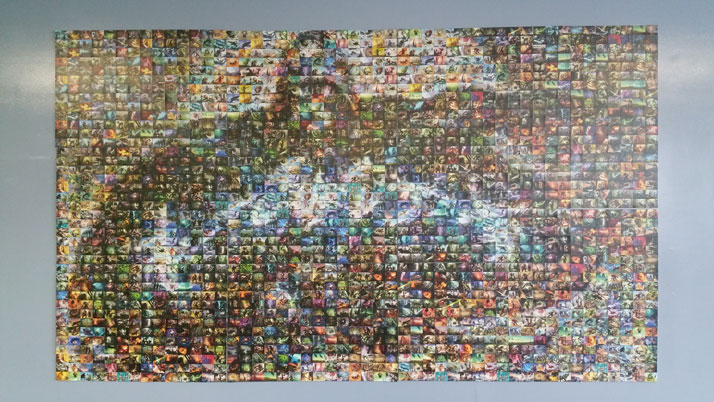 Zach Throop (pictured below) read a reddit post around the time that Zendikar was releasing about photo mosaics using Magic art. 
"My daughter was about 1 years old, and I was a stay-at-home dad with time on my hands," Zach said. "Since the design called for art from cards that were almost all commons and uncommons, and we had lots of cards lying around after drafts, I thought, 'I could do this.'"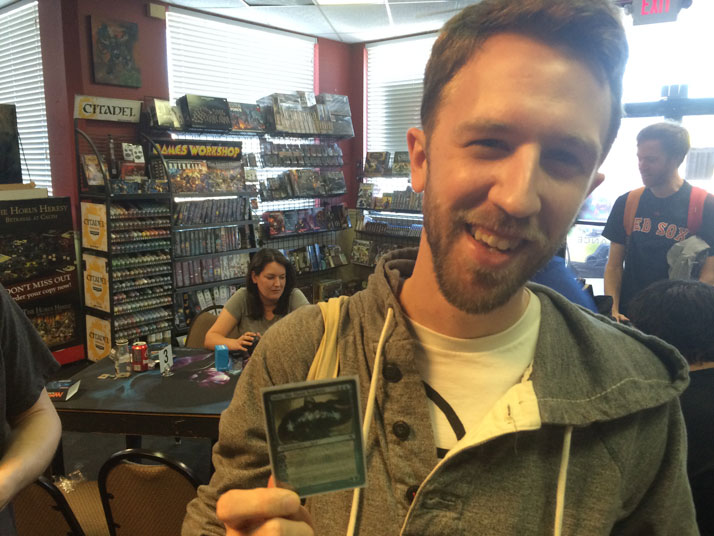 He collected the cards and solicited donations from other players at the store, putting in over 100 hours to cut out the art and assemble the pictures. The end result is 5 feet by 10 feet, and is comprised of almost all commons, uncommons, and lands from Zendikar block. 
(Fun trivia fact: the mural could technically be played as a deck because there is no more than four of a single card in the entire mural!)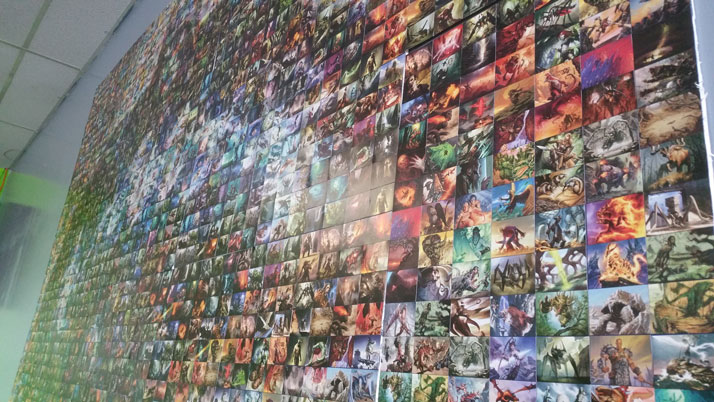 "One challenge was actually the lands," Zach remarked. "Because it was Zendikar, most basic lands were full art lands. I had to work extra hard to find the regular, non-full art lands that no one really wanted."
He glued the cards to foamboard and then nailed into the sheetrock wall behind it.
"We had tried many ways of getting it to stay up, but it kept falling," Zach explains. "Now it's not going anywhere unless you take the wall with it."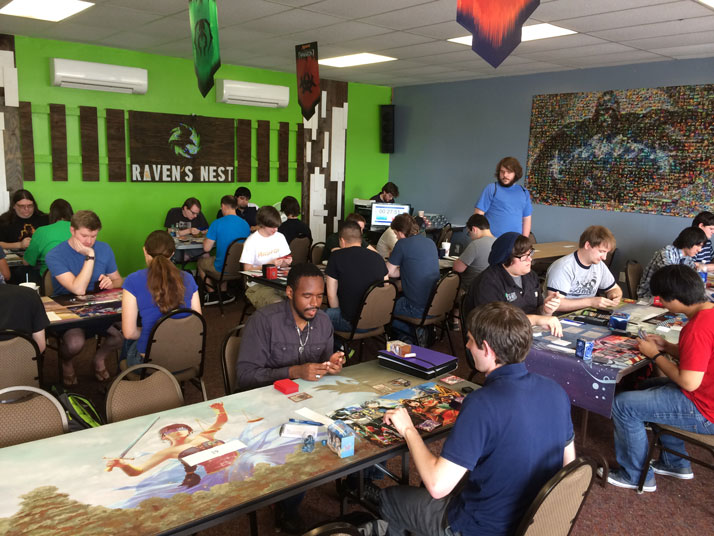 The mural not only looks great, it's also a testament to the involvement and dedication of the community Raven's Nest has built.
Kyler Seagle was inspired to be Jace for Halloween last year.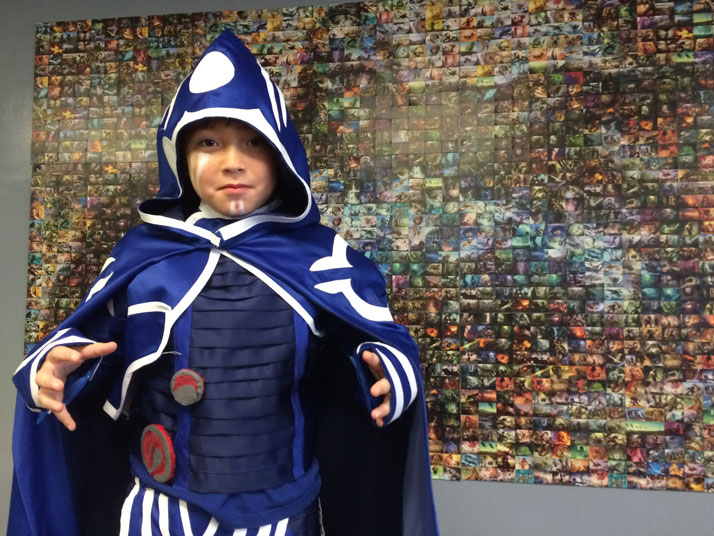 Store Stats
Raven's Nest
Location: Marietta, Georgia (pop. 56,579)
WPN Level: Advanced Plus
Age: 7 years in September
Size: 700 sq. ft.
Website: www.rngames.com
These stores got creative with cards and used their décor as a great opportunity to stand out from others. Not only that, they did so by engaging members of their community.
Leverage your resources and creativity, invite your players to contribute, and make your store a customized and awesome space!