How Armada Games Gives Thanks
November 6, 2015
|
2 min to read
The holidays aren't the best time for event attendance.
Students head home for break. Spare income goes toward travel. Suddenly your events aren't just competing with other entertainment options, but family obligations, work parties, and gift shopping as well.
Still, Armada Games manages to give their community a reason to celebrate in the store.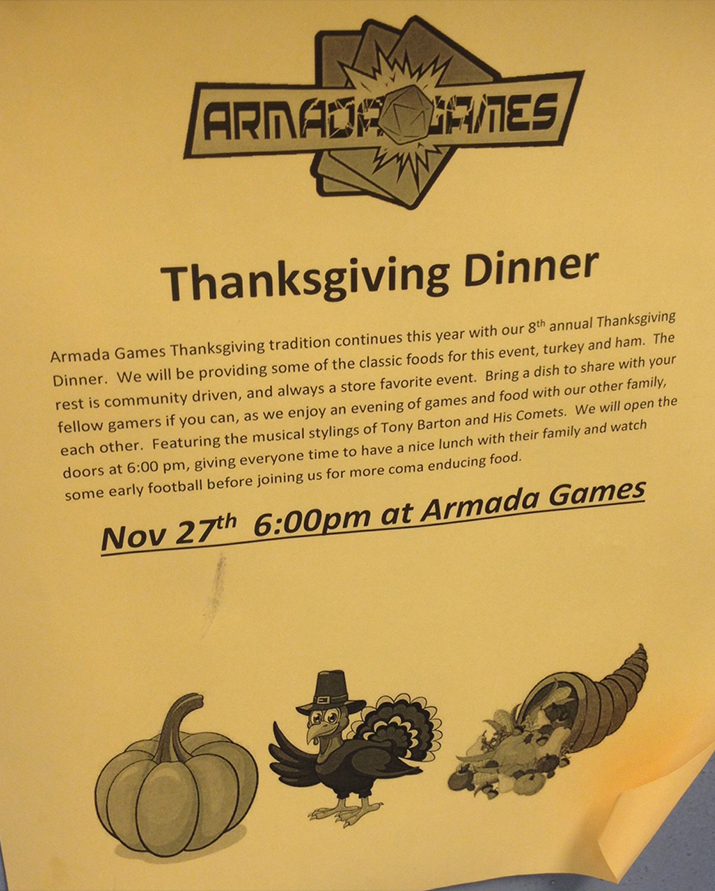 Nine years running, they've hosted a feast in honor of Thanksgiving.
Management provides the turkey and players earn their entry by bringing a dish to share.
It's lavish. A generous spread of sides with mashed potatoes in half a dozen varieties. European players bring traditional dishes from their home countries. One player brings a much-coveted buffalo chicken dip. "It's absurdly good," says owner Michael Fortino.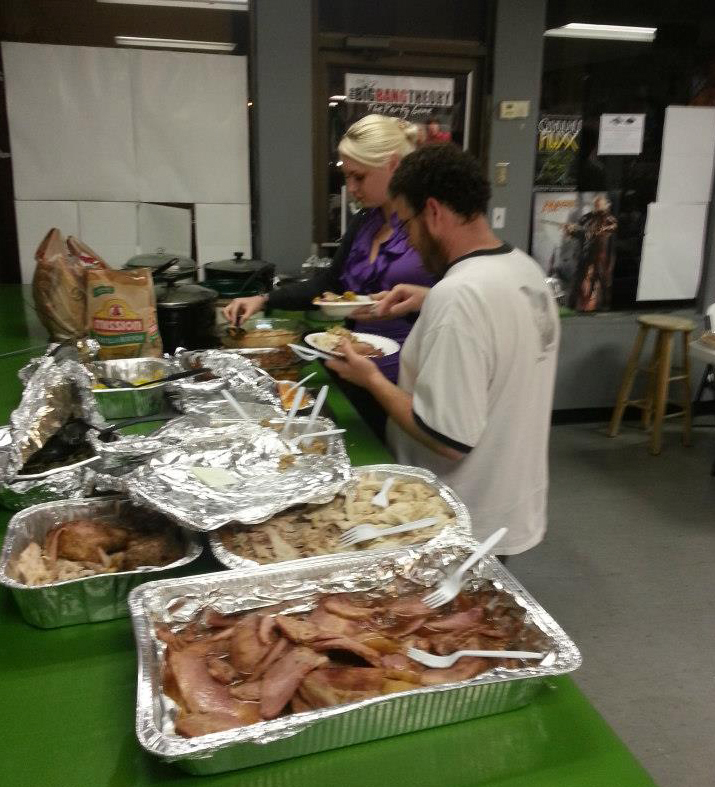 Why do holiday celebrations make such effective community building efforts?
Because of what anthropologists call "communitas:" that feeling of joy and belonging we get from shared experiences. A soccer game, a concert, a Grand Prix—"communitas" magnifies what unites us and trivializes what divides us.
It's powerful stuff. Research says customers remember the intense emotions they feel in your store (whether good or bad) and quickly forget everything else. By focusing on high-emotion moments, many businesses are taking advantage.
Michael's Tips for a Flawless Feast:
Check in with the appropriate officials. (You may need an event permit).
Allocate a lot of time for cleanup. ("What should stores be prepared for?" MICHAEL: "A mess.")
Look out for food allergies. (Label foods that include nuts.)
Prepare vegetarian/vegan options. (Find some recipe ideas here.)
Give employees the night off. (Owners only on the clock.)
Armada takes advantage of holidays at every opportunity.
Like American Independence Day (aka Fourth of July), when they host a cook-out with U.S.-themed activities like red-white-and-blue model-painting and Commander (all players enter with a deck that shares colors with the US flag).
Independence Day and Thanksgiving are American, but "communitas" is universal. Every region has its opportunity to take advantage—including yours!