How to Create an In-Store Commander League with Commander Nights
May 3, 2022
|
3 min to read
The next two set releases for Magic: The Gathering—Streets of New Capenna and Commander Legends: Battle for Baldur's Gate—are ideal for hyping up Commander events. With Commander Nights, your players will have regular opportunities to gather and engage in Commander play in-store.
Below you'll find resources and tips to help start a Commander League in your store.
Download Commander Nights Achievement Lists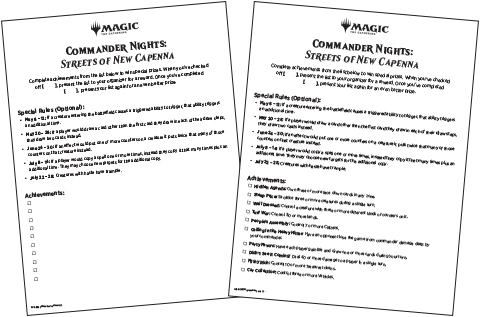 Commander Nights is an event where the prizing is achievement-based, with rotating global rules, making it one of the best ways to maintain an active Commander community in-store. On our marketing materials page, you'll find achievement lists to use at your Commander Nights.
We release new achievement sheets for each Standard set, so you'll find an achievement sheet for Streets of New Capenna ready to download right now.
Achievement sheets come in two styles: one with achievements designed after the theme of the set, and another where the achievements section is left blank for event organizers to fill in on their own. We encourage you to start with the one with pre-filled achievements, and to create your own achievement list to either change things up or amp up the difficulty.
Create a Loyalty Program
There are many ways to incentivize players to sign up for your Commander Nights—for example, you may consider starting a loyalty program. It can be as simple as a punch or stamp card that you hand out to players when they attend your first Commander Night of the season.
Through repeated play, your players will earn additional points that can earn them prizes, depending on what works best for you and your community. Prizes don't need to be substantial, and you can offer them for more than just Commander Nights—for example, you can offer a prize if players attend one of each type of event you're hosting that season.
Depending on your community size, you can structure your loyalty program as a punch card or as points that continually accrue. Punch cards reward repeat visits, whereas points can be awarded for several activities—even large purchases—that can help encourage sales during events in your store.
Use Commander Nights Web Banners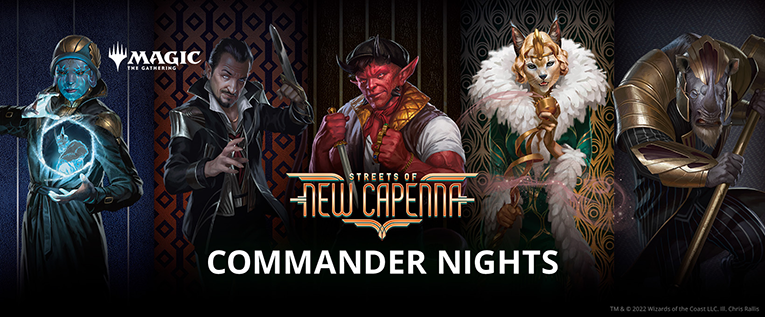 Once you've set up your event schedule, the next key thing to do is advertise—we've designed eye-catching banners that will grab your players' attention whether you post them on social media or have them scrolling on a screen in your store.
Just like Commander achievement sheets, new web banners are designed and uploaded for every set. Commander web banners for Streets of New Capenna are available right now, so you can download and use them today.
Run Commander Nights Regularly
A loyalty program and achievement sheets won't serve you well if you don't have events on the calendar—and Wizards EventLink makes it easy to schedule your events in advance.
Commander Nights event scheduling is open for Streets of New Capenna and lasts through the Commander Legends: Battle for Baldur's Gate season—you'll be missing a significant opportunity for your store if you don't start your Commander Nights with Streets of New Capenna.
Starting Commander Nights earlier means you'll have a system in place that you can use to carry you throughout both set releases. Plus, by the time the Commander Legends: Battle for Baldur's Gate set release arrives, your players will only be talking about Commander!
So don't hesitate—open your event calendar and start marketing to encourage Commander play in-store today.