How to Use Facebook Ads
June 15, 2016
|
3 min to read
With the boom in social media, marketing your store has become a lot easier—and more effective—than the days when you had to buy ads in newspapers, or spend significant amounts of time handing out flyers on the streets.
Although there are multiple online channels that you could use for promotion, Facebook is one many stores choose as it can complement what you're doing natively on your store page. It is also one of the cheaper advertising solutions, with ads starting for as little as $5/ €5.
And it's pretty simple and quick to build an ad. Here's how:
1. Get Prepared with Facebook Ad Manager
In order to build online advertisements, you'll need to set yourself up within "Facebook Ad Manager". Make sure you're signed into the account associated with your store's Facebook page and navigate to the "Ad Manager." .
2. Choose Your Objective
There are many different things you can promote with Facebook, but for the purpose of this article, we'll focus on promote a store's Facebook page to increase awareness and draw new players in.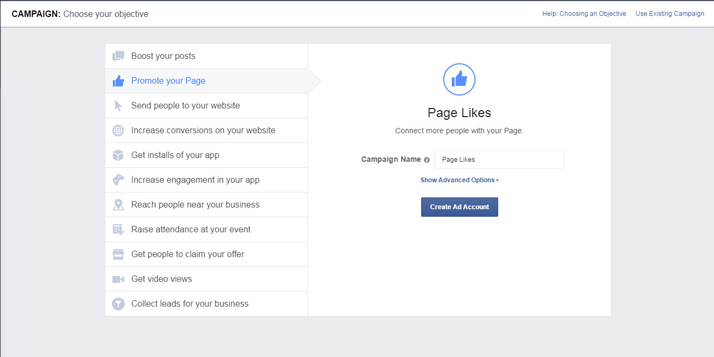 On the Campaign page, select "Promote Your Page," then click "Create Ad Account."
3. Input Your Account Information
Enter the details for your account, including country currency and timezone. Click continue to proceed.
4. Select Your Page and Your Audience
On this new page, select the Facebook Page you want to promote from the drop down options: you should see your store page listed.
Facebook offers many great options for targeting new people and attracting them to your business. Consider the kinds of people that already play in your store and those who you'd like to attract too.
You'll want to strike a balance between exceptionally tight targeting that will reach only a limited audience, and very broad targeting that reaches many people who won't necessarily find your advertisement useful.
For your Facebook Page advertisement, we suggest using an audience target based on:
Location: select both the country AND city of your store
Age: Magic is for everyone, young and old, but consider the typical age range of the people in your store and choose based on this
Detailed Targeting: Interests—What other similar hobbies do your players enjoy? Consider games, comics, films and television shows
5. Set Your Budget
You can spend as little as $5/€5 on your Facebook advertisement, but a budget of around $25/€25 for a one-week campaign is a common starting point.
Select the "Lifetime Budget" option from the dropdown list, enter your budget amount, and set your start and end dates for the campaign. Once your ad is live, Facebook will make sure that the budget and promotion is split evenly over your specified number of days.
6. Design Your Ad
Now comes the fun part! You could upload a photo or video. (Feel free to use images available to you on our marketing materials page.)
Or consider the newest feature: "Slideshow." This allows you to show off multiple images in the form of a short video.
To create one, select "Slideshow" then click "Create Slideshow."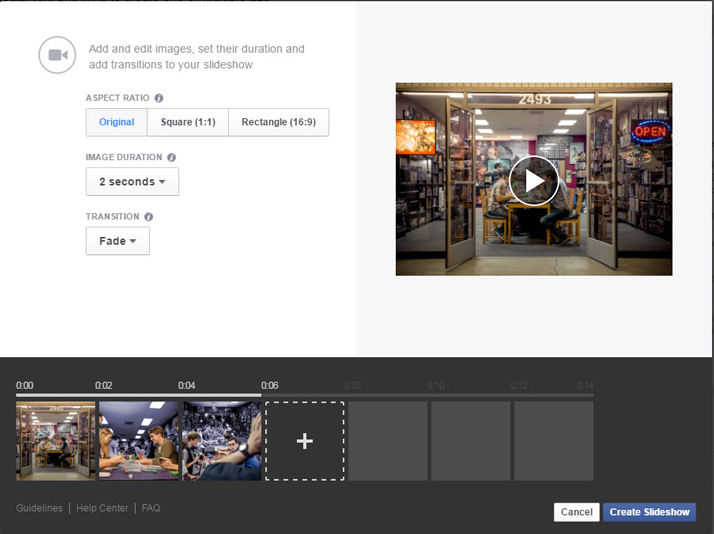 In selecting images, consider what will attract people to your store or your Facebook page, and what will underscore the call-to-action of your ad.
Set the Aspect Ratio to "Original," the Image Duration to "2 seconds" and the Transition to "Fade." Then click the "+" sign, select Upload Images and choose the location of your images. When you're happy, click "Confirm," followed by "Create Slideshow."
7. Set the Text
You're almost there! In the "Text" section make sure your store's Facebook page is selected, then enter some compelling ad text. Focus on a specific action you want your customers to take and why they should care. Keep your text short and simple. Browse other effective ads for inspiration.
Facebook will then show you an "Ad Preview" for both the desktop and mobile advertisement. When you're happy with what you see select "Place Order" and enter your payment details.
Once your Facebook ad is up and running, make sure to check it out online to confirm that it is working as intended.
You can also log into the Facebook Ad Manager at any time to make adjustments and to check out how well your marketing is performing.
Give it a try!
by Carly Drew