Michael Bahr: Preregistration In 3 Steps
September 17, 2018
|
3 min to read
By Michael Bahr, managing partner of Desert Sky Games
Guilds of Ravnica season is upon us! With Prerelease just around the corner, now's a great time to polish up your processes for preregistration.
Prerelease is the biggest event of the season. Preregistration not only simplifies it for you, but it improves the player experience as well: it leads to short lines and punctual start times, plus, with sets that have guild-based Prerelease packs like Guilds of Ravnica, it gives players a better chance of getting their preference. (Ed: you can get guild-themed sign up sheet here.)
There are three basic steps to running an event with preregistration:
Decide the event parameters
Set up the registration mechanism
Open registration to the public and promote
Let's use Battlebond as an example. I'll show you how I handled each of these steps for our launch events.
1. Decide the Event Parameters
For Battlebond, Advanced Plus stores like mine were issued thirty-two promo packs, limiting us to a capacity of thirty-two teams for the event. Pricing is up to every individual store, but make sure you carefully measure costs against the revenue sources to make sure your events are revenue positive. Do that first or it doesn't matter much what you do second.
The costs will have a lot to do with start times and event lengths. For Battlebond, we chose three fixed rounds, like a Prerelease. We prized based on record, not standings. You are finished with this step when you can confidently answer any questions from a player interested in attending.
2. Set Up the Registration Mechanism
I recommend using your point-of-sale system, which you should definitely have, and keeping preregistration on paper. Any system can fail and if you have data loss, you can always refer to the "hard copy." Once you get to the event day, walk-in registrations can be on the same sign-up sheet.
Use this sign up sheet to get each player's guild preference when they preregister.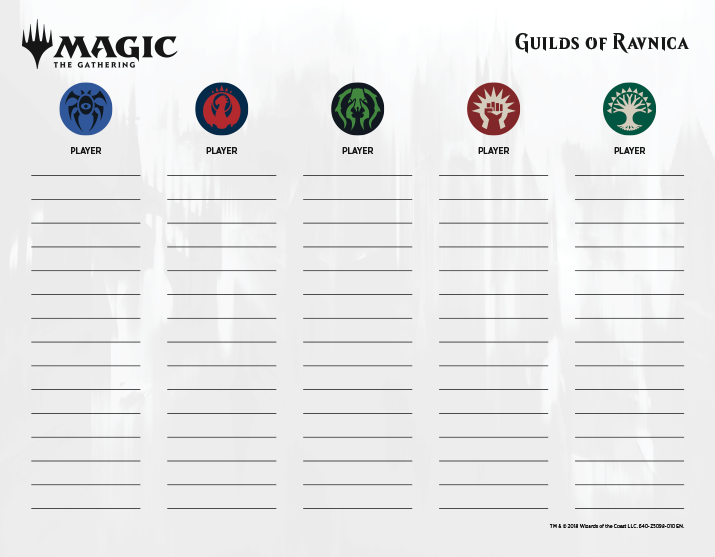 POS systems vary in how they handle this, but here is what it looks like for me.
First, I create the event in the admin panel as though it were a product.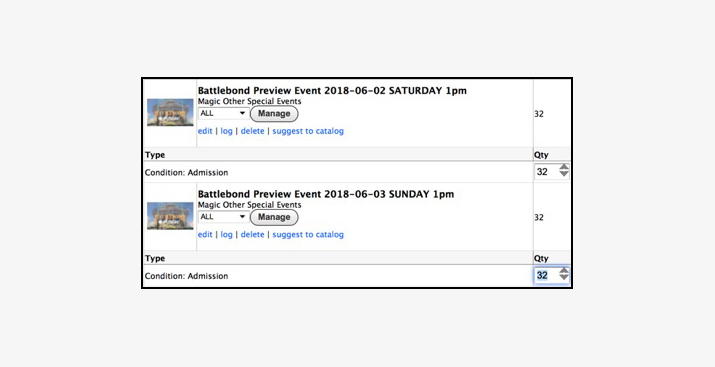 You can see I've added the capacity for thirty-two players (sixteen teams) each day. We have some flexibility there. If the June 3 event does not sell out, we'll go over on June 2 and add those open slots. Conversely, if we don't sell out on June 2, remaining spots will be added to June 3.
3. Open Registration to the Public and Promote
You'll see me using some Magic and product logos in these images, and you can get those assets right here on the WPN website.
Once I've created the product and configured it, it will be mirrored to the store's website. Several POS options offer this.
We can take registration in-store or online. We don't take credit cards by phone because of EMV (Europay, MasterCard, and Visa) requirements, but players with store credit could register by phone. (We accept store credit for events, but not all stores do. That's a policy you will need to determine.)
Here is what players see online when they want to register: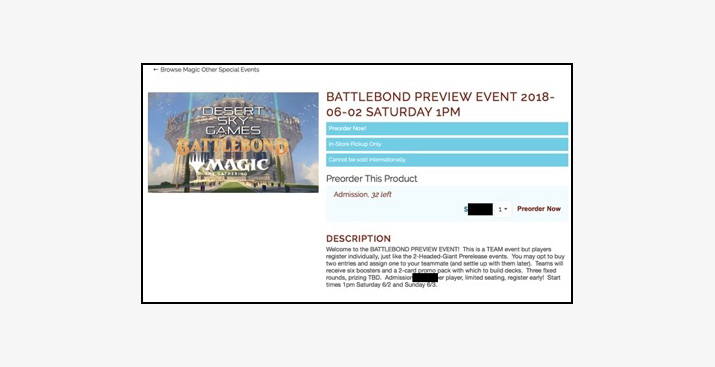 Now we have to let people know about it!
Take to social media and link to your online registration website. Provide the same details everywhere you advertise the event. If you do this right, you're mostly copying and pasting.
We have every player provide ID and autograph their paid event invoice, which is then scanned and shredded. (Once software allows us to do that entire part electronically, I will engage in the "Snoopy Dance.")
At that point there's nothing left to do but run the tournament, and to enjoy those short lines and punctual start times.
That's our preregistration process, from start to finish. I hope you've found this helpful in developing your processes so things will run smoothly and efficiently for you!
Michael Bahr is the managing partner of Desert Sky Games in Chandler, Arizona. He served four years as a Level 3 Judge, holds a law degree from Arizona State, and spent seven years in government health care administration. Michael's Ravnica guild is the Golgari: black for capitalism and green for sustainability, both economic and environmental.