More Things You Might Not Know About Prerelease
March 29, 2016
|
2 min to read
Around this time each Prerelease, our Retail Support teams take hundreds of calls from new and veteran retailers alike, answering questions both common and obscure.
Here are a few that cropped up last time:
How do I issue prize support?
(submitted by: a Core level store in California)
These folks were running their first ever Prerelease and weren't certain how to issue prizes. Here's how it works:
For each player in the event, we recommend two Booster packs in the prize pool (Wizards covers these, up to the threshold shown in your allocation numbers). How you distribute them is up to you, but keep in mind that Prerelease is meant to be low-pressure.
Is it too late to switch the format of my Prerelease?
(submitted by: an Advanced Plus level store in New York)
For Oath of the Gatewatch, a lot of stores switched to 2HG last minute. That set was designed specifically for 2HG, and while Shadows over Innistrad was not, 2HG is always a blast, so if you want to give it a shot, reach out to your local support team and they'll look into it.
Is it too late to change the Event Information on my Prerelease?
(submitted by: an Advanced level store in Texas)
They're referring to this field in WER: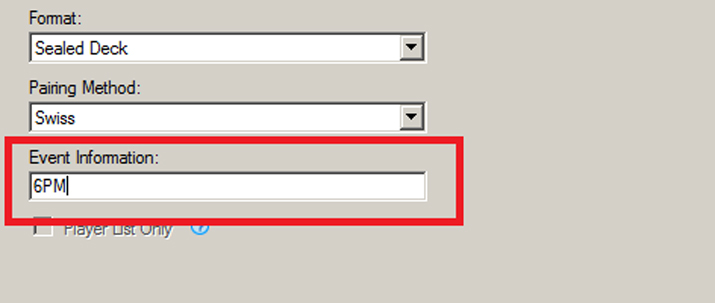 That space is typically used for start times—this retailer had to shift their event schedule, and they wanted to make sure the change was reflected in our Store and Event Locator.
For most events, you can change this yourself, but if you run into trouble, please call your support team.
I sold out my last Prerelease, but my allocation is lower this time. Is that because I only scheduled one event?
(submitted by: an Advanced Plus level store in Wisconsin)
The number of events you schedule doesn't factor in.
The starting point for your allocation is the attendance at your most recent Prerelease for a similarly-sized set. So it's not uncommon for your allocation to go down after a big set, even if you sold out, since we expect slightly lower attendance for small sets.
Can I ship my preordered Booster boxes once Prerelease is over?
(submitted by: an Advanced Plus level store in North Carolina)
All Shadows over Innistrad product—opened or otherwise—should be shipped on the release date.
Have a question we didn't answer? Check here:
Still have questions? Reach out to your retail support team.