Playtest League and Earn Foil Tokens
October 7, 2016
|
1 min to read
We're planning a new in-store Magic league program, and we need your input!
Between October 10 and November 27, any WPN member that participates in our Magic League playtest will be eligible to receive 30 premium, foil, double-sided, promo token cards with a servo on one side and a thopter on the other, for rewarding players at your future events. Tokens will be delivered to participating stores in early 2017.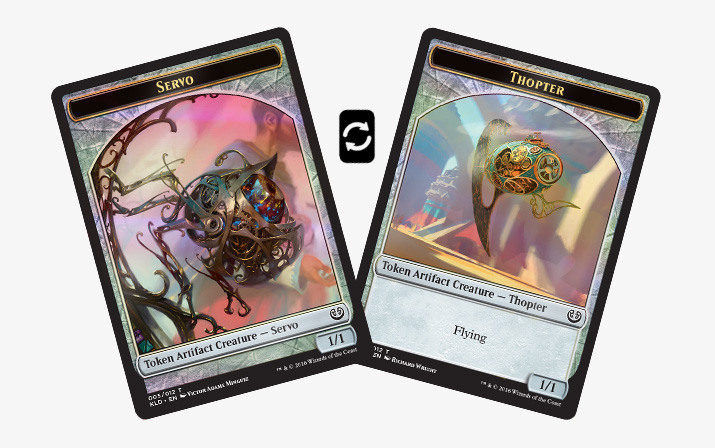 We've received countless requests for more foil tokens—including requests for this token, specifically. We listened, and this your chance to earn them.
Here's how:
Magic League Playtest
We've heard your feedback about the need for a league program in stores. But before we launch, we want to make sure we've tested the experience in a variety of store settings and listened to your input on how well it runs.
Help us create the best possible league!
Here's how you'll run it:
1. Run the league over four successive weeks. The earliest start date is Monday, October 10, but you may begin later if it's more convenient.
2. Issue three Kaladesh booster packs and a league match card to each player when they join the league. Entry fee is up to you. A match card is available for download on our marketing materials page, under Event Accessories.
3. Instruct players to build a minimum 30-card deck from their three boosters and play as many matches as they like. There are two special rules: matches should be just one game, and each player may take one free mulligan per match.
4. Allow players to add an additional booster to their pools each week and/or after three losses. It's not necessary to report match results to Wizards, but you're welcome to track wins and losses as you see fit. (For example, you might keep league match cards at the store and have players report results as the league goes on).
5. Schedule and report your league in Wizards Event Reporter. Use the "Magic League" option in WER. This is how we'll identify participants.
6. Issue rewards at the end of the league. Rewards are at your discretion. We recommend rewarding players with 10+ wins and for accomplishments like "most improved" or "most new players recruited."
7. Complete our brief survey. Participating WPN members will receive a link to the survey in an email at the end of the playtest period. Only those who complete the survey will be eligible for the exclusive promo tokens.
After collecting your feedback, we'll revise the guidelines as needed and repeat the playtest for Aether Revolt before we arrive at the final structure, kit materials, and promo items for Amonkhet league.
How Do I Sign Up?
There's no program to sign up for. Simply schedule and report one league event in Wizards Event Reporter that includes all league participants on or before November 27.
Make sure to schedule that event as "Magic League." This is how we'll identify participants.
We're eager to hear your feedback. So start putting your league together today!