Prerelease Week Is Here! Reminder Roundup for Innistrad: Crimson Vow
November 8, 2021
|
1 min to read
The decorations are ready, the vows have been written—this Friday, eternal night will fall upon Innistrad! Is your store ready for the most lavish, sinister celebration of the century? We've compiled some reminders to ensure you're on track to host your store's greatest Prerelease yet.
Finalize Your Early Sales Product Displays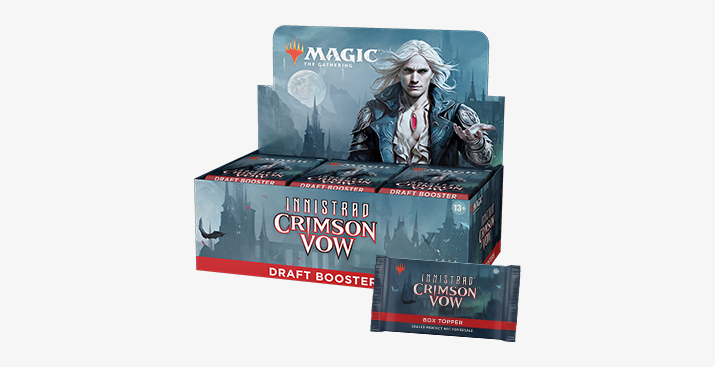 Put the finishing touches on your product displays to showcase early sales product! WPN Premium stores will have access to a limited quantity of Collector Boosters for full display sales as well! Your final allocation email contains the ratio of Set and Draft Boosters available to you.
As a reminder, Set Boosters are not available for Prerelease for stores in the United States or Canada and delayed in Spanish-speaking Latin America due to shipping delays. Review this article to ensure your adjusted plans align with the changes.
Make Your Final Advertising Push
This week is your opportunity to fill your store's social media and community pages with posts about Prerelease. Tie off all your loose ends and be sure players are signed up for your Prerelease event in Wizards EventLink as well!
In addition, share the Magic Companion App download page with your players to make sure they can earn any Companion Play promos you'll have available during Prerelease.
Every day counts this week, so make the most of all your marketing materials. Download additional resources from our digital marketing assets, and get ready to host a vampire wedding for the ages!
Schedule and Promote Your Store Championship
If you haven't already, we strongly encourage you to schedule your Store Championship as well. Your Innistrad: Crimson Vow Prerelease will be a great time to mention this one-day event in December where players can return and compete for epic prizes.