Run Standard, Get Rewards
January 25, 2017
|
2 min to read
With Aether Revolt Game Day just two weeks out, Standard season is about to get going full blast. To help keep attendance going in your store all the way to Amonkhet, we're offering some special rewards for you and your players.
Between February 13 and April 16, run fifteen Standard events and you'll receive:
• 5 Amonkhet posters for your store. Each poster depicts a not-yet-revealed character from the upcoming Spring set.
Additionally, all WPN stores that schedule Amonkhet Prerelease will receive rewards for their Standard players: 
• Special land promo cards from a Standard-legal set: 10 for Core level stores, 20 for Advanced level stores, and 30 for Advanced Plus level stores. You'll issue these to any player that joins 6 Standard events at your store during that window.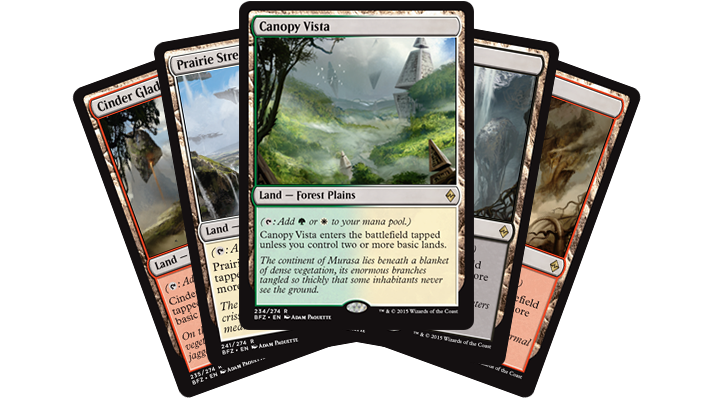 2 (Core)/4 (Advanced)/6 (Advanced Plus) copies each of Prairie Stream, Sunken Hollow, Smoldering Marsh, Cinder Glade and Canopy Vista, using normal frame but Masterpiece Series art. Cards depicted are for illustrative purposes only; actual cards may vary.
• 3 exclusive playmats featuring art from a card in Amonkhet. Consider using these as rewards for sportsmanship, helping new players, innovative deckbuilding, or any other kind of behavior you want to see in your store.
When will the rewards arrive?
Player rewards will ship on the week of March 27, with Amonkhet posters to follow shortly thereafter. To make sure all qualifying players recieve their rewards, even if their favorite store falls short of fifteen Standard events, promo cards and playmats will ship to all stores that schedule Amonkhet Prerelease.
Posters will be similar in size and construction to the Aether Revolt Consulate Banners or Magic Origins Planeswalker posters.
What are the scheduling restrictions?
Any and all Standard events (including Casual events, as well as FNMs and PPTQs run in Standard format) will count toward this promotion, regardless of the day of the week they occur. Events must take place between the dates of February 13 and April 16.
How should I keep track of Standard participation to know which players to reward?
Check the marketing materials page, under event accessories, for a stamp card that you can use to record attendance and issue the rewards to any player that completes their card. (Available soon.)
Events start February 13. Start planning your Standard schedule today!