Success in a Small Town
November 23, 2016
|
2 min to read
The 8,000 inhabitants of Villaverde del Río, Spain, are used to open fields and fresh air. A game store isn't a familiar sight.
Yet, El Pony Jugador has overcome a modest population, unfair misperceptions, and the total absence of gaming culture in order to reach Advanced Plus.
Here's how they've done it.
Many customers will have an incorrect idea of your business. But their perception will change in time.—Sergio David Jiménez Ruiz, Owner
When Sergio opened El Pony Jugador, it was something of a curiosity. In a small town with no game stores and little connection to gaming culture, a lot of folks simply didn't understand the hobby. People gossiped, rumors spread.
His first step toward integrating himself was to join the local business association—an opportunity to look for synergy between local merchants with the same potential customers. That connection led to joining a local business fair, where Sergio demonstrated Magic to folks who'd never seen it before.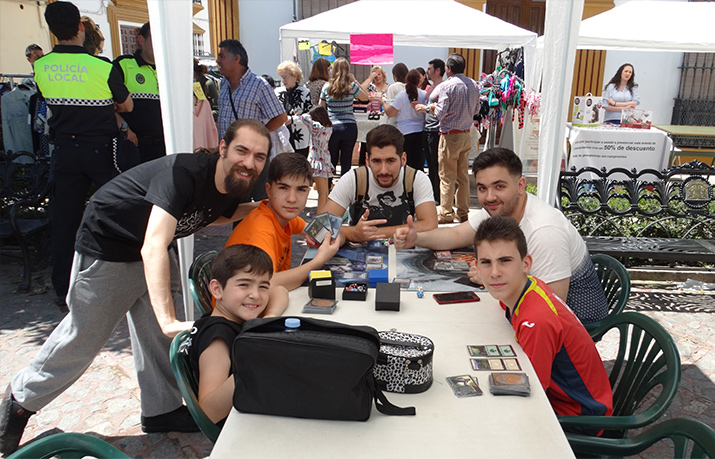 That exposure went a long way to correcting misperceptions about Magic, El Pony Jugardor, and gaming in general. Once people got first-hand exposure to the game, their reservations evaporated.
People that saw us at the fair decided to take a look at the store and many became regular customers.
Between demos at the fair and demos at the store (Sergio even set up a table outside the entrance to run tutorials for passersby), El Pony Jugador found themselves with a budding community. But the transition from "interested players" to "active players" proved challenging.
Initially, Sergio ran events designed to encourage competitive play, but most players weren't ready for it.
"It was a mistake," says Sergio.
The solution leveraged an advantage unique to small markets: everyone knows each other. They started running Two-Headed Giant events, connecting new players with a more engaged acquaintance, and the extra guidance and support was a great confidence-builder. New players quickly felt up to speed—even in their first games.
The environment created by our players has been the best incentive.
Creating those personal connections, giving players an easy inlet into the game, and leveraging that neighborly intimacy, has had something of a snowball effect: that camaraderie breeds more camaraderie, and the community grows naturally from there.
In the end, they've established themselves as an essential piece of Villaverde del Río's entertainment culture.
There's a lot to be learned from their example!
Store Stats: El Pony Jugador
Location: Villaverde del Río, Spain (Population: 8,000)
WPN Level: Advanced Plus
Size: 2,690 sq. ft.
Website: elponyjugador.com/