Their Biggest Prerelease Ever
March 23, 2016
|
2 min to read
Jessica Browning, her husband, Don, and their superstar volunteer, Christopher, at Grinning Goblin Comics and Games have nearly doubled their average event attendance over the last year. In fact for Oath of the Gatewatch, they put on the biggest Prerelease they've ever had!
Here's how they did it:
Player Participation
Rather than providing their own array of standard snacks, Grinning Goblin created a fun potluck competition and asked players to bring their favorite food pairings to the event.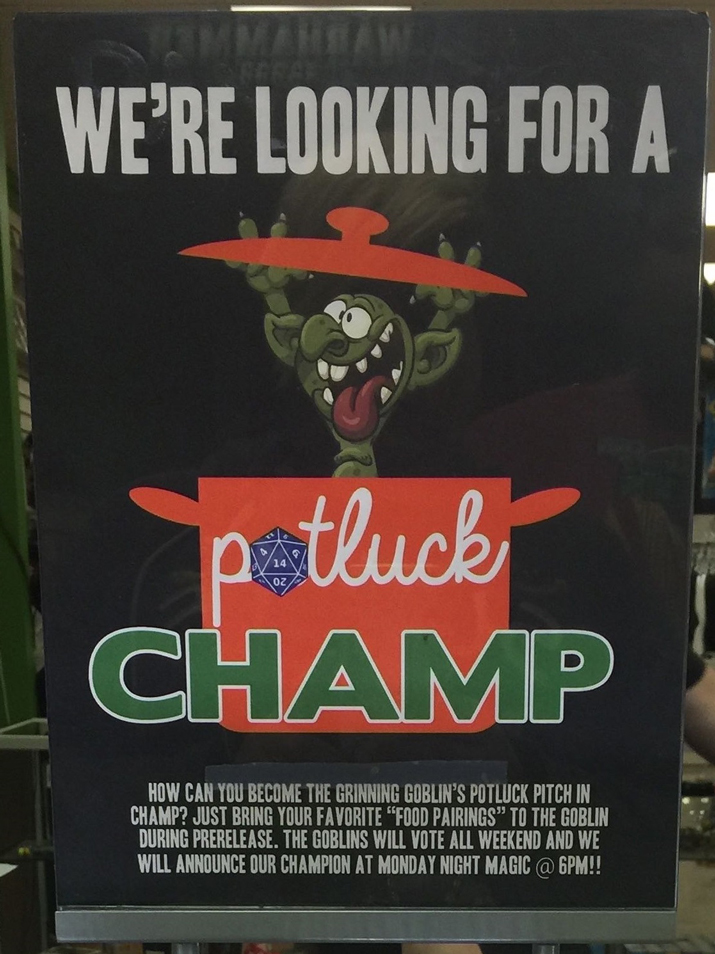 They separated the competition into two pools—one for kids and one for adults—then the community voted on their favorite dish for each pool and the winners got a handmade Goblin Potluck Pitch-In Champ apron!
"I was a little nervous in the beginning of the weekend, but we had a great turnout and some delicious food pairings, " including homemade french fries and salt, chicken teriyaki, Butterfinger cheesecake, chocolate covered bacon and powdered sugar, and peanut butter and jelly stuffed biscuits (to name a few).
Not only did this idea encourage players to show off their creative skills outside of their abilities as Magic players, but it also gave players ownership of the success of the event and strengthened the store's sense of community.
Custom Trophies
In addition to the handmade potluck apron, Grinning Goblin created custom trophies, t-shirts, playmats, and sleeves to give out as special prizes.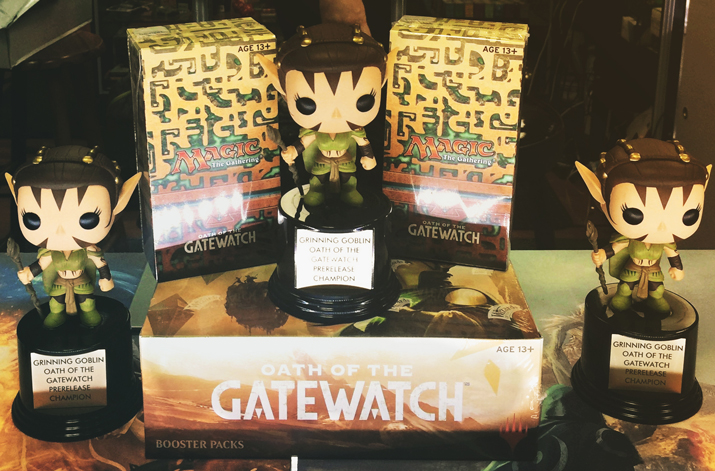 The grand prize for each Prerelease event was a Nissa Funko POP! trophy.
"The players LOVED these!" said Jessica. The customized rewards helped create a unique spin on the event that made players feel special and commemorated their experience at the store.
Two-Headed Giant Events
Grinning Goblin hosted multiple Two-Headed Giant events that were so popular among their players that they ended up selling out.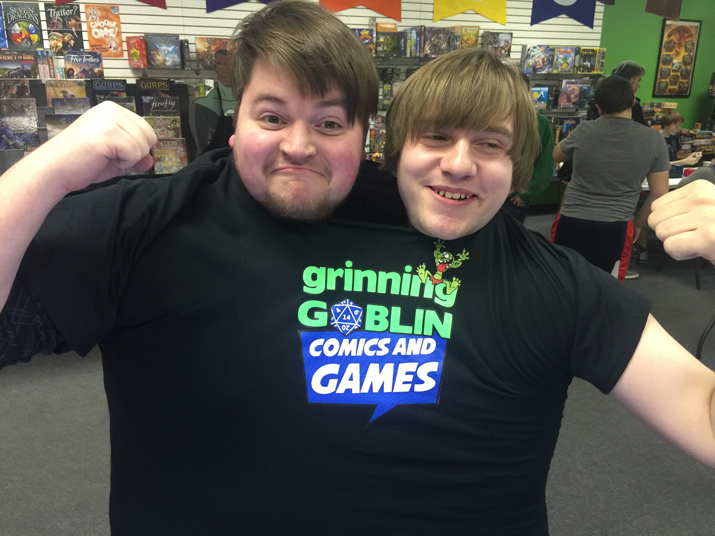 Oath of the Gatewatch was designed with Two-Headed Giant in mind, so it was a natural fit for this Prerelease. But no matter the set, Two-Headed Giant events fits in well at Prerelease as it allows newer players to play alongside a friend or an experienced player who can mentor them.
Store Stats
Grinning Goblins Comics and Games
Location: Batesville, Indiana (Population 6,520)
WPN Level: Advanced
Age: 3.5 years
Size: 3,200 sq. ft.
For Shadows over Innistrad, Grinning Goblins is planning another memorable experience. We can't wait to see what they come up with next!