What's Next after HOU Open House?
June 28, 2017
|
3 min to read
When we overhauled the event calendar with Amonkhet, we did it with a clear path in mind: start players with Open House and, from there, help them engage with Magic at the level they choose.
Open House → League or Prerelease → Friday Night Magic →Draft Weekend → Standard Showdown → Game Day → Premier Play
It works like this:
Players find the card in their Hour of Devastation Prerelease pack. Each time they complete a trial, they earn a special 4-sided die included in your kit. All players are eligible, but it's meant to help you reward players for exploring Magic in new ways.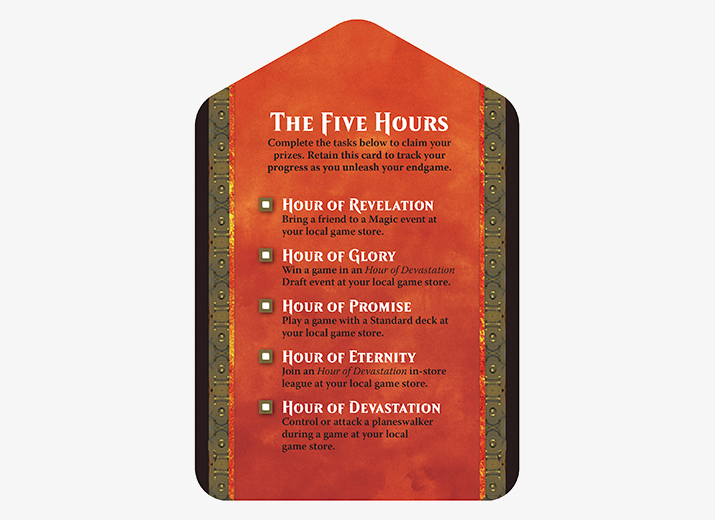 Here's how you can leverage the 5 Hours Activity Card to guide new players along the event path and take them from new to interested to engaged:
Hour of Eternity—Magic League
Join an Hour of Devastation in-store league at your local game store.
Invite every last Open House player to join League, and reward those who do with a die for completing the Hour of Eternity challenge, which you can redeem once League begins on July 17.
Host a League meetup on any day but Friday. A meetup night is not required—matches may take place any time the store is open—but it helps drill home the concept of Magic as a weekly tradition, plus it's a convenient time to come pick up that week's pack.
Hour of Devastation—Prerelease
Control or attack a Planeswalker during a game at your local game store.
Open House showcases both Magic and social benefits of the in-store experience. A week later comes Prerelease, where those benefits are on full view as your entire community converges for their first chance to play with the new cards. It's the best opportunity to turn an interested player into an engaged one.
It's also the best opportunity to complete the Hour of Devastation activity: direct Open House players toward Open Dueling, a casual side event at Prerelease using Planeswalker Decks. Your bolder beginners may also be interested in the main event, but Open Dueling is a more newcomer-friendly experience, and Planeswalker Decks represent the ideal first purchase.
Hour of Glory—Friday Night Magic
Win a game in an Hour of Devastation Draft event at your local game store.
Ramping up to drafting takes some time, and, for a new player, the two weeks between Open House and Draft Weekend probably aren't enough—better to introduce them at FNM, where they can jump in when they're ready. If they can eke out a game win—not a match win, mind you—that's good enough for a die.
Remember that you're not just selling them a game—you're selling them the social interaction that the game promises. Be familiar with "Third Place Theory" and keep its principles in mind when you plan FNM.
Hour of Promise—Standard Showdown
Play a game with a Standard deck at your local game store.
Between a Welcome Deck, a Planeswalker Deck, and any boosters they picked up at FNM, they've got the beginnings of a Standard deck—enough to complete the Hour of Promise at Standard Showdown.
Standard Showdown is more focused on experienced players, but for newer ones, it's a weekly opportunity to evaluate and experiment with their cards, see what sort of decks are out there and get a feel for the kind of strategies they're drawn to.
It's also, however, where the event path bends toward competitive, so take care to mitigate the inevitable losses.
Hour of Revelation—Open House Ixalan
Bring a friend to a Magic event at your local game store
Here's where the event cycle recurs and recent initiates get a chance to check the last box by bringing a friend for a Welcome Deck of their own.
Make sure you've got ample staff and teaching resources on hand to give new players the best possible introduction to the game. For a successful tutorial, one that grows your base and earns new customers, see our recommendations here.
It starts this weekend! Get ready to bring in new players at Hour of Devastation Open House and use the 5 Hours Activity Card to guide them along the event path.