Why 1 Store "Locked in" Their Players
May 24, 2016
|
1 min to read
April Olsen, owner of Rocket's Hideout, is on mission to support her community any way she can—even if it means locking her customers in her store overnight.
Extra Life Lock-In
In order to help raise extra funds for a local children's hospital, April rallied her customers into action in the form of a 24-hour Extra Life game night.
To participate in this grand event, players paid an entry fee of $25, where $20 went directly to the children's hospital and the remaining $5 went to help cover pizza, drinks, and the staff running the event.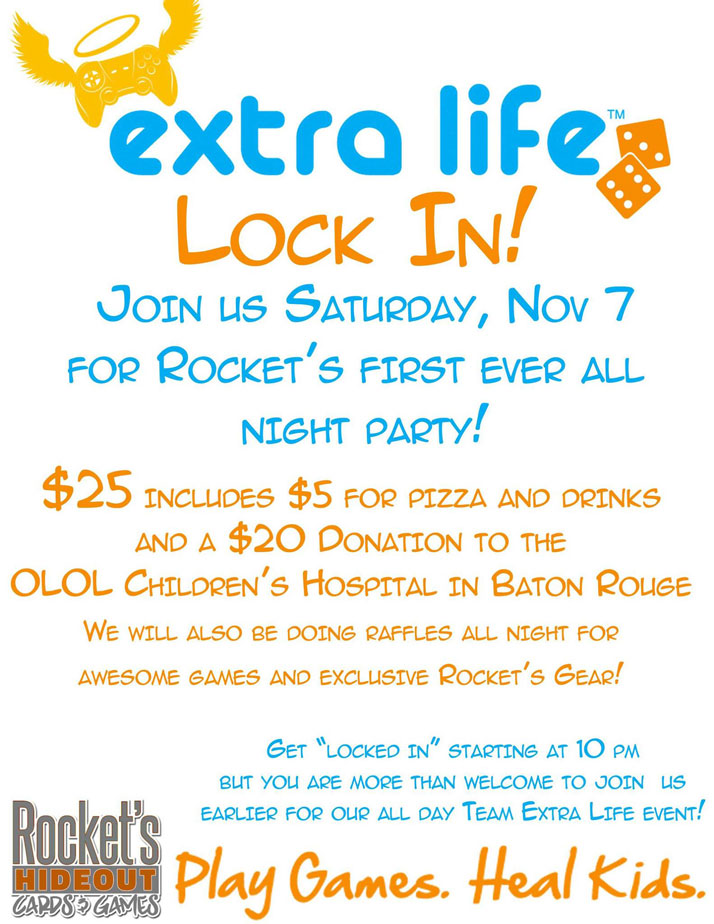 Throughout the night, participants got to play a large variety of games, and those who weren't quick enough to get a ticket could watch the lock-in mayhem at home through the store's Twitch stream.
The lock-in event raised just under $1,000 and the overall Extra Life weekend raised $15,000 for Our Lady of the Lake Children's Hospital!
Why Get Involved in Community Charities?
Like many great hobby retailers, April and her store have a unique position within the local area. Her store acts as a nerve center of the community—also known as "Third Place."
This position provides her a wide reach within the community, which she uses to bring the community closer together in her store. With each event, April grows her reach, making it even easier to rally the people behind a cause.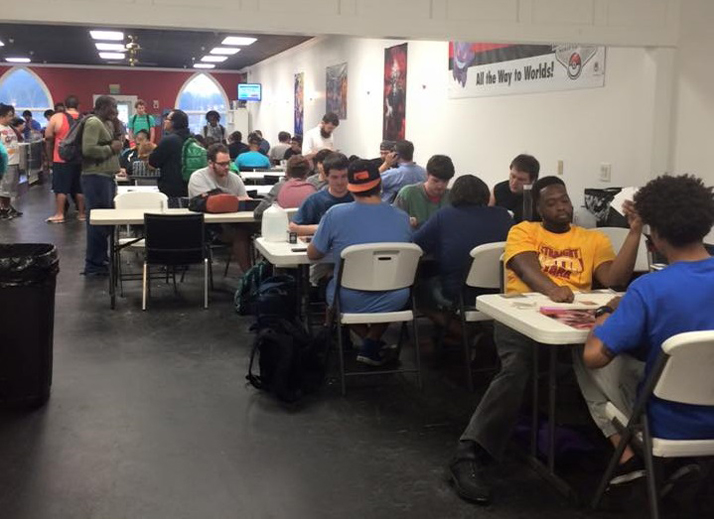 Not only is April making her home a better place for everyone, she is also ingraining her business within the surrounding community.
Advice for Getting Involved
This wasn't the first time April has created an event to help her community and it certainly won't be the last.
From all the charity events she has been a part of, April has learned three key pieces of advice.
1. Find something you, personally, truly care about
That passion is contagious and makes it easier to rally others behind the cause. It helps you follow through with the work required.
"Once you get it going, people are really good with [getting involved]. You just have to initiate it."
2. Don't expect the world
The outcome may not always match your expectations, you're not always going to get everything you wanted, and you might not do as well as you think you could.
"That's okay! You can always just try again!" April explains. Every little bit helps and with each attempt, it will get better and better.
3. Put a face on the cause
April has seen greater success when she can relate the cause to an individual.
Rather than asking people to donate canned food for the food bank, instead try asking people to donate canned food to Rebecca, a volunteer at the local food bank. Don't just donate to the children's hospital, donate to save Jacob, a young resident at the hospital who needs help.
There's even research to support April's findings.
April is proud of her great community and loves giving back to make it even better. How will you get involved in your community?
Store Stats
Rocket's Hideout
Location: Baton Rouge (229,000)
WPN Level: Advanced Plus
Age: 6 years
Size:  Recently upgraded from 1,800 to 2,800 sq. ft.
Website: www.rocketshideout.com