WPN Orientation: Event Promotion and Management
April 19, 2018
|
3 min to read
The most important tool at your disposal is your event calendar. Take a hard look at your event offerings. Are you maximizing their efficiency and making them visible beyond your player base?
Get ready for your conversation:
Read this article.
Schedule at least 1 month of events in the Wizards Event Reporter.
Consider what prize support you'll provide at each of your events.
Promote Your Events
Experienced WPN retailers agree that "word-of-mouth" is not enough to effectively promote your events and your business. But these easy and low-cost strategies can make a difference:
Website
According to successful WPN stores, a modern business website is a critical resource for showcasing your store and reaching potential customers.
Something about having a website in today's era just feels more professional. I know whenever I come across a business without one, I judge them. —Reggie Kemp, LANslide GameCenter
And it's not just a mark of professionalism.
In today's world, an up-to-date, mobile-ready website performs better in online searches, which is where new customers often begin when they're seeking out an event to attend.
One free website creation tool recommended on the WPN Facebook group was Weebly.
Event Calendar
When we polled other WPN members about what tools they used for managing an event calendar, without a doubt, Google Calendar was the most recommended resource.
I use Google Calendar and make a post with a link to it on the Facebook page. Then I pin that post to the top so the first post anyone sees on our page is the calendar. —Reggie Kemp, LANslide GameCenter
You only need a free Google account to set one up.
It even has an embed feature that enables you to show your event calendar on resources like your website.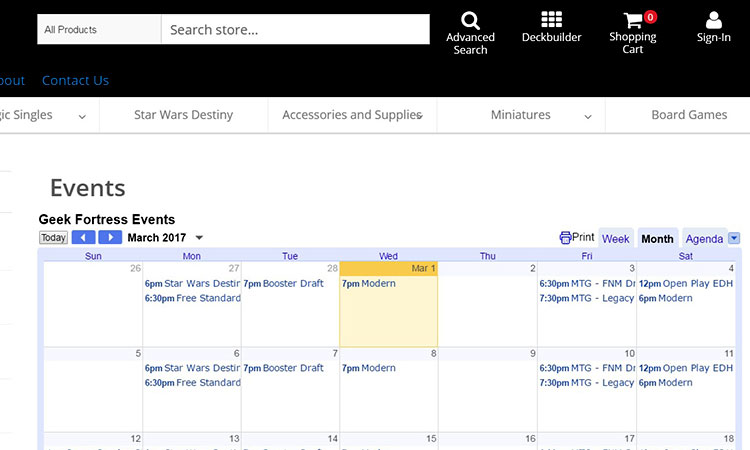 Josh Fohrman of Game On included his Google Calendar as a unique tab on his store's Facebook page by using a Facebook app. For another option, you can also use this app to add a tab that works with Google Calendar.
Social Media
Leverage your social media presence to interact with new and existing customers, share upcoming events, and show off photos of the fun at your store.
Download web banners, splash images, and animations from our marketing materials to promote events on your store's website or social media platform.
Community Outreach
Advertising inside your store can only get you so far. Reach out to local schools, libraries, and other community outlets to reach audiences you wouldn't have otherwise.
Provide Consistent, Positive Experiences
Think of every event as an experience you are selling. And remember, when it comes to building a customer base, consumers value consistent, positive experiences above all else.
Ensure you're covering the essentials:
Then download our Event Quality Checklist and see if you can check off every box.
Consider Prize Pools as a Tool
To further differentiate your event offerings, use prizes strategically.
Are you running a competitive event? If so, you may want to have more prizes distributed to the top performing players. Experienced players often enjoy the challenge and will bring out their best decks.
Are you running a casual event? Try distributing prizes based on participation instead of performance, or give your players specific, fun goals to strive for during their games. When there's no pressure to win games, the event atmosphere can be much more inviting to a new or casual player.
What's Next?
You should expect a call soon from a Retail Development representative. Please come prepared with any questions about what you've read here.
We look forward to talking to you soon!
COMMON QUESTIONS
Find answers to your questions about the WPN.