With Pro Tour preparations kicking off worldwide, it may be a good time to revisit your store's competitive play strategies—including how you handle acquiring judges for your events.
If you haven't had the opportunity to run competitive play at your store yet (or it's been a while since you have), we've partnered with Judge Academy t o share their perspective on judges.
We provided Judge Academy with several common questions that you may have about Magic: The Gathering Judges. Below are their answers, written by a Level 3 Judge from Judge Academy, covering details from how to hire a judge to how you can become one yourself.
What is a Judge?
Per the Magic Tournament Rules, every sanctioned event requires the presence of someone in the Head Judge role. That judge can be anyone at the store: you, an employee, or even a knowledgeable player you designate. The judge doesn't need any sort of certification to fulfill this role, however, you may choose to hire a certified judge if you wish.
The Head Judge must be able to interpret rules and policy in order to answer questions from players and spectators, deal with game and policy violations, and act as a final authority on rulings and disputes between players. Judges generally also take on some of the logistical tasks of running an event, such as keeping track of time in the round and passing out product for a Draft or Sealed event.
This role is needed at every level of sanctioned play, from Friday Night Magic to the Pro Tour!
What are the benefits of hiring a certified judge for my events?
Issuing correct rulings and following tournament documents are crucial parts of maintaining tournament integrity. A head judge for your event certified by Judge Academy will be knowledgeable in not only the rules and policies of Magic: The Gathering, but also player-focused customer service. They are trained in the basics of fostering a positive and welcoming environment, as well as many other community building skills that make them a great asset to stores that work with Judges, whether employed or contracted!
Putting your tournament in the hands of someone trained to provide an excellent experience will allow you and your staff to focus on your customers.
Am I required to hire a certified judge for events such as Regional Championship Qualifiers (RCQs)?
Regional Championship Qualifiers must be run at Competitive Rules Enforcement Level, meaning that the Magic Infraction Procedure Guide (IPG) will be in effect in addition to the Magic Tournament Rules (MTR) and Comprehensive Rules. While every event does need someone to act in the Judge role, they are not required to be certified by Judge Academy.
That said, RCQs are not just a tournament that qualifies for another tournament. In the U.S., for example, your store's event will qualify that player for a tournament with a $130,000 prize pool and a 1st place prize of $30,000, plus invitations to the Pro Tour as well as the World Championship. Those are some huge stakes at play regardless of tournament size, and that's why we at Judge Academy highly recommend using certified event staff. Your players will thank you!
How do I figure out how many judges I need for my event?
The number of staff needed for an event will vary depending on the size, Rules Enforcement Level (REL), and occasionally, prize structure. As the event size and number of rounds increases, the number of judge calls typically does as well. Competitive REL events tend to have more at stake, so there will be more questions to answer, and player interactions to solve. Judge Academy has created resources to help make understanding your staffing needs as simple as possible.
First is our general Staffing Guidelines. This is broken down for Regular REL and Competitive REL by size. For example, a Competitive REL event with 50 people should have 2 judges that have been trained in Comp REL.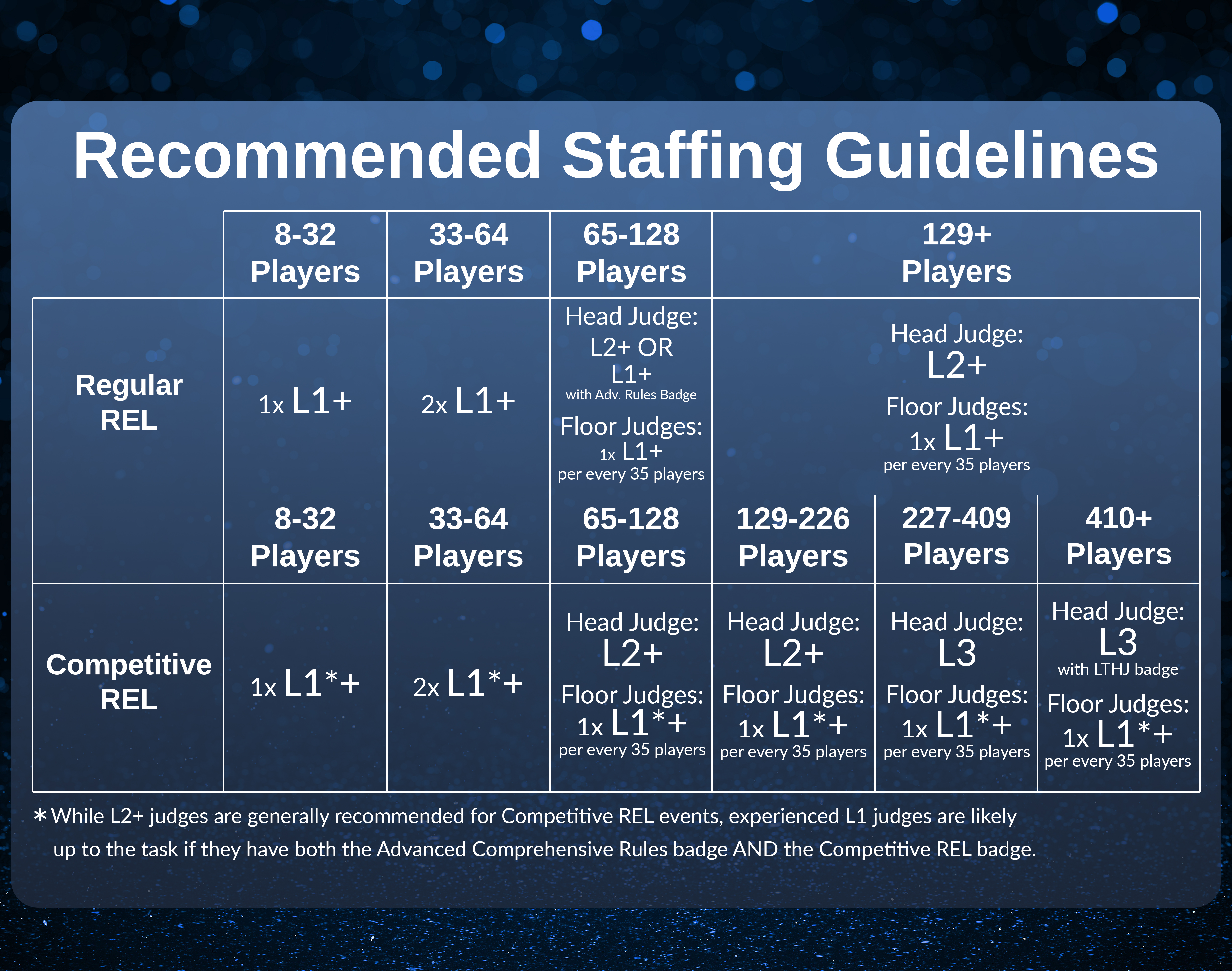 Second, for Premier events that are expected to be larger multi-judge events or have side-events, we've created a breakdown for some of the specific roles that pop up at larger events (such as Team Leads and Side Events).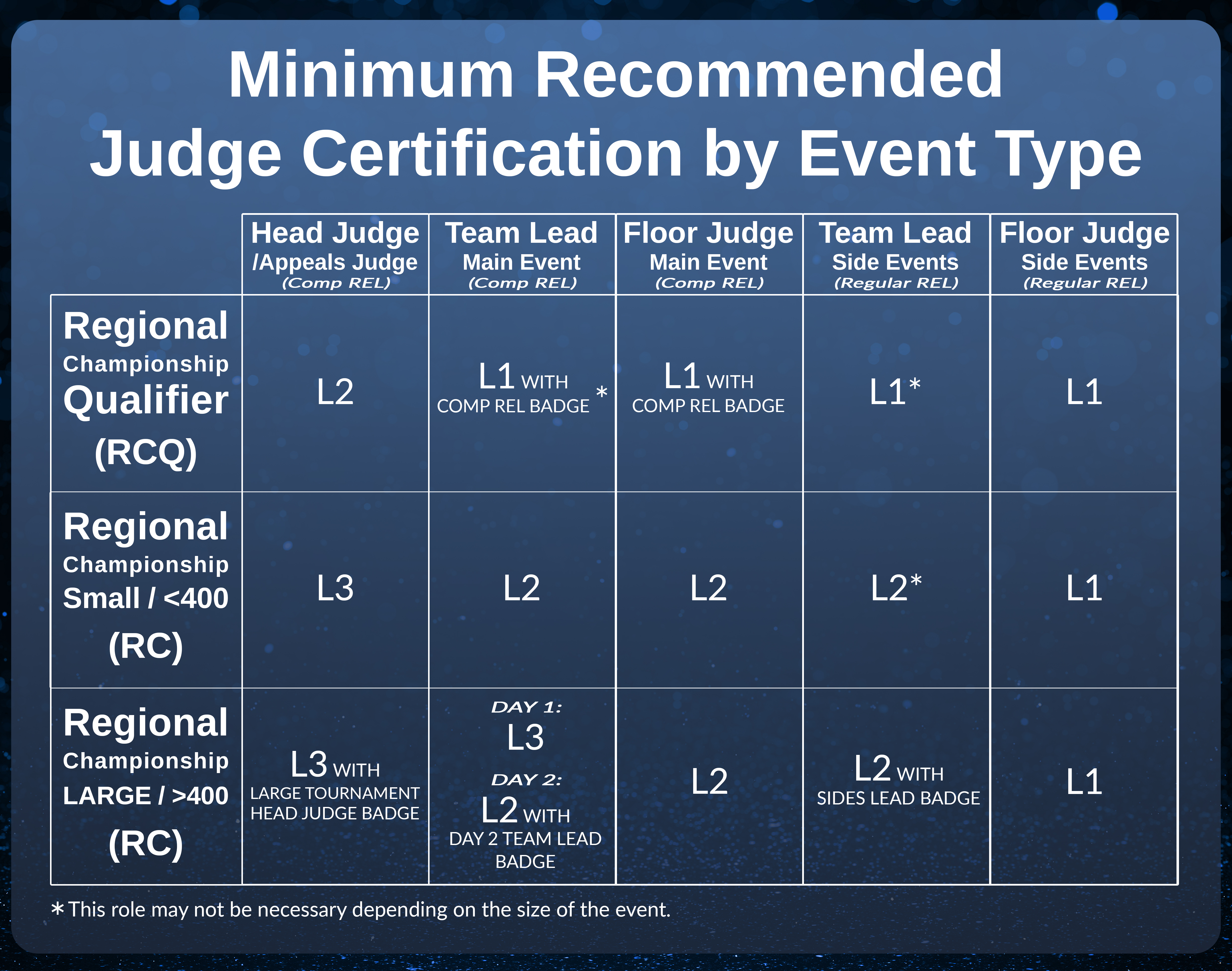 As a Judge goes up in level, the material they are tested on and trained in increases in scope. Regional Championship Qualifiers will use the Infraction Procedure Guide on top of the normal rules and tournament policy. Level 1 Judges are not tested on the IPG as part of their certification. However, Level 2 judges, Level 3 judges, and any Level 1 with the Competitive Rules Enforcement badge will all know this document and how to apply it.
For any event that can qualify a player directly for the Pro Tour, we highly suggest using a Level 3 Judge whenever possible, as players will expect the highest level of professionalism, rules knowledge, and investigation skills for an event with such high stakes.
What's the best way to advertise that I need a judge or find certified judges in my area?
In addition to creating an event on Judge Academy's website , many Magic judges are already plugged into their local communities. Two great ways to get the word out are by connecting with others through local or regional Facebook groups, or by simply talking to your players in-store to learn about judges in your area.
To ensure you have appropriate staffing levels for your event, make sure to solidify your staff as early as possible. Open applications for judges should include any information about the event that will be needed by staff, including date, location, and compensation.
How can I become a judge or support someone on my staff looking to become one?
The process for becoming a judge has moved entirely online! The Judge Academy website is the best place for you or your staff to start. There you'll find e-learning modules ready to teach and test important aspects of being a judge such as the core competencies of the rules, event management, and community building. Judge Academy's endorsement process ensures new judges get plugged into the judge community and know where to go when they need help.
To start getting connected, we suggest joining the Judge Academy Discord. There you'll find specific channels for each region, places to discuss rules and policies, and even places to go to get help with particularly tricky or unique judging situations.
If any questions come up along the journey, you can always reach out to Judge Academy through our contact form.