HOU: 5 Things You Need to Know
July 3, 2017
|
3 min to read
Hour of Devastation brings a lot to your game tables: around 200 new cards to invigorate Standard, the last run of Masterpieces before a hiatus, new content for booster drafts, a second pass at new events like Open House and Standard Showdown, and on and on and on.
Here are five things you should know to help make the set a success in your store:
The Event Calendar Creates a Path to Help Further Engage Your Players
When we added new programs like Open House and Standard Showdown with Amonkhet, we did it to establish a clearer, more complete event path, to give new players a trajectory toward deeper investment in the game, plus higher rungs for engaged players to reach for if they choose. That path recurs with Hour of Devastation.
It goes like this:
Open House → League or Prerelease → Friday Night Magic → Draft Weekend → Standard Showdown → Game Day → Premier Play
It's not a rigid model—League is a good entry point, too—but it's fair to assume that the earlier an event comes on that timeline, the better it is for new players, and the further along you go, the higher the level of competition gets.
Get a deeper dive into the event path here.
Each Prerelease Pack Contains a 5 Hours Activity Card
The event path coincides nicely with another returning theme—the 5 Hours Activity Card, which is similar to the Trials Activity Card from Amonkhet.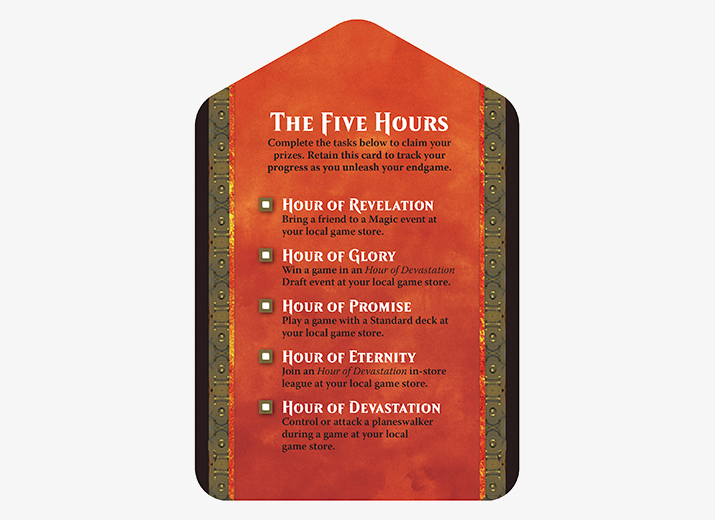 Players find the card in their Hour of Devastation Prerelease pack.
Each time they complete a trial, they earn a special 4-sided die included in your event kit. All players are eligible, but it's meant to help you reward new players for exploring the event path. We want to get your players further engaged in in-store Magic, and this activity helps you incentivize them for doing so.
Check out this walkthrough for how to leverage the 5 Hours Activity Card to guide players along the event path.
Bundles Have Unique Tokens + Full Art Lands
Hour of Devastation includes a new mechanic called Eternalize. Similar to Embalm from Amonkhet, the mechanic lets players exile a creature card from their graveyard to create a mummified token version of that card, which can be represented by token cards randomly distributed in booster packs.
Bundles include a complete set of token cards for creatures that can be eternalized. They're double-sided, with one token on each side, and they don't appear in booster packs.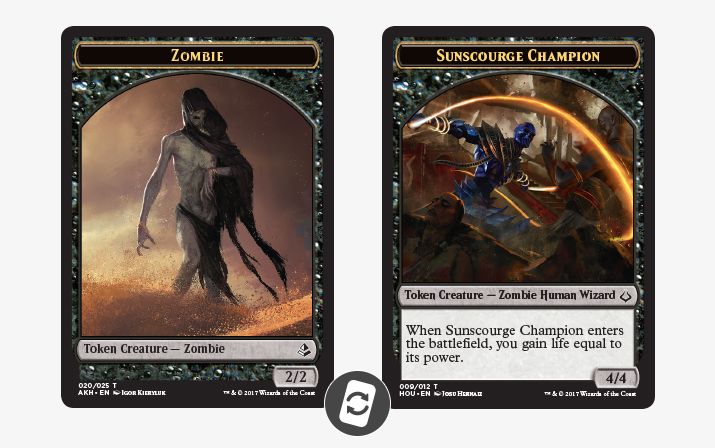 They also include 25 full-art basic lands.
Standard Showdown Packs Have 2 Rares/Mythics + a Full Art Land + a Foil
What's in the packs: two rare or mythic rare from a currently legal Standard set, one Hour of Devastation full-art land, and one foil of any rarity from a currently legal Standard set, including Hour of Devastation full-art lands.
What's not in the packs: Masterpieces or double-sided cards.
There Are New Buy-a-Box Rules
In case you missed it, you've got more freedom with Buy-a-Box promos now. Not only do you automatically receive the promo cards, but now you can use them to create great play experiences once six months have passed since Hour of Devastation's on-sale date of July 14.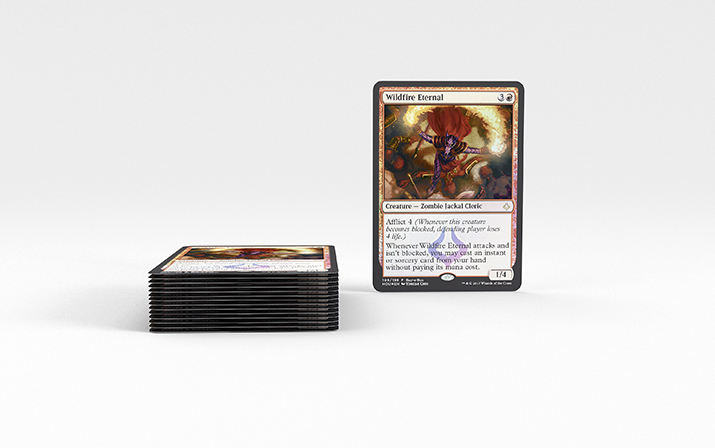 See the complete Buy-a-Box requirements here.