Today we're eager to introduce the Magic: The Gathering Categorization Boxes, the latest addition to your WPN retailer toolbox! These boxes offer an effortless way for your customers to differentiate between products and find the perfect fit for their playing style.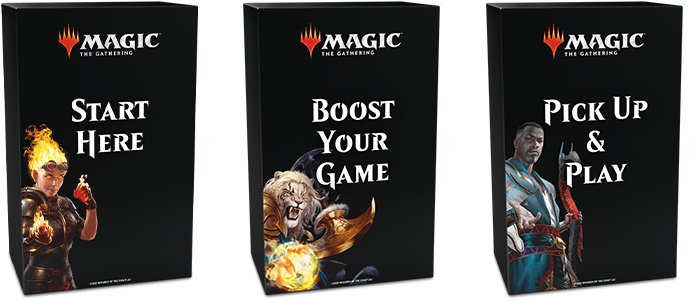 Whether your players are new to the game, competitive, or looking to expand their collection, they can enjoy a seamless browsing experience with the certainty of finding something attractive for their skill level and interests.
Beginners will appreciate the simplicity and ease of finding products designed for their skill level, while competitive players will be able to discover products to improve their decks; collectors will be thrilled to discover rare and hard-to-find items to add to their collection.
For each of the categorization displays, consider merchandising the following:
Start Here – Ideal for new player engagement!
Boost your Game – Enhance your deck or collection!

Boosters (Draft, Set, Collector)
Bundle
Pick up and play – Enticing products for playing with friends in-store or on the go!

Commander Decks
Preconstructed decks
Each category box provides a visual display that highlights the variety of Magic: The Gathering products available in your store, while emphasizing the brand and guiding customers to their next purchase. We also have planograms available to download, which include examples to help you identify the best option for your store.
These boxes are a fantastic marketing tool—download instructions for use on our marketing materials page.