The First Buy-Any-Box Promo Card Is Coming Soon
May 26, 2020
|
3 min to read
Jacob Nourigat, In-Store Play Specialist
When I started putting together the Love Your Local Game Store promotional event, I knew we'd have to do things differently than we ordinarily would.
First, we'd have to focus on sales incentives, given how different the in-store play situation looks from region to region. We'd also have to account for the fact that there wouldn't be any one day that works for all WPN members. And we wanted to help stores recapture lost backlist sales.
We'd also need some truly awesome promo cards to make it all work.
Here's what we came up with.
The First Buy-Any-Box Promo Drives All Box Sales
Great promo cards are a driving force for box sales, so I knew this promotion needed an incredible one.
I reached out to the folks who handle promo creation in Magic's design studio, and let them know we needed an amazing card that would make a player want to buy any box of any set to get ahold of it.
The team came back with a home run.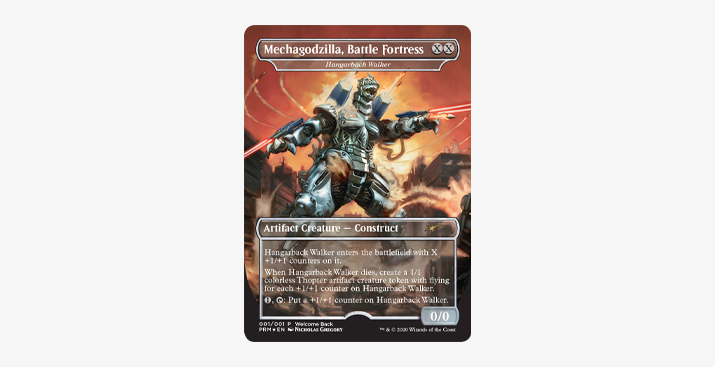 I'm a big Godzilla fan and Mechagodzilla has always been my favorite—attaching it to Hangarback Walker was the perfect fit.
Hangarback Walker is amazing in Pioneer, Commander, and Vintage, and it's not bad in Modern, either. Plus, it's currently the only Godzilla Series Monster card that isn't from Ikoria. Any time there's a card in Magic this unique, collectors are going to perk up. (I know I do.)
Knowing that promos drive box sales, a card this great had to be a Buy-a-Box promotion. When we thought about which set could create the most revenue for our retailers, we realized there wasn't a perfect fit for every store.
That's why we decided to let it apply to any full box purchase of Magic in store and let the promo push as many sales as possible for WPN members.
The First Buy-Any-Magic Promo Drives All Other Magic Sales
We wanted a way to draw players who are less likely to buy full boxes into their local game store, too. That way, the player that buys, say, a Bundle from each set still has an incentive to come into the store and pick up a few boosters. Every sale helps!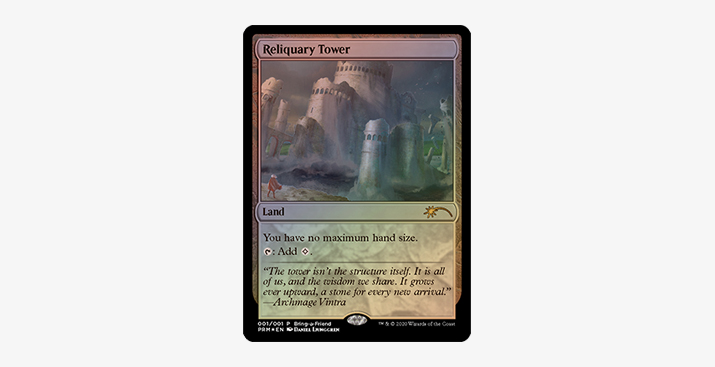 We originally created this Reliquary Tower promo as part of another incentive program, but we decided it would be a perfect fit for this promotion. It's a great colorless land that goes in a lot of Commander Decks—a perfect fit for casual players.
So it just made sense to repurpose it as our first Buy-Any-Magic promo so stores could use it to make more sales as soon as possible.
The Event Allows Stores to Make the Best Decisions for Their Communities
Finally, we wanted an in-store play element to this promotion so communities can celebrate the return of in-store play when it's available. After all, in-store play is the main focus of the Wizards Play Network, and adjusting to how playing Magic works over the last few months has been a challenge.
We decided Sealed League would be the best option. And for stores that can't support in-store play while observing local health recommendations, they can still kick off a League and sell six packs to a player.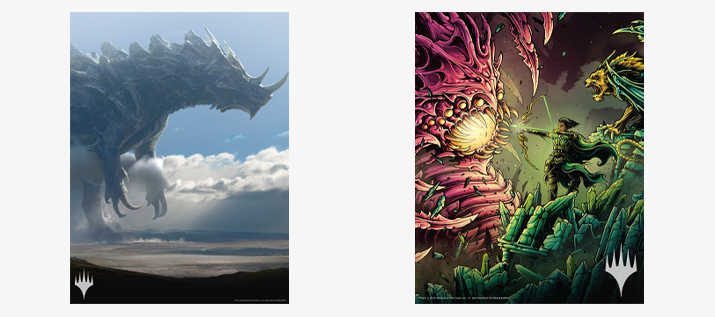 Players are going to be excited to return to stores, and we want to reward that excitement with a cool prize for playing. But we didn't want players to miss out on a unique promo just because they're unable to play in a store.
So, we developed this art print—an interesting way to show off that players supported their local game store's first returning event without leaving anybody out.
Schedule your Love Your Local Game Store event for on or after June 5 (the first available date will vary by region). And make sure your players know they can support your store by advertising the Love Your Local Game Store promo cards and the Behemoth Sealed event to your community.