The 2022 Starter Kit is ideal for any pair of new Magic players that walk through your doors, as they give newcomers the opportunity to dive into their first game in-person and continue the fun online with redeemable Magic: The Gathering Arena code cards. Starter Kits are being refreshed for 2022 and will collect cards from Innistrad: Midnight Hunt, Innistrad: Crimson Vow, Kamigawa: Neon Dynasty, and Streets of New Capenna.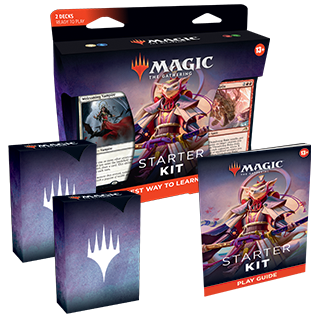 Available in English, German, French, Italian, Portuguese, Russian, Spanish, and Japanese, the Starter Kits contain everything new players need to get started—and they can keep up the fun by heading to Magic: The Gathering Arena right after.
The 2022 Starter Kits contain the following:
Two ready-to-play, 60-card decks


One foil face card in each deck


Two Magic Arena code redemption cards


Rules and World-of-Magic Rulebook
For more details, visit our Starter Kit 2022 product page.
When merchandising your new player product, be sure to keep it near other relevant products, such as current Standard sets. That way, if the players enjoyed their experience with the Starter Kit, you have a clear place to direct them to keep exploring related sets.
While there isn't an event tied to the 2022 Starter Kit release, we still encourage you to host new-player friendly events and demos, both in-store and remote. Having accessible events that players can return to throughout the season is the most straightforward way to build up your community of Magic players.