In multiple threads on reddit and in our own market research, Magic players consistently list "starting events on time" as one of the main reasons they would choose to patronize a store over its competition.
Good time management at events comes down to many factors. But one strategy that can help ensure a smooth start: preregistration.
Preregistration can be as simple as setting up a sign-up sheet at your point-of-sale area in the weeks leading up to the event. (Download one for your Shadows over Innistrad events on the marketing materials page now.)
But if you want to take it next level, here are three tools that can help.
Eventbrite
Labyrinth Games uses preregistration for all of their events and to help facilitate, they use the online event registration service, Eventbrite.
Store Stats
Labyrinth Games
Location: Washington, D.C. (Population 650,000)
WPN Level: Advanced
Age: 5 years
Size: 1,500 sq. ft.
Website: http://www.labyrinthgameshop.com
Labyrinth Games has limited play space so they take advantage of Eventbrite's attendance cap option. Once the event reaches the available quantity (determined by you), Eventbrite will automatically notify any additional registrants that the event is full and they will be put on a waiting list.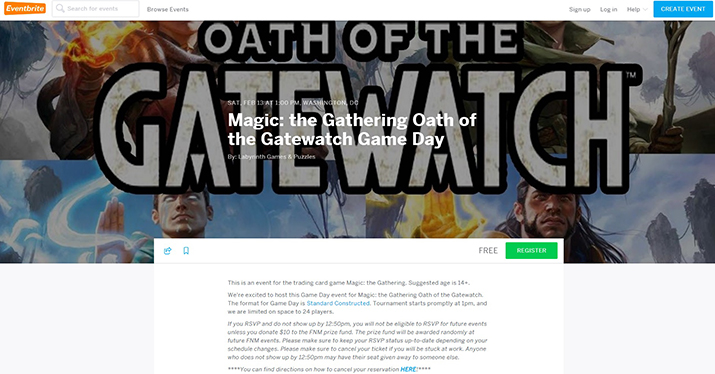 This service will also take payment from registrants via PayPal and Google Check Wallet. Eventbrite charges an organization service fee of $0.99 plus 2.5% of the registration price to the attendees plus a payment processing fee.
However, you can follow Labyrinth Games' lead and use the 'Free Ticket' option. This option doesn't charge the registrants and is merely a way for players to RSVP to your event. You can add their names in WER before the event and take their payment in store, saving you some time.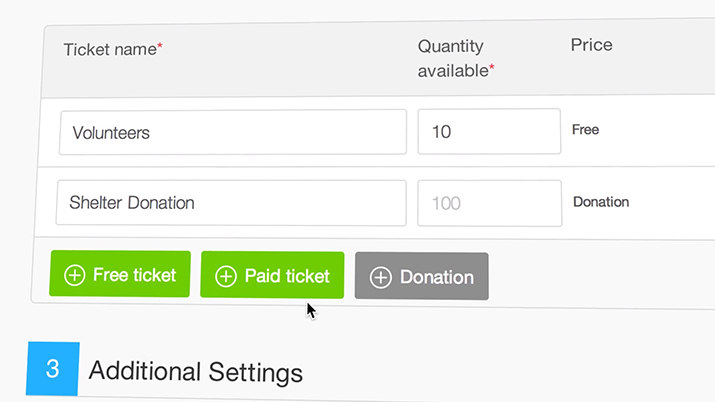 Brown Paper Tickets
Brown Paper Tickets charges a straight-up, $0.99 plus 3.5% to the ticket buyers which includes all processing fees.
However, just like Eventbrite, this service does not charge if you set it up as a free event.
One nice feature Brown Paper Tickets includes is the ability to print and ship tickets to your preregistered participants within twenty-four hours of purchase at no cost to you or the buyer.
They also have mobile tickets that can be scanned and validated using their free mobile app for iPhone and Android. Even better, the app has a tool that enables ticket buyers to easily send tickets to their friends and family. Allowing for easy "bring-a-friend" promotions.
Warhorn
Illusive Comics and Games uses Warhorn and it's entirely free—running solely on donations.
Store Stats
Illusive Comics and Games
Location: Santa Clara, California. (Population 120,000)
WPN Level: Advanced Plus
Age: 9 years
Size: 2,000sf, though events take place at their 1,700 sq. ft. expansion store, Isle of Gamers.
Website: http://www.illusivecomics.com/
Warhorn serves many groups from small home games to large national conventions and everything in between—including weekly organized play events at local game stores.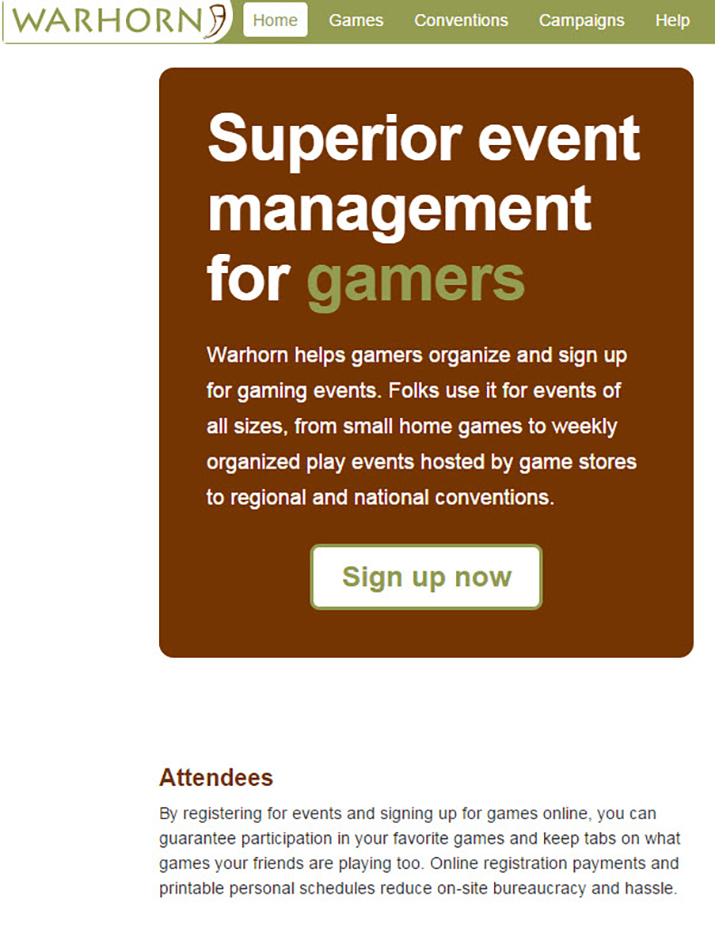 Owner of Illusive Comics and Games, Anna Warren Cebrian, explains, "Warhorn is a huge thing. People were just using it for roleplaying games, but you can add Magic events on your Warhorn page."
One unique convenience Warhorn provides is the ability to break out an event by table. For each table you can choose the game and/or format and the number of available seats.
Let's say you run Booster Draft, Commander, Standard, and Intro Pack Wars all during FNM. You could assign a certain number of tables for each format enabling you and your players visibility into which format is more likely to fire that evening.
All it takes to sign up and use Warhorn is an email address and then you're ready to create an event and start accepting registration.
With Shadows over Innistrad just around the corner, now is a great time to start promoting preregistration for Prerelease, Launch Weekend, Friday Night Magic, and Game Day!