Wizards Event Reporter decommission is coming soon!
If you haven't started managing your events with Wizards EventLink yet, don't drag your feet—we'll end support for Wizards Event Reporter before the end of 2020.
From then on, all event scheduling and reporting will happen in EventLink.
EventLink is a strict upgrade from WER: it's accessible on all devices, it integrates with Magic Companion, and it even reports your events for you automatically. Getting started couldn't be simpler—just go here and follow the instructions.
We've been excited about the release of EventLink for a long time—and we still have so many fresh updates, new features, and sweet promotions to share (like doubling your Commander Legends promos just by scheduling Prerelease. Click here to learn more!)
EventLink makes scheduling, reporting, and running events easier than ever. You don't just need to take our word for it though! Here are a few features that make EventLink better for managing events than Wizards Event Reporter, according to WPN members.
1. Access EventLink from Any Device
"The ability to access it from any type of device that can access the internet is great," says Greg Peck of Greg's Games. "Now our staff can take results on their smart phones and tablets without being locked into sitting at one computer all night."
James Grasso from Recess Games agrees. "Switching to a browser-based system has made accessing event details easier than ever. It's much more convenient being able to open up the event on a phone or tablet if need be, instead of having to centralize everything on one computer," he says.
2. Enroll Players Easily and Quickly

"Our favorite feature is the ability to easily and quickly enroll guests by name," says Jordan Bird of Game Grid Lehi. "With the world being topsy-turvy and our events only being run via Discord, having a simple way to just jump in and start using EventLink has been a big relief."
Other retailers feel the same. "Player registration is very easy, whether using the Companion app or entering the players ourselves," says Matt Bartholomew of Cool Stuff Games - South Orlando.
Plus, quick enrollment means store owners can jump back into all the other tasks they have to accomplish. As Jordan says, "When you've got online orders to pull, packages to prep and ship, and all the other tasks we juggle on a daily basis, having your event software just work is critical to keeping things moving."
3. Integration with Magic Companion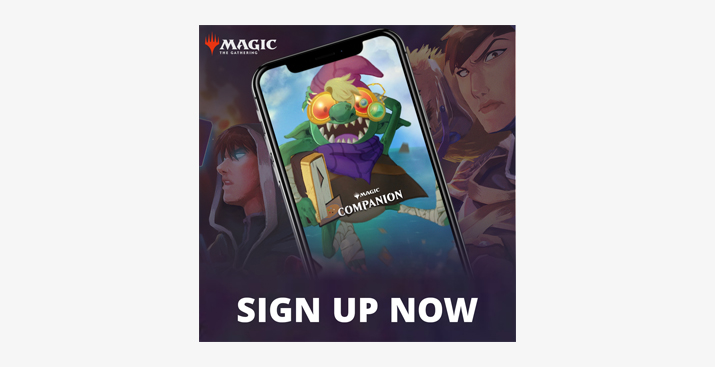 "EventLink's connection with the MTG Companion app makes event management much easier than it was in Wizards Event Reporter," says James. "The app has streamlined the process for everyone, staff and players alike."
Brian Tews agrees. "The best feature of the new EventLink that has made running events easier would be the in-app results posting that the players can do after their match," he says.
"This has sped up the whole process and has kept people away from the counter. With social distancing rules in place, I am also really happy with the pairing being posted to the app, so players don't hang around the TVs where the rounds are posted."
Find Companion for iOS here and Android here.
If you're ready to set up EventLink, click here to get started in two quick steps.
And don't forget—you can double your Commander Legends promos by scheduling Prerelease in EventLink before September 4. Schedule today!