As Shadows over Innistrad nears, you're likely planning your social marketing strategy. You know you need regular updates, you need the Events app, and you need to switch out your header to highlight Shadows over Innistrad key art (available here.)
But if you're Illusive Comics and Games and you're in the dead center of Silicon Valley, it may be worth doing a little more.
"I've got Facebook on one side, Apple on the other, and Google is just north of me," says owner Anna Warren Cebrian.
After nine years of success doing social media for customers who basically invented it, Anna's gotten pretty good at this.
Here are a few of her tips:
1. Use a Photo Editor for Better Images
There are a ton of browser-based photo editors that can make all the difference with the look of your page.
Anna uses Picmonkey ("Picmonkey is my favorite thing ever"), which auto-sizes for Facebook, makes nice collages, plus offers all sorts of tutorials and articles on how to set your photos apart. See pricing here.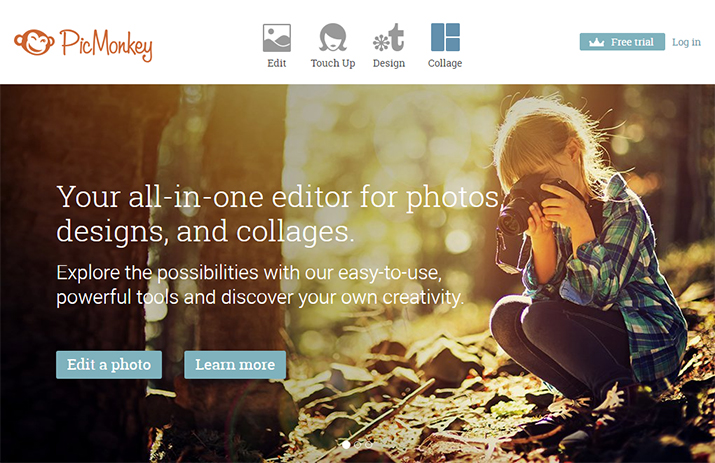 But as powerful as a strong image is, Anna's found that another medium is even more powerful.
2. Use Video to Expand Your Reach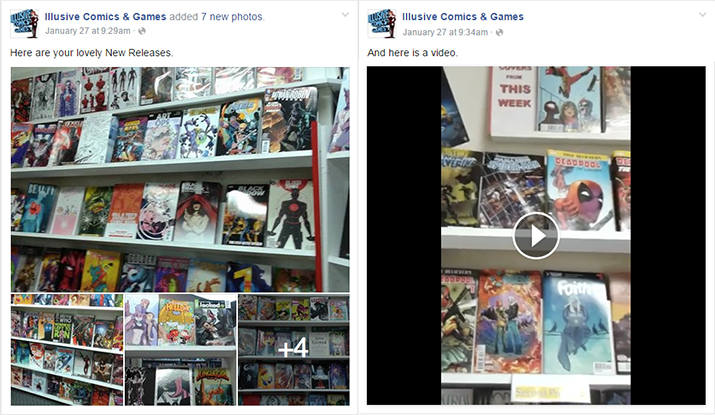 On the left, photos of new releases. On the right, a video of the exact same thing, posted five minutes later. The video outperformed the photos more than fifteen times over.
"We were getting seventy to one hundred hits [with photos], and with a thirty to sixty second video, it's 700 to 800 hits."
And discovering the power of video is just one of the ways Facebook's analytics have helped Anna craft a strategy that works.
3. Listen to the Data
"Pay attention to response time," Anna says.
Doing it that way has helped her tailor her content to resonate with her audience of technology professionals in their 20s and 30s.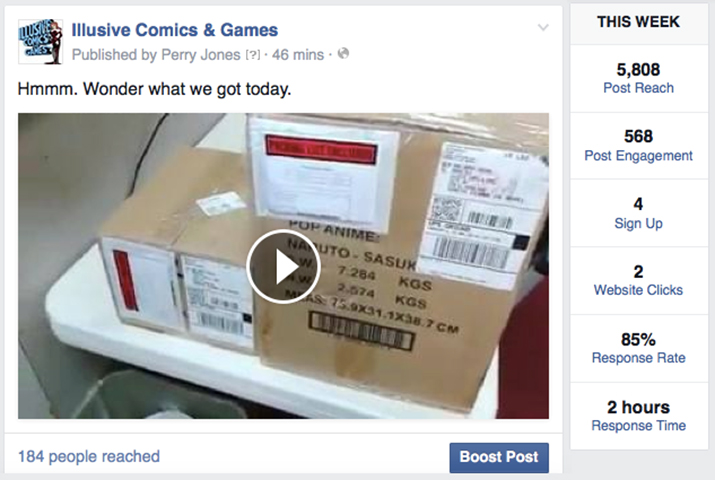 4. Link to Twitter
Facebook will automatically post to Twitter for you. Two social media platforms for the price of one.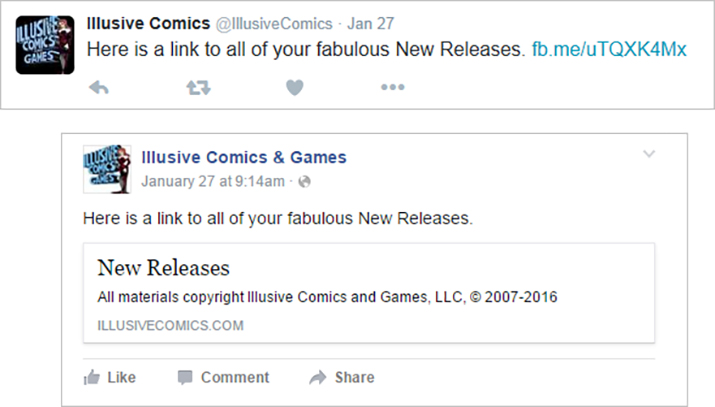 Here's how:
1. Go to https://www.facebook.com/twitter and click "Link My Profile to Twitter."
2. Log in with your Twitter credentials.
3. Facebook will suggest pages you manage that can be linked to Twitter. Choose your store's page.
4. Select which types of posts you'd like to appear on Twitter.
5. Spice Up Your Tabs
You'll start off with About, Photos, and Videos—but you can do better than that.
For example, Anna's page features a tab that previews new comic releases—a fantastic way to keep customers up to date with virtually no effort.
Install the Shadows Over Innistrad Tab!
Link players to an exclusive WPN card preview, Prerelease information, and more. We'll keep it updated for you. All you've got to do is install it.
Each Monday, we'll update the tab with new Shadows over Innistrad information to share with your players, including a WPN-exclusive preview card on March 14.
To install the tab, click this link, select your store's page, then choose "Add Page Tab." Navigate back to your store's page, and click "Manage Tabs." Slide the tab up to the top.
Then each Monday, encourage your players to check out the page for new information about the set.
This tab only works with a business Facebook page. It cannot be used on a personal Facebook page or on a website. We're launching this service as a pilot program, in English only. But if it proves to be successful, we'll look at localizing it into other languages.
Only one of Anna's tips comes with a price tag (number one) and only one is particularly time-consuming (number one again). And any one of them could be a major upgrade.
Give them a try!
Store Stats
Illusive Comics and Games
Location: Santa Clara, California. (Population 120,000)
WPN Level: Advanced Plus
Age: 9 years
Size: 2,000 sq. ft, though events take place at their 1,700 sq. ft expansion store, Isle of Gamers.
Website: http://www.illusivecomics.com/ (made with Weebly)