Starting today through December 31, WPN Premium stores in the United States that achieved a designation before November 10, 2022, can visit the WPN Custom Marketing Materials Portal to place an order for customizable marketing materials. These materials are available to help you boost customers' interest in the upcoming Phyrexia: All Will Be One set release!
Retailers have shown off how these materials look in their stores; since then, we've taken in feedback and made improvements to the quality of items available.
If you are not yet part of the R.R. Donnelley program, please know that we are working to improve and expand the program to more stores as fast as we can. We look forward to supporting more stores in the WPN with customizable marketing options soon.
You can check out what we have available for Phyrexia: All Will Be One below.
Customizable Materials Available for Redemption or Purchase
The catalog of marketing materials contains items available to redeem or purchase: please note that when using the portal, you cannot combine redeemed items with purchasable items. If you want to purchase items in addition to those available to redeem, you must make a separate order.
Current WPN Premium retailers in the U.S. can redeem the following three items for free:


1 oversized set art poster (24" x 36")


1 pop and lock display (20" x 60")


1 retractable banner (34" x 80")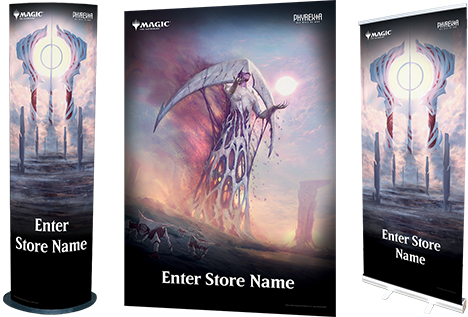 Additionally, WPN Premium stores can purchase the following two items:
Up to 10 set art posters (18" x 24")


Set of 25 table tents (7" x 27")*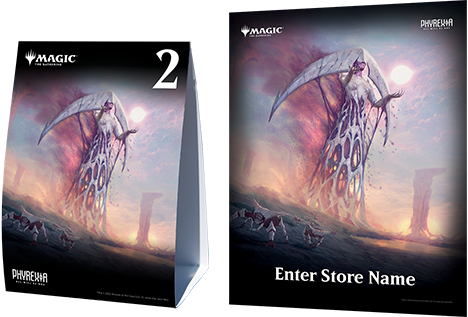 *Please note: the set of 25 table tents will not be customizable; they are the same set of tents numbered 1–50.
Choose the marketing materials that best suit the needs of your business, customizing items in minutes by adding premade or custom text. As you customize your marketing materials, please be sure to follow our marketing materials policy. Including any offensive language as the customization on your marketing materials may risk your WPN Premium status.
Don't delay—head to the portal and place your order of customized marketing materials to give your in-store advertising efforts an extra boost. Orders placed by Saturday, December 31 should arrive in time to support Prerelease events beginning February 3.