By Bill Stark, EventLink Product Manager
Halloween is just around the corner, which means it's time for an update on EventLink and Companion! Our latest releases feature big improvements for players and retailers—all treat and no trick. Here's what we've been up to.
Within-Pod Pairing
You can now choose your pairing style for Booster Drafts! Within-pod pairing will ensure that players are only paired with people who drafted in the same pod. Cross-pod play, allowing pairings of players who didn't necessarily draft together, is still available, but within-in pod is now the default. If you prefer cross-pod play, make sure to toggle that setting. Here's how you can do that: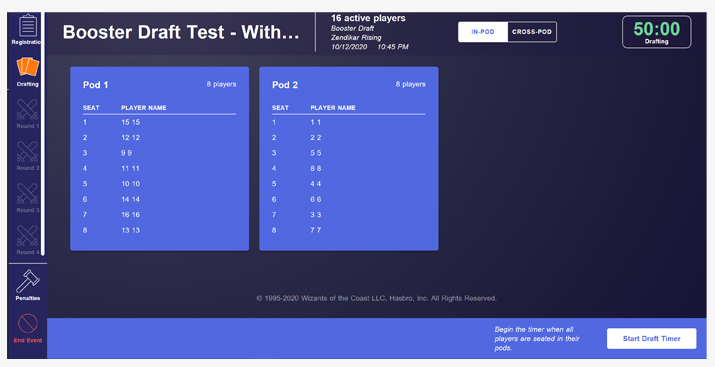 Simply click the toggle at the top to switch from "In-Pod" to "Cross-Pod." Note: make sure to follow the Magic floor rules about when it's okay to pair your drafts using the cross-pod option!
Pairing Algorithm Improvements
While transitioning our pairing algorithm from WER Classic to a browser-based version in EventLink, we found some issues that caused an excess of "random pairings." For those impacted, this led to instances of undefeated players receiving byes or being paired improperly. Now that our algorithm has been upgraded, "random pairings" only occur in extraordinary circumstances (if ten extra rounds are added to a four-player tournament, for example.)
Floating Events
If you're one of our users who reported a "floating event" that continued to display even though the event had passed, your events have been corrected! The primary cause of this issue was fixed months ago, but several older events that fell into a very specific set of circumstances continued to cause issues. These have now been amended thanks to the diligence of users who took the time to report them.
Companion Updates
To ensure players have the best possible experience at your events, we've updated the Companion app to make the following improvements:
Pairings for draft events now feature a player's table number as well as their seating number, making it easier to know where to sit when it's time to draft.


An additional security step has been added for providing a first and last name in a player's Wizards Account through Companion. This will prevent some rare, but significant, confusion that led to some players revealing private information publicly.
What's Up Next
The last Prerelease event of 2020, Commander Legends, is quickly heading our way. This will be the first Prerelease retailers can only run in EventLink, and we're spending all our time to ensure this event goes smoothly for you and your players. We're temporarily scaling down our feature releases to focus on bug fixes and stability improvements. You'll see those changes coming over the next few weeks. Our goal is for EventLink and Companion to give you and your players an experience that is as good or better than you've had with our legacy tools.