By Bill Stark, EventLink Product Manager
Zendikar is rising, and so are EventLink and Companion! Our latest releases update both products to ensure an experience for retailers and players that continues to improve over time.
Time Zone Updates
Magic is a global game, and EventLink is a global tool. For users who prefer a 24-hour clock, EventLink now supports this time format when creating events. Firefox, Chrome, and Safari users can adjust a "time picker" that automatically displays the time in your preferred clock display based on your browser setting.
No adjustments needed! Here's how it looks on my Chrome browser: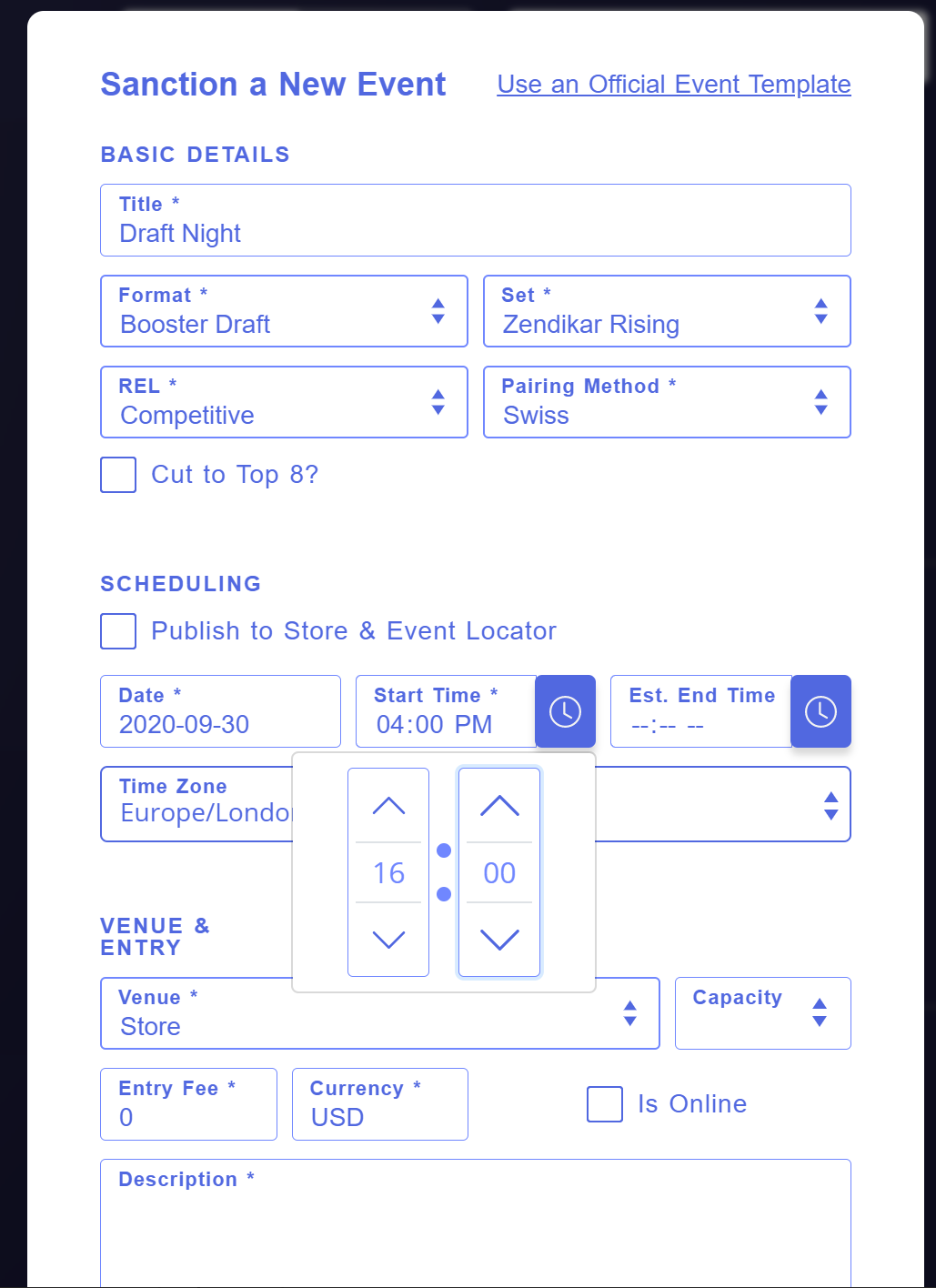 This feature came directly based on feedback from our users, so thanks to all of you who took the time to make this suggestion!
Within-Pod Drafting: Phase 1
While this feature is not fully complete yet, the fully developed solution will deliver most likely in our next sprint, or approximately two weeks from today.
Currently, the algorithm has been adjusted to allow drafters to only pair against one another from within the same draft pod.
To complete the feature, we need to finish fully vetting the algorithm changes through our normal testing procedures and implement the user interface to allow retailers to select between within-pod and cross-pod pairing. The default will be within-pod.
Viewing Past Events
Being able to view the events you've concluded is important to you and your players. It allows you to view final standings for things like prizes while giving your players a chance to see their past performance.
Now, you're able to see players who logged in to your event with a Wizards Account for up to 28 days after an event concludes. The results for users with a guest account can be viewed for up to 24 hours to make sure you can award prizes or review the event while offering increased privacy protections.
Bugs
In addition to new features for EventLink users, we also focus on bug fixes for issues impacting players and retailers alike. Here are some of the most impactful bugs we knocked out.
Several sources of sporadic 500 errors, causing users to need to re-load their events, have been tracked down and fixed. While the 500 errors were relatively rare, this fixes several of their causes and makes them even less likely to crop up.


Several Safari users reported issues with sanctioning events while using the Safari browser. The cause of those issues, an incongruity with how the Safari browser specifically treats the date field, has been fixed.


A Companion bug that prevented users from utilizing password manager services has been fixed. These support tools can now be used to facilitate a faster login to the Companion app.
What's Up Next
In addition to the previously mentioned within-pod drafting functionality, we've got some exciting new tech releasing soon.
We're working on improving event templates to allow you to quickly create, edit, and cancel "recurring" events that copy the details of an event you run on a regular basis.
We're also looking forward to debuting a feature set codenamed "EventLink Mirror." This functionality allows you to expand important information from your tournaments into separate browser windows so you can display the information on screens around your store.
Initially, "EventLink Mirror" will allow users to see the timer, event code, and event details so players can quickly identify those important details, and we'll expand that functionality over time.
Finally, the long-awaited timer refactor—a customizable timer that can be started and stopped as you need—will be ready in our next release!
As always, keep your feedback coming! We read every single item you send us and use that feedback to make sure EventLink and Companion are meeting your expectations!