By Bill Stark, EventLink Product Manager
With the release of the new set, it's time for an update from Wizards EventLink and Magic: The Gathering Companion, too. Let's get exploring!
Zendikar Prerelease Performance
One of the primary goals of an Open Beta playtest is testing the system under real-world load conditions. I'm happy to say our test for Zendikar Rising performed admirably.
Early on Friday, we had one disruption, but we quickly scrambled our strike team and fixed the issue. The rest of the weekend ran smoothly!
Our next test for a Prerelease weekend with EventLink will be for Commander Legends. I'm confident we'll have a smooth event thanks to the hard work from our team and the learnings we've garnered during our Open Beta.
Timer Customization
I've heard from many retailers who want to see customizable timers from previous event management tools come to EventLink. I'm excited to announce that they're finally here! When starting your event, you'll now see this option on your timer:

Clicking the timer will give you this set of options: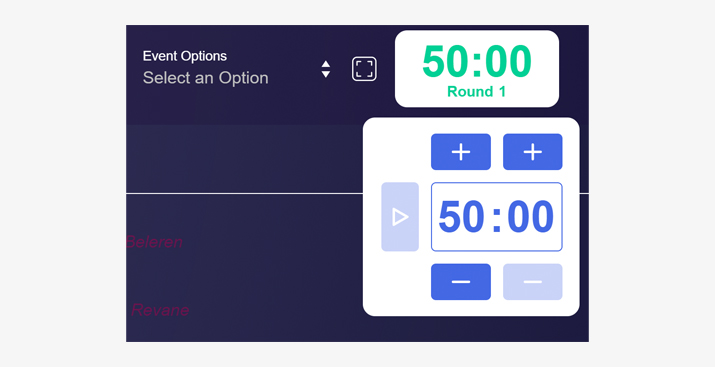 You can set the timer in one of two ways:
Use the arrows to increase or decrease the timer between 1 and 99 minutes


Click into the timer window and manually set the time yourself using the number keys on your keyboard Once you've adjusted the time, click the green checkbox, and your new timer setting is ready to go!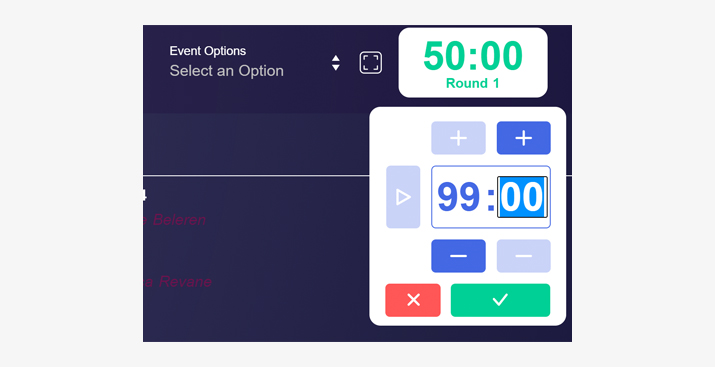 You can also pause the timer! Just click the time again and you'll see this menu: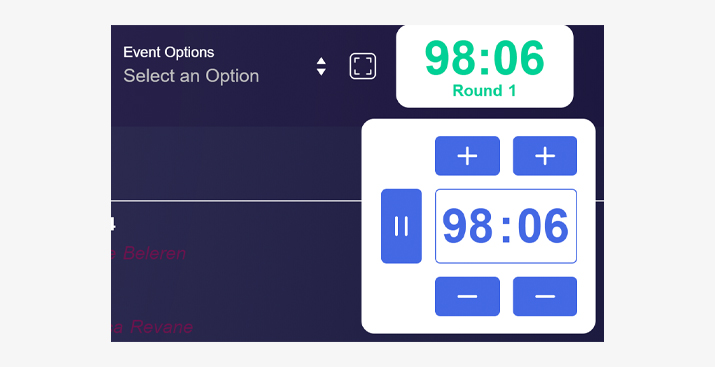 You can click to pause the timer should a problem arise. When pressed again, the timer will pick up counting down from where you paused it.
Introducing: EventLink Mirror
I've heard from lots of retailers who want to display other important event information to players during an event, like the format or entry code. EventLink Mirror lets you do this with ease.
You may have noticed this new icon while looking at the brand-new timer features:

Clicking that icon opens EventLink Mirror, allowing you to display important information in a separate browser tab wherever you'd like it to go. Here's what it looks like: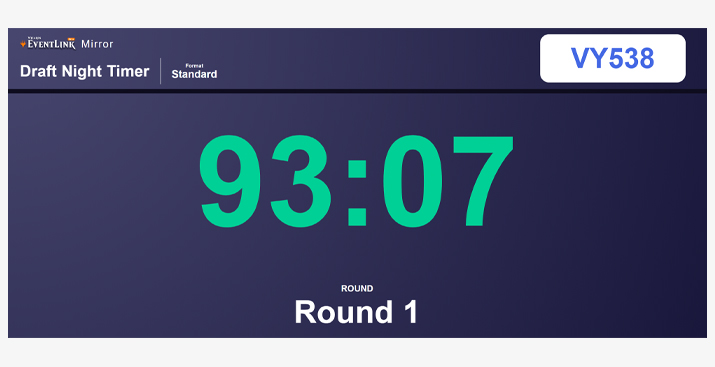 For our first implementation, the information displayed for your players includes:
The event name ("Draft Night Timer" in this example)


The event format ("Standard")


The timer ("93:07")


The round ("Round 1")


And the event entry code for use by Companion players ("VY538")
I'm looking forward to delivering another big part of this software soon: the ability to display pairings and standings.
Companion Release
This sprint's Companion release features a significant set of improvements on our Android version to reduce the likelihood of some common complaints. These include:
Matches being entered as 0-0 automatically with no input from users


Matches being entered erroneously


App crashes
If you or your players still experience these issues on an Android device, please upgrade to the latest version of Companion. If you still see issues, contact us through the EventLink or Companion direct feedback channels.
Bugs
We tackle bugs in every sprint! Some of the big ones we squashed over the last two weeks are:
Functionality that allowed someone to remove a player from the registration screen after an event had begun, breaking the event, has been fixed. You can easily remove players by dropping them, which won't break your event.


Users reported significant rates of 500 errors, which could disrupt events. We tracked down the source of those errors and fixed them.
What's Next
Two big improvements will be available in about two weeks. Those improvements are:
Within-pod drafting, allowing players to only play against other drafters in their draft pod


Improvements to our pairing algorithm to fix instances of overly frequent "random pairings"
We are also working on new functionality for running Arena At-Home events. These features, code named "ArenaLink," automatically score results in EventLink based on matches that happen on Arena without work from you or your players.
Our first internal test of the service happened last week and worked perfectly. We've got some more testing to do, but the team is excited to roll this new solution out to our retailer community soon!
Keep That Feedback Coming
Thanks to those of you who have taken the time to reach out with suggestions, bugs, and issues you've come across in EventLink. Keep that feedback coming! It's invaluable for helping us to refine the tools to make sure they're meeting the needs of our WPN retailer community.