Magic: The Gathering's first sci-fi set is on the way—Kamigawa: Neon Dynasty is governed by the rule of cool, blending Kamigawa's organic magic with technology to create a bright future (literally).
Whether your players are old fans of Kamigawa or stepping into the plane for the first time, this set has something for everyone. Here, you'll find all the information needed to get your players geared to glow up their decks.
Kamigawa: Neon Dynasty Product Preview
The product lineup for Kamigawa: Neon Dynasty promises eye-catching art and action-packed gameplay no matter where you look. Here's a breakdown to help you build hype for your players.
Prerelease packs will be the first taste your players get of Kamigawa: Neon Dynasty's effervescent, neon-dripped future.
Collector Boosters, true to their name, are filled with foils and special showcase treatments exclusive to the set that are ideal for your players who crack packs to collect.
Theme Boosters focus around one of the five mana colors, plus a sixth theme especially for Kamigawa: Neon Dynasty—Ninja. Strategizing with high-tech Ninja allows players to look sharp and play sharper.
Commander Decks are pre-constructed decks ready for immediate play. The commanders of this cyberpunk futurescape lead action-packed red-green and white-blue decks.
Bundles boast a gorgeous array of cards infused with color and chrome and a traditional foil alt-art Promo from Kamigawa: Neon Dynasty, making them ideal for your biggest collectors who don't want to miss out.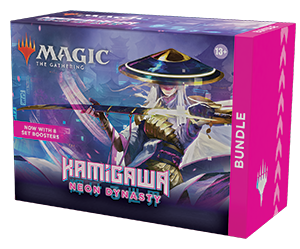 The Future Looks Good In AR
In January, players can step into the streets of Kamigawa with a special web-based augmented reality experience exclusive to WPN stores. Scanning a QR code in stores with their mobile device, players can view and interact with a street market as long as they're in your store.
During the event, players can also access exclusive animated preview cards among other unique encounters within the environment. More information on this interactive experience will be revealed soon.
Schedule Now! Kamigawa: Neon Dynasty Events
Ready to make the leap into this bright, optimistic future? The following events are available for scheduling now in Wizards EventLink.
Scheduling your Kamigawa: Neon Dynasty events and activities early is the best way to guarantee players find your store and sign up. Wizards EventLink is compatible with the Magic Companion App, too, making it even easier for your players to join events.
The future looks good—and we can't wait to see you there. Start scheduling today!