As in-store play begins to return around the world, we want to make sure the transition back is truly legendary.
That's why we're announcing the return of the Love Your Local Game Store promotion to build hype (and provide awesome offerings) throughout the rest of 2021 as in-store play gradually resumes in regions across the globe.
We're thrilled to start working towards a global return to in-store play with you when it's safe and possible. So, we're rolling out a sequence of promotions to help bring your community back to your store, amplify your events, and give customers more reason to celebrate and love their local game store.
While the Love Your Local Game Store promotion is not yet available in all areas worldwide, we want to give you a sneak peek at what we've planned for when play does return in your location. Start dates will be staggered and announced as in-store play opens regionally.
The Love Your Local Game Store promotion will begin in the U.S. with three legendary offerings, which will be available to all regions soon.
First, we're offering a sales promo of foil retro-frame Fabled Passage for each customer who spends $50 or more in-store on Sealed Magic


Next, we'll have five different foil, retro-frame promos, one for each in-store event entry


Finally, we'll cap things off with WPN-exclusive sales of Mystery Booster Convention Edition
We know it may take time to ramp up your calendar of events. We're beginning with a sales promotion to help you welcome your customers back when you can.
1. Give Fabled Passage to Each Customer Who Spends $50 or More In-Store on Sealed Magic
When it's time, ease customers back into the in-store shopping experience with part one of the Love Your Local Game Store promotion.
Customers spend $50 in your store on any sealed Magic product


You give them a foil, retro-frame Fabled Passage promo (limit one per customer)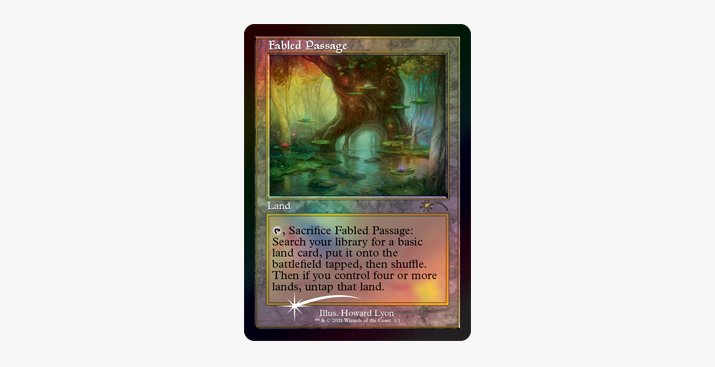 All WPN members will receive foil, retro-frame Fabled Passage promos based on your Q1 2020 metrics snapshot.
As always, please remain compliant with all applicable local laws, ordinances, and health and safety guidelines when allowing customers into your store. Once the date is announced, you're welcome to start this promotion later than the start date if you need to. You are responsible for determining if your retail location(s) can legally and responsibly hold in-person play.
For WPN members in Asia Pacific, Japan, and Africa, where in-store play has already resumed, you can run this promotion as soon as the cards have arrived in store.
Other regions will hear more about the start date when in-store play officially resumes in their area.
This simple sales promo is just the first wave of the Love Your Local Game Store promotion. Here's a glimpse at what else we've got in the works.
2. Give One of Five Different Foil, Retro-Frame Promos for Each In-Store Event Entry
When play begins to ramp back up in stores, part two of the promotion begins—we'll continue to build the excitement with a play promotion that will keep your customers coming back.
We'll have more specific details to share soon, but here's a sneak peek at how it'll work:
Players participate in any in-store event once the promotion starts


You give them one of five foil, retro-frame promos—limit one per day and a total of one of each promo per customer
We'll share exactly which five fan-favorite cards we chose for these promos before they arrive in your region, so be on the lookout for more updates and announcements in 2021. You will receive this promo after in-store play officially resumes in your area.
It's just another great way to welcome customers back to your store—but there's going to be more!
3. Run Mystery Booster Convention Edition Drafts
Finally, later this year, Mystery Booster Convention Edition will be available exclusively at WPN stores once in-store play has resumed.
You probably remember Mystery Boosters from their early 2020 release—they're loaded with reprints from over forty previous Magic sets presented in their original form. That's original frame, art, typesetting, expansion symbol, legal text, and all.
Convention Edition includes a "playtest card" not found in regular Mystery Boosters—it's an original design with hand-drawn art from Wizards employees and often questionable (but always interesting) rule text.
This for-sale product will be offered through distributors to all WPN locations. Your allocation is intended to be used for in-store drafts and events so you can bring your entire community back in for play.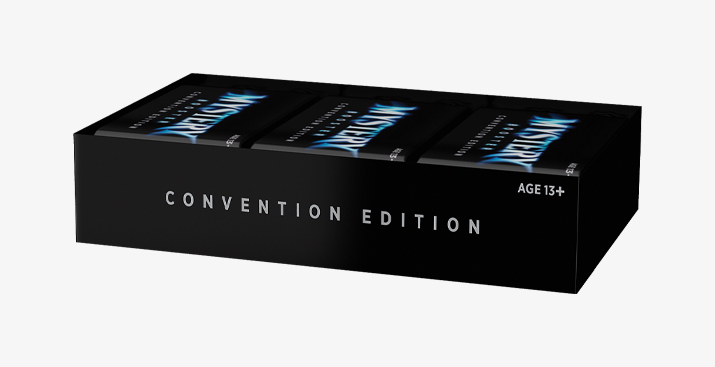 These boosters are super fun, chaotic, and a fan favorite—the perfect fit for players celebrating being back in local game stores.
We'll be revealing more dates and details soon.
We can't wait to help you welcome customers back to in-store Magic. Stay tuned for more information, and start preparing now for these awesome promotions to make your store's return to play truly legendary.