As a reminder, Wizards Event Reporter is being decommissioned on March 23. Connecting your store to Wizards EventLink before the decommission lets us know that your store is still in business and that you'd like to continue receiving Wizards Play Network support.
WPN members who have not signed up for EventLink prior to the decommission will be assumed to be no longer in business or no longer interested in Wizards support, and will be removed from the WPN.
Wizards Event Reporter will be decommissioned on March 23—that means there's no better time to start adjusting to Wizards EventLink so you won't be caught off guard when WER shuts down for good.
We're here to help you do just that. Choose one of the options below to go right to the most relevant information for you.
I have not registered my Wizards Account with EventLink.
I tried to register my Wizards Account with EventLink, but something went wrong.
I have registered my Wizards Account with EventLink.
If you haven't already used EventLink to schedule an event, it's time to get on board. If you don't have an account by the WER decommission, you will be removed from the WPN.
Getting set up just takes a few minutes. Follow the steps below to ensure you are ready for the change.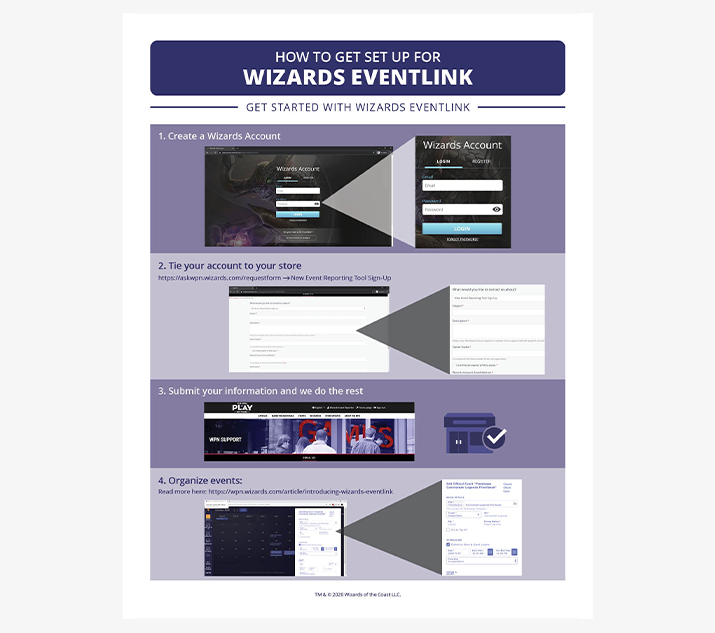 Register your Wizards Account at myaccounts.wizards.com.


Go to askwpn.wizards.com/signin and sign in with your Wizards Event Reporter credentials.


Fill out the "New Event Reporting Tool Sign-Up" form with your newly registered Wizards Account information and submit.
It can take up to 48 business hours for Wizards to process your application, so don't wait until the decommission date—do the steps above today.
If you run into any problems setting up EventLink, please call Retail Support. We'll walk through the process with you, figure out what went wrong, and get your account set up.
Once you've registered your Wizards Account to use EventLink, all that's left to do is run events!
Remembering how to run events in a new tool—especially when you're used to using WER—can take some work. If you need a refresher on scheduling and running events in EventLink, you can print out this graphic and keep an easy step-by-step reminder nearby.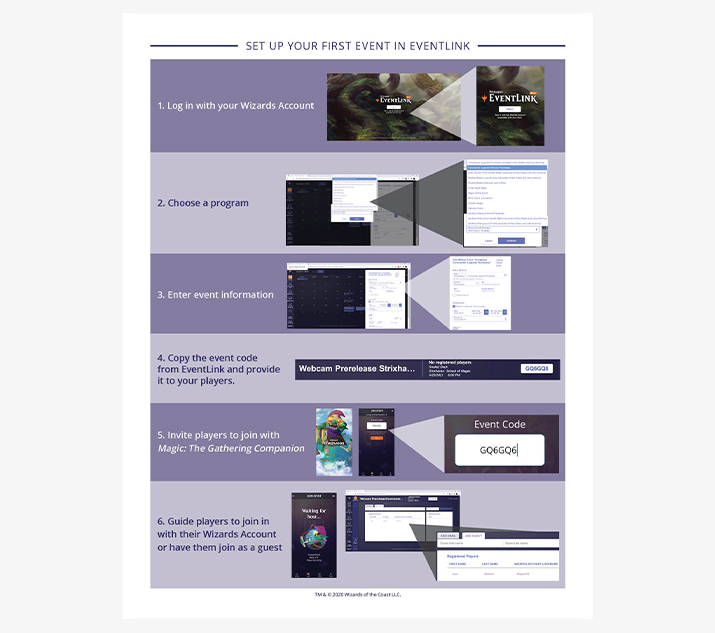 You can download both of these infographics here.
Don't miss out on promos and entire events—start using EventLink today!