Even during a pandemic, members of the Wizards Play Network remain as focused as ever on serving their communities. For a lot of WPN members, WPN Premium won't fall into that category—and that's perfectly okay. Whatever serves your community is the right move.
Some stores have decided that the "right move" is pursuing Premium. If you're one of them, here are a few things to know.
The bar is high.
Store accessibility, exterior and interior appearance, event quality, and overall customer experience are all examined carefully in the application process. Use the checklist icon below for a look at what we're expecting from WPN Premium stores before submitting your application.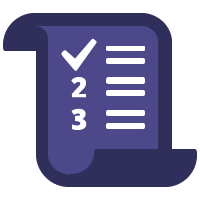 Note however, that you are welcome to apply even if a few boxes remain unchecked. We understand that the pandemic may limit your ability to make certain improvements (due to things like delays at furniture manufacturers), so we may be able to offer a grace period on those requirements.
And finally, please be aware that, as of July 8, WPN Premium requires an online sales platform as well as offering remote play opportunities for your community.
POS data is required each month.
WPN Premium will also be required to provide monthly point-of-sale data by the 7th of each month. Applicants will therefore be asked to submit two months of point-of-sale data around the time of receiving the WPN Premium designation.
Point-of-sale data will be used only for internal purposes and will not be shared with a third party, except with the data compliance vendor that has been contracted to protect, aggregate and process this data.
We'll request the following fields of point-of-sale data for Wizards of the Coast sealed products:
Date and time of transaction


Transaction number


UPC and/or SKU (Master UPC/SKU List here)


Product Description


Quantity sold


Unit sold price


Total item prices
Download a template here.
Follow the instructions included in the "SKU list instructions" tab for details on how to automatically update the SKU info in your template each month as new products are added.
Use these tools to create a floor plan.
A store floor plan with accurate measurements is another WPN Premium requirement. Here are some resources you can choose from to draft a floor plan:
And lastly, as part of the application process, secret shoppers will evaluate WPN Premium stores to ensure quality experiences are being maintained. These evaluations may occur over the phone and/or in-store.
If you think your store is a good fit, please use the button below to apply.
You'll receive an automated response upon submission. It could take up to two weeks for a follow-up from your regional specialist on the status of your application.
If you have questions about the application process, contact us.