In the past year, Jennifer Haines' Eisner-award-winning store, The Dragon, has brought in 215 new Magic players, over a third of their total players. We asked her to share how she's created such a new player-friendly, inclusive environment. Here's what she had to say:
We believe that everyone who comes into The Dragon is a customer, regardless of preconceived notions about who "should" be a customer. I can't tell you how many times I'm ignored in a store, while my husband is greeted.
Approximately 49% of our customers at The Dragon are women or families.
We got there by following the three basic cornerstones of retail philosophy: Design, Merchandising, and Operations.
By persevering at developing these cornerstones, you could find yourself seeing an increase in female Magic players and setting your store up for growth.
Design (or How Your Store Looks)
When a prospective customer first walks into your store, they make a sub-conscious judgment within 90 seconds of entering. 52% of shoppers don't return to a store if they don't like the aesthetics.
We chose our store colors based on the psychology of colors in retail. Roughly 62% to 90% of shoppers make their decision to come into your store based on colors.
We chose blue because studies show it suggests trustworthiness, and has a calming effect. Blue also entices customers to stay longer and return more often. Plus, it's a popular color with both men and women.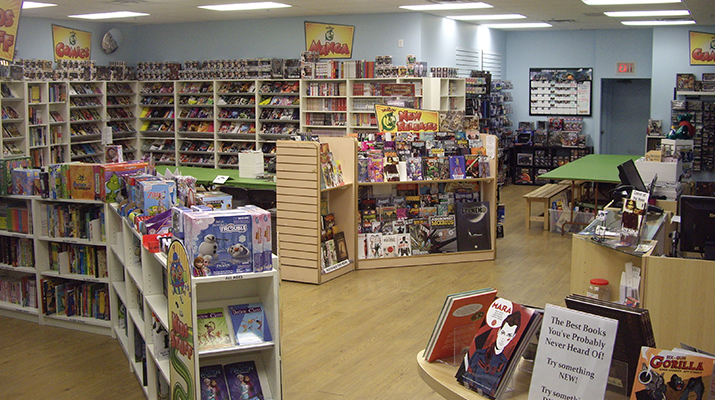 We laid out the store so that customers could see all areas from every angle. This makes newer customers not feel trapped.
We created aisles that are wide enough for wheelchairs and strollers, providing basic accessibility, but also bearing in mind the "butt-brush" factor, which indicates that women will leave a section if someone physically contacts them when moving behind them.
Merchandising (or What You Sell)
Knowing the product is something all retailers excel at, so I certainly don't need to give you any tips there!
Operations (or What Your Staff Do)
Everything we do at The Dragon is based around the philosophy that we're a family business that is welcoming of people of all ages, gender, and sexual orientation.
We greet everyone who comes into the store. Studies have shown that shopper conversion rate is increased by half when there is staff-initiated contact. Fundamentally, people will prefer to shop where they feel wanted, and they might even pay a little more for that experience.
Did you know that women control 85% of household spending in North America? We make sure women feel like we're the kind of place they would like to spend money.
We recognize that women demand more of their shopping experience than men do. They have higher standards for the store appearance and service they receive. If a woman is not given enough service, she is likely to not return to the store.
The play experience provided is also crucial in keeping women coming back to your store.
Statistics show that 38% of Magic players are women. But, most of them stay at home to play.
Once they've stepped into your shop and been welcomed by your staff, you need to keep them around. The best way to do that is to make your events are as accessible as possible for new additions to your player community.
Make Your Events More Inclusive
Host casual events with a facilitator, who can pair newer players with people you know will give them a good play experience
Provide loaner supplies. This way, players are less likely to be intimidated by a player base that is all fully equipped with sleeves, playmats, and life counters
Insist on fair play
Ban any discriminatory language, and also profanity, among your players. Women should feel they could bring their kids to an event
Have your staff members wear nametags to provide a sense of familiarity. This comfort will keep all your customers happy
Have a woman working during your Magic events. We find that women always feel more comfortable if there are other women around
The look of the business will get women in the door. The products they encounter and service they receive will get them to stay.
Bad service will undo good merchandise, prices, and location every time.
Welcome women into your shop! If they're there, it's because they want to be.
By Jennifer Haines, store owner of The Dragon
Store Stats– The Dragon
Location: Guelph, Ontario (Population 120,000)
WPN Level: Advanced Plus
Age: 18 years
Size: 1800 sq. ft.
Website: thedragonweb.com