Earlier today, we revealed an exciting expansion of Magic: The Gathering into the realms of Universes Beyond—a series that combines the gameplay of Magic: The Gathering with worlds, characters, and stories that are cherished by millions of fans around the world.
Among those worlds are the expansive universes of Warhammer 40,000 and The Lord of the Rings, with others set to join as our Universes Beyond expands. Universes Beyond will act as a brand within Magic: The Gathering—existing in addition to and alongside our existing line of products.
We hope that Universes Beyond will bring the game we love to more people who might not have otherwise found us. We hope fans of these worlds and characters will find our game through Universes Beyond—and we hope they'll stay a while and become part of our amazing community.
Universes Beyond: What WPN Members Need to Know
Universes Beyond products are an addition to the existing Magic product line, not replacing current products


Universes Beyond products will generally be available through all Magic channels


Cards from Universes Beyond products will not be Standard legal
First, Universes Beyond will be branded slightly differently and will have a specific look as a result. These are still Magic cards, through and through, but the frame will be distinct, and cards will have a holofoil stamp that denotes them as being from Universes Beyond. It will look like this: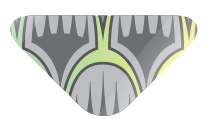 If that stamp looks familiar, it's because it already exists on Secret Lair X The Walking Dead cards, which will be grandfathered into Universes Beyond.
On that note, Universes Beyond products will generally be sold in all Magic channels—these will not be strictly Secret Lair products. There will also be the occasional standalone product like The Walking Dead, but the intention is to typically make Universes Beyond as available as any other Magic product.
That said, Universes Beyond cards will not be Standard legal. This is purely a cool thing we're doing in addition to all the other cool things we're already doing.
Universes Beyond represents an exciting, new, and, yes, different take on Magic. We're ecstatic to geek out over some of our favorite stories, characters, and fandoms alongside all of you, and we look forward to sharing more on Universes Beyond as we get closer.