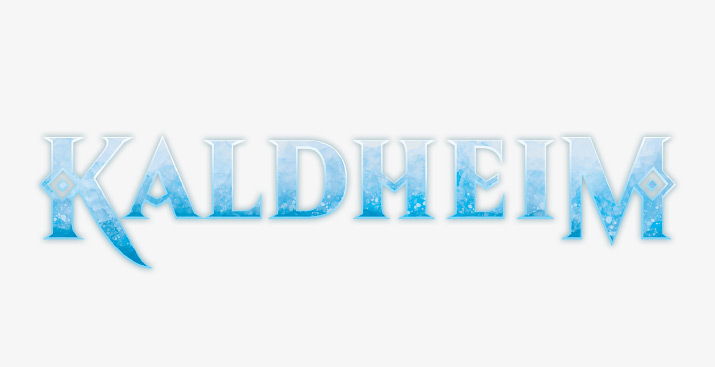 Scheduling is now open for Kaldheim, Magic's take on a world inspired by Vikings. Here are all the important dates for the season and what you need to know when you schedule your events.
Please note that these dates represent the best information currently available, but the situation is fluid. If we receive updates that change the status below, we will notify WPN members via email, social media, and our distribution channels.
Important Dates
Season
February 5–April 22 (11 weeks)
Scheduling Opens
October 26 (now open!)
Distributor Selection Deadline
November 13 (November 27 in Europe)
Promo Pack Allocations Set
November 13
Wizards Event Reporter Decommission
December 8
Digital Marketing Assets Wave 1
December 14
Kits Delivered (North America and Latin America)
December 17
Digital Marketing Assets Wave 2—Be Ready for Preorders!
January 7
Kits Delivered (Europe, Japan, and Asia-Pacific)
January 22–28
Promo Packs Delivered (All Regions)
January 22–28
Bring-a-Friend Promos Delivered
January 22–28
Prerelease
January 29–February 4
Combined Prerelease and Release in China Only
January 29
Release
February 5
Launch Party
February 6–February 7
Friday Night Magic
February 5–April 9
Commander Nights
February 8–April 15
Prerelease Allocations: Adjustment to Prerelease Allocations and Guest Account Tickets
Starting with Kaldheim, we will return to using the highest Prerelease attendance of your last two sets (M21 or Zendikar Rising, in this case) or Theros Beyond Death to determine your Prerelease allocation.
Additionally, we're temporarily counting all guest account tickets in Wizards EventLink towards Prerelease allocations for main sets while the metrics freeze is in place to make picking up Prerelease kits for multiple people during At-Home Prereleases a smoother process.
Prerelease: Weeklong Globally, Not Available In-Store for US, Latin America, and Europe (Including Russia)
With in-store play temporarily suspended in the US, Latin America, and Europe (including Russia), those regions will only find At-Home Prerelease available in EventLink. To help accommodate players' schedules, they're available all week, from 3PM Friday, January 29.
Those same dates apply to regions where in-store play is available, and organizers can limit the number of people in their store at any given time by scheduling as many events as they need.
Note that these dates apply for the Prerelease Early Sale Promotion as well—you can sell advance boxes of Kaldheim between January 29 and February 4. Only full-box purchases are eligible. You may continue shipping Prerelease Early Sales with an expected delivery date of Prerelease, January 29.
Premium Deadline: Reach Premium by November 13 to Sell Collector Booster Boxes at Prerelease
WPN Premium members receive an allocation of Collector Booster Boxes to sell as part of the Prerelease Early Sales Promotion for most sets, including Kaldheim.
Reach Premium by November 13 and you'll receive Collector Boosters Boxes as part of your allocation for Kaldheim.
Kaldheim Welcome Boosters: On Hold in North America and Europe
Welcome Booster production is on hold in North America and Europe for Kaldheim. All regions will still receive the Bring-a-Friend promo, Reliquary Tower.
Bring-a-Friend Promos are simple: any time a player brings someone new to your community to play in an event, reward your existing player with the promo—webcam events count!
Remote Play: Arena, Magic Online, and Webcam Events Available for All Programs in All Regions
The US, Latin America, and Europe will only find online event options when scheduling all events for Kaldheim.
Retailers in all regions can choose to host online events through EventLink, even if in-store play is available in your region. You can still give out promo packs as prizes or participation gifts for these online events.
In regions with access to Arena and Magic Online, retailers can also continue to host Arena and Magic Online tournaments through EventLink.
As a reminder, we lifted restrictions around organizers taking admission fees for events run on Magic Arena and Magic Online. We have increased the maximum entry fee for both Magic Arena and Magic Online tournaments to $25. Read all the updated tournament rules here.
Learn more about running Arena events through EventLink here.
WER Decommission: Start Using EventLink Now
Wizards Event Reporter will be decommissioned soon—that means there's no better time to start adjusting to Wizards EventLink so you won't be caught off guard when WER shuts down for good.
WER will no longer be available on December 8. If you don't use EventLink, you won't be able to schedule any events for Kaldheim.
Getting set up just takes a few minutes. Follow the steps below to ensure you are ready for the change.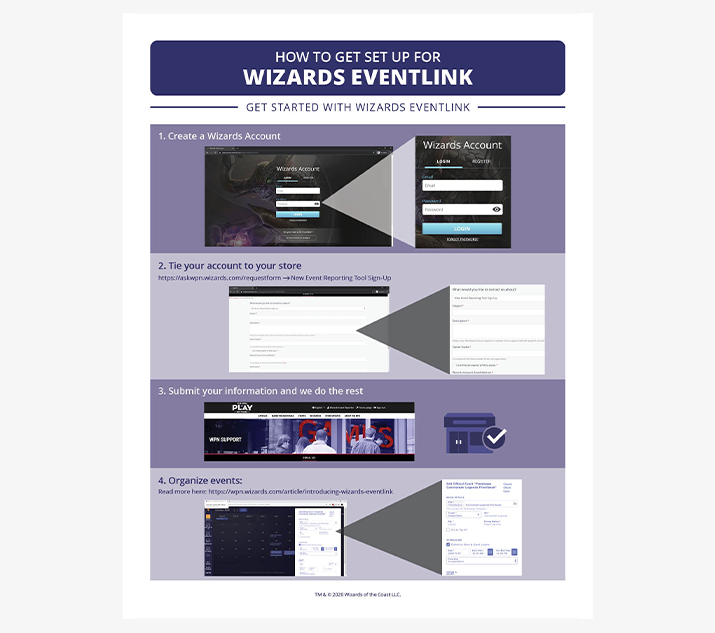 Register your Wizards Account at myaccounts.wizards.com.


Go to askwpn.wizards.com/signin and sign in with your Wizards Event Reporter credentials.


Fill out the "New Event Reporting Tool Sign-Up" form with your newly registered Wizards Account information and submit.
It can take up to 48 business hours for Wizards to process your application, so don't wait until the decommission date—do the steps above today.
Schedule your Kaldheim events in Wizards EventLink today!