Kamigawa: Neon Dynasty is a set full of dazzling discovery—to showcase this incredible world, we've rolled out an immersive in-store augmented reality (AR) experience.
The AR experience starts January 21 and runs right up to the day before Kamigawa: Neon Dynasty release: February 17.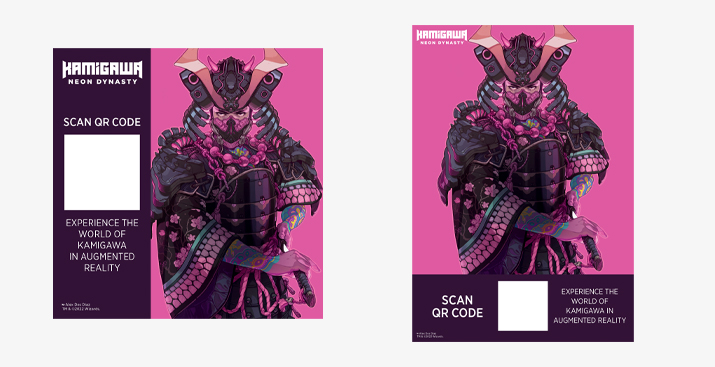 WPN stores will start receiving QR code stickers or flyers (depending on your region) beginning January 17, which is your customers' ticket into the universe of Kamigawa.
Today, we'll answer some questions that'll help get you ready to run this month-long event at your store.
What Is AR?
Augmented reality (AR) is an interactive experience combining a real-world environment and digital objects and environments.
What Is the Kamigawa: Neon Dynasty AR Experience?
By scanning a QR code from their mobile device, customers in-store will drop into the world of Kamigawa: Neon Dynasty, visiting a city market from the Towashi district.
The experience is web-based, so no app is required to engage with it. Your customers can save the webpage to their home screens to return to it later. New content will be added to the experience every week as we ramp up to Prerelease.
Please note: due to production timelines, if your store joined the Wizards Play Network during November 2021 or later you may not receive an AR activation for your store.
How Do I Prepare My Store?
As a store owner, you'll receive a flyer (or sticker) with a QR code. Place the QR code in a highly visible space, such as near your register or in your play space. The sticker (or flyer) is the only way your customers can access the AR experience.
The experience requires internet access (or a mobile network). For the best experience, we recommend having a Wi-Fi network with your network name and password displayed in an accessible location for your customers.
The AR experience may not be safe for some players with a history of photosensitivity, epilepsy or seizures. Place a warning near your poster so players can take that into account before participating and do so at their own risk.
What Do My Customers Do?
Entering the AR experience is a two-step process:
Customers use their camera app to scan the QR code from the sticker (or flyer).


Once on the webpage, customers align the image displayed on their phone with the sticker (or flyer) in-store.
Once that's complete, they'll enter the experience! It will last for around three minutes, and at the end users will have the opportunity to sign up for your store's Kamigawa: Neon Dynasty Prerelease.
The AR experience does not require users to move around your store. For the best experience, we encourage users to stay seated in-store while engaged.
How Do I Get My Customers Engaged?
This AR experience is exclusive to WPN stores worldwide, and it's only available for a limited time leading up to Kamigawa: Neon Dynasty Prerelease.
Let your customers know this will be their first chance to see the lights of Kamigawa. When they're in-store, encourage them to scan your poster and guide them through the webpage entry steps.
Your engagement shouldn't stop when they're done exploring, either: use the experience to strike up a conversation about Prerelease and connect them to your events using the Magic: The Gathering Companion App.
The Kamigawa: Neon Dynasty AR experience is just one of four new experiences coming exclusively to WPN stores! We'll reveal more about future in-store experiences in the coming months.
Your QR sticker (or flyer!) starts arriving next week—plan ahead and make sure your WiFi is in top form! Spread the news on your social media and let customers know that your store is the place to go to step onto the streets of Kamigawa starting January 21.