With the return of in-store play in the U.S. and the Love Your Local Game Store promotion in full swing, this summer is already heating up for Magic fans.
As promised, we've got even more excitement to share with customers returning to stores in the U.S.—including a new treat for WPN Premium stores.
As you continue to build your event calendar, make the most of these three in-store play offerings:
First, start giving out the traditional foil, retro-frame participation promos on July 23
Next, schedule your Mystery Booster Convention Edition Draft event today
Finally, reach Premium by July 22, and you'll get unique play promos not found anywhere else in Adventures in the Forgotten Realms!
Reminder: Metrics Count for In-Store and Webcam U.S. Play Beginning July 16
The 2020 metrics freeze allowed us to provide allocations that suited your established community throughout the pandemic, but now it's time to get back to growing your allocations because we're turning metrics back on.
After metrics are turned on, we will evaluate both your current and Q1 2020 snapshot metrics and use whichever is higher until July 2022. Now, let's dive into those offerings.
Foil, Retro-Frame Promos for Each In-Store Event Entry Arriving Before Adventures in the Forgotten Realms Release in the U.S.
Starting July 23, you can give out one of these fan-favorite, foil, retro-frame promos for each event entry to keep your customers coming back for more:
Aven Mindcensor
Dig Through Time
Bolas's Citadel
Goblin Guide
Scavenging Ooze
Each promo comes with an Arena code for a Japanese Alt-Art Planeswalker sleeve while supplies last.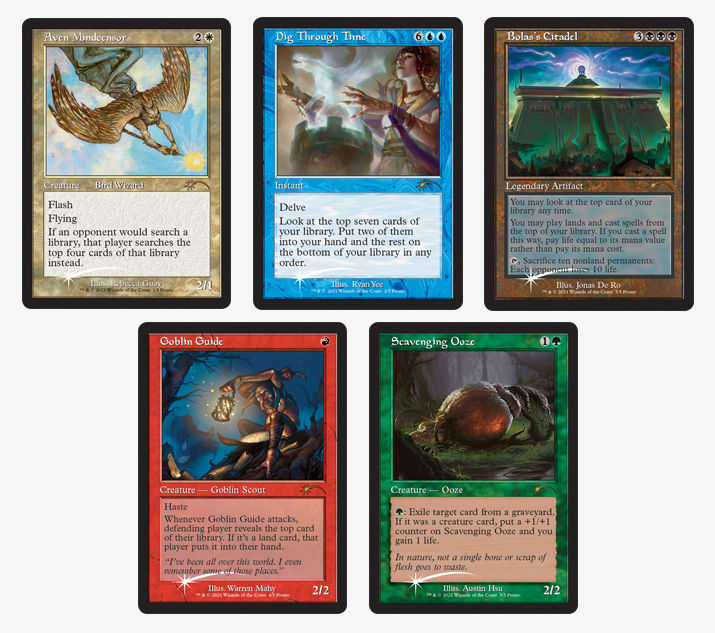 Your quantity of each of these five promos will equal the number of Fabled Passage promos you received. If you're not hosting in-store events yet, hold on to these promos until you are—they're perfect for rebuilding customer hype when you start stacking your event calendar again. Speaking of events, the Mystery Booster Convention Edition Draft is available to schedule now.
Mystery Booster Convention Edition Arrives August 20
What do you get when you mix players who are excited to return to their local game store and the most chaotic Draft experience Wizards has ever concocted? A celebration of Magic your customers won't forget.
The Mystery Booster Convention Edition Draft is available to schedule now in Wizards EventLink.
Stores can start running events as early as August 20. Some regions may receive Mystery Booster Convention Edition after that date and can run events as soon as their product arrives.
Like the rest of the Love Your Local Game Store promotion, the timing of this event is flexible—you don't have to schedule until it's right for you.
Finally, if you reach WPN Premium in the next month, we have one more surprise to keep enticing customers back to your store.
WPN Premium-Exclusive Ampersand Cards Arriving in Early August—Reach Premium by July 22 to Get Them!
Every store that reaches WPN Premium by July 22 will receive two foil copies of every Rare and Mythic Rare in Adventures in the Forgotten Realms with an all-new treatment not found elsewhere in the set: the iconic D&D ampersand in a glossy, transparent overlay on the front of each card.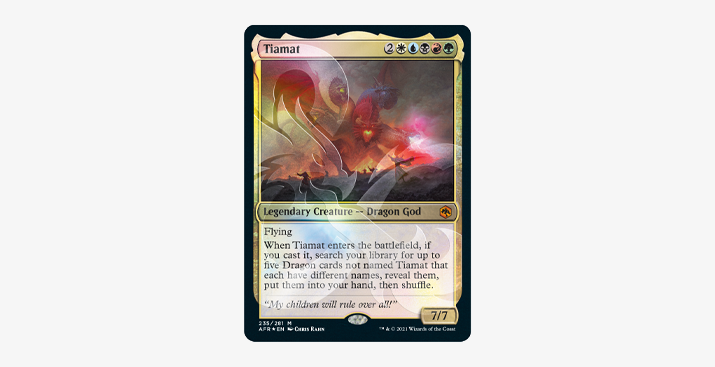 Hand out individual cards from these sets as participation prizes to further drive your in-store play. Or, if you're not running in-store play yet, use them as sales promos to drive your in-store sales.
Be sure to apply for WPN Premium now to get your hands on these unique cards.
We're thrilled to continue celebrating local game stores this summer. Keep an eye out for these promos and get the Mystery Booster Convention Edition Draft on your calendar today.