One wondrous deck, many possibilities; The Deck of Many Things is a well-known magic item among Dungeons & Dragons fans for the unpredictable chaos it sows into any campaign it makes an appearance in. On January 5, your TTRPG community will have a whole new way to experience this item, with the release of The Deck of Many Things.
Share What's Inside the Box
The Deck of Many Things contains The Book of Many Things, a 192-page hardcover tome that covers content thematically tied to the deck, plus a copy of The Deck of Many Things itself. It contains the original 22 cards plus 44 additional cards—all lavishly illustrated—to substitute in for a customized playing experience. Plus, players get a guidebook showcasing each card and a deck box to keep each gorgeous card safe.
Depending on who you're marketing the set to, you may want to highlight different key features from the set to encourage customers to pick up a copy.
For Curious Players
The Book of Many Things contains new character options, magic items, and organizations that players can align themselves with, all themed after The Deck of Many Things. This may be a great opportunity for them to add something new about an existing character they have in their campaign, or a way to create a fun new character for a campaign with friends.
For players who love to dive into the lore, The Book of Many Things discusses the origin of The Deck of Many Things, delving into more detail than ever before.
For Delving Dungeon Masters
Dungeon Masters are often on the hunt for new resources to inspire memorable moments in their campaigns. In The Book of Many Things, DMs will find advice, adventure locations, and new monsters for their players to toy with.
Both players and Dungeon Masters will be endlessly inspired by the discoveries waiting to be found in the 80-page hardcover reference guide for The Deck of Many Things. Using it, they can customize the cards contained within the deck to align with a particular playing experience. The resources within the set will even guide players in how to create new cards for even more chaos.
The cards themselves work to add elements of randomness and unpredictability to aid in changing the fate of the players in a campaign. Many heroes have a story about The Deck of Many Things, and this product will spin even more opportunities for incredible moments at the table.
Showcase Gorgeous Alternate Cover Art
If your players want a gorgeous shelf piece for their collection, encourage them to pick up the alternate-art cover of The Deck of Many Things. This mystical, gilded cover design showcases the beautiful art-nouveau design in luxurious black and gold, bringing a touch of magic to any shelf.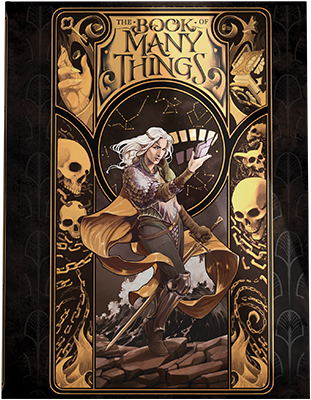 Your hobby gaming store is the first place TTRPG players in your community can find the alternate-art cover of The Deck of Many Things. Use this to your advantage to help secure pre-orders for the TTRPG collectors in your community.
Advertise Using Marketing Materials
As you put together a marketing plan for The Deck of Many Things, be sure to grab any relevant marketing materials from our marketing materials page.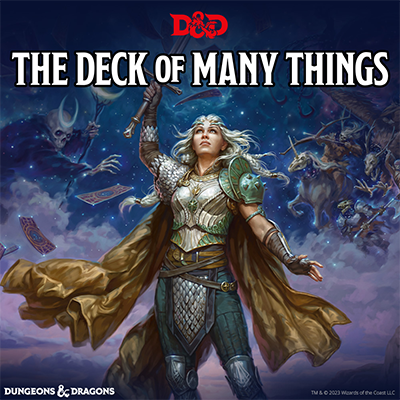 We have pre-sized social media images, as well as a downloadable 24" x 36" poster that you can print and display to catch the attention of your community to start chatter around the release. What's their favorite card? Do they have a fun story involving the deck they'd like to share? Ask questions to get a conversation going and encourage interested players to pick up a copy of the set from your store.
The Deck of Many Things releases on January 5. Gather all the resources at your disposal to build a marketing plan and get players interested in an extra dose of chaos for their campaign.