We're letting the entire WPN in on Magic's best worst-kept secret. Secret Lair celebrates everything your community loves about Magic: The Gathering, and we're providing a Secret Lair product that will be available for purchase exclusively through WPN stores.
Over this past weekend, the full contents were revealed at MagicCon Philadelphia; today, we'll show you all the cards and share the details so you don't miss out on this opportunity.
More Borderless Planeswalkers!
We mentioned previously this all-foil Secret Lair drop had something to do with Phyrexia: All Will Be One. That's because the product contains four Planeswalkers in the Borderless Manga special treatment—plus, these Planeswalkers are only available in this Secret Lair and do not appear in the main set.
The following Planeswalkers will be included in the drop:
Ugin, the Ineffable


Sorin, Imperious Bloodlord


Sarkhan, Dragonsoul


Nicol Bolas, Dragon-God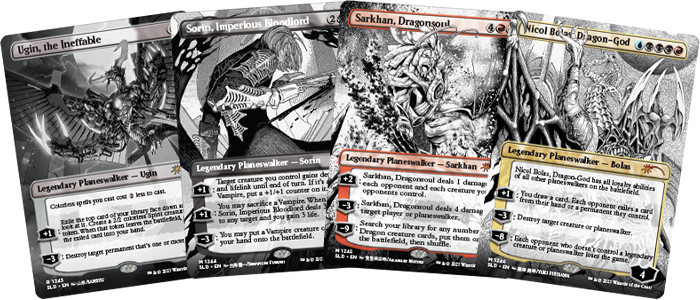 Capitalize on the chatter around these cards and invite players to visit your store to snag the Secret Lair when it arrives to you in March.
Additional Details About the Drop
The Secret Lair drop is available only in English and will have a staggered release depending on your region. The release dates for each region are as follows:
U.S. and Canada: March 17


EMEA: March 31


Japan: TBD


WPN stores in most regions will have an allocation of this all-foil Secret Lair drop available to purchase from your distributor. Due to logistical constraints , stores in Latin America and Asia-Pacific (excluding Japan) will be unable to purchase this product from their distributors. If your store is in one of these regions, you will be sent one unit at no cost to you.
WPN Premium stores in Latin America and Asia-Pacific (excluding Japan) will receive five units at no cost; WPN Premium stores outside of those regions will have a higher allocation to order from your preferred distributors.
Post-launch, we'll be sending out a sales survey to get your feedback on how this product release went for your store, so be sure to keep an eye on your inbox in March.
Be sure to get your orders in for your WPN-exclusive Secret Lair product as soon as possible—all you need to do is reach out to your preferred distributor to get the ball rolling!