It's that time again! Your Ravnica Allegiance promos are en route now, and they'll arrive in waves like previous sets.
Here's a look at what's on the way:
Arriving in stores December 17–21, 2018*
Magic Buy-a-Box
Available: January 19
The Prerelease Early Sale Promotion is back yet again—meaning you can sell advance booster boxes at Prerelease, in quantities equal to the number of Buy-a-Box promos you receive (20/40/60 for Core, Advanced, Advanced Plus respectively.) Call your distributor for your full allocation right away.
And for Ravnica Allegiance you'll receive a nightmare of a creature that can't be found in Ravnica Allegiance packs.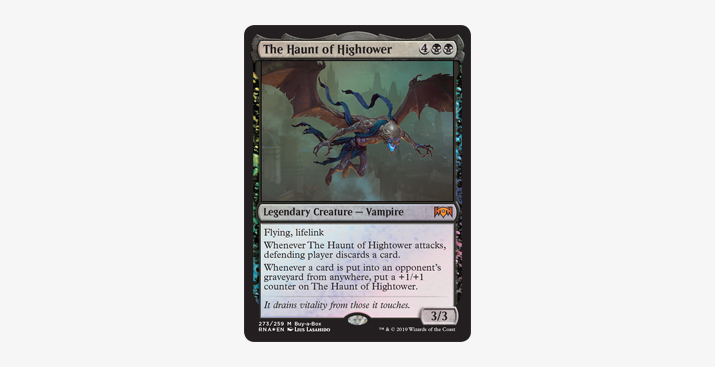 Quantities—Core: 20/Advanced: 40/Advanced Plus: 60
Magic Open House
Event dates: January 12 and 13, 2019
New players come first at Open House. Invite new players to join your community with a Welcome Deck tutorial and a showcase both the game and its social elements.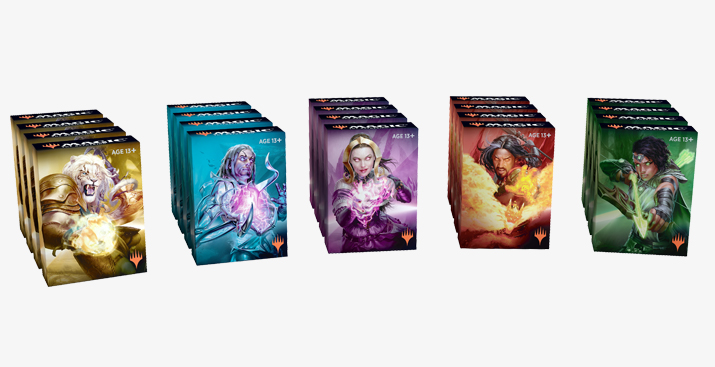 Quantities—20 (only if you opted in)
Please note: You would have opted in or out of receiving Welcome Decks when you scheduled Open House in the WER.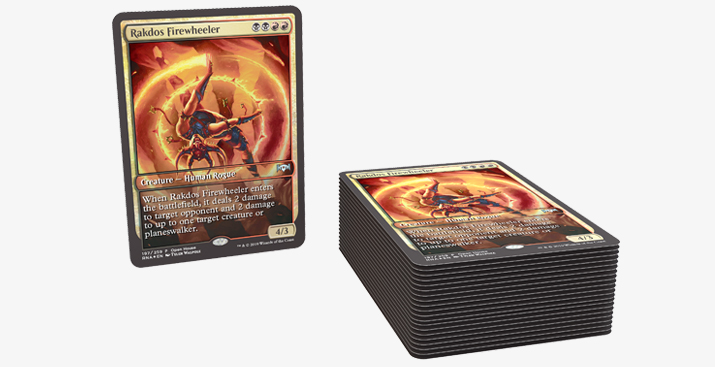 Quantities—30
Pass out this foil Rakdos Firewheeler to new players who demoed the game. You can also thank veteran players who helped teach or brought a friend by giving them one, too.
Magic Prerelease
Event dates: January 19 and 20, 2019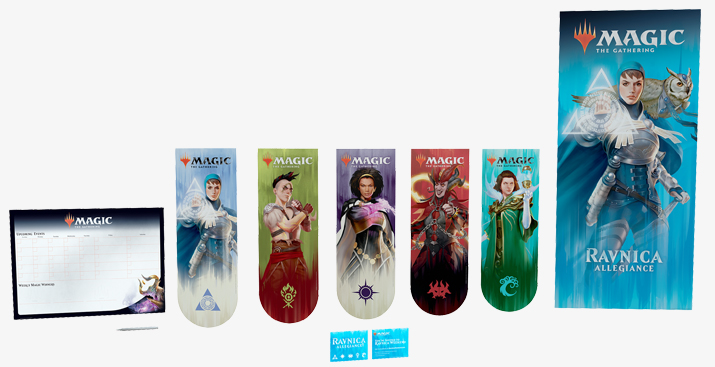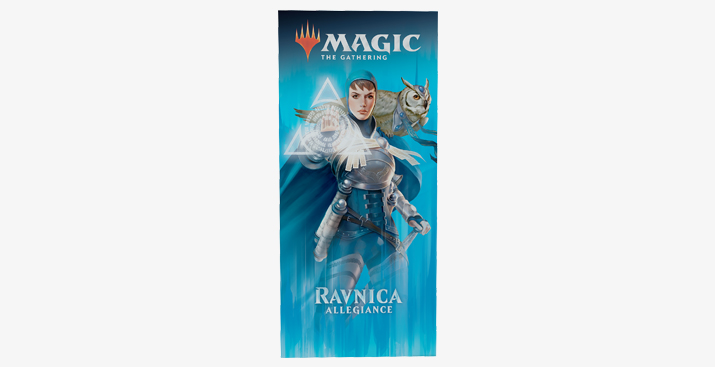 Quantity—1
Use these to help players easily identify the latest set. Hang them in a highly visible part of your store.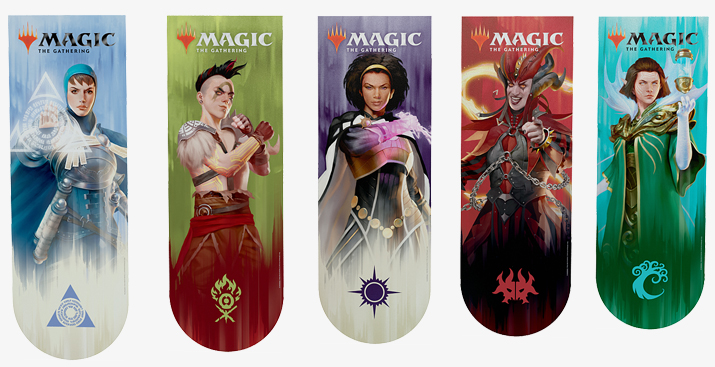 Quantity—5
Hang these banners around your store to represent each of the guilds in Ravnica Allegiance—Azorius, Orzhov, Gruul, Rakdos, and Simic.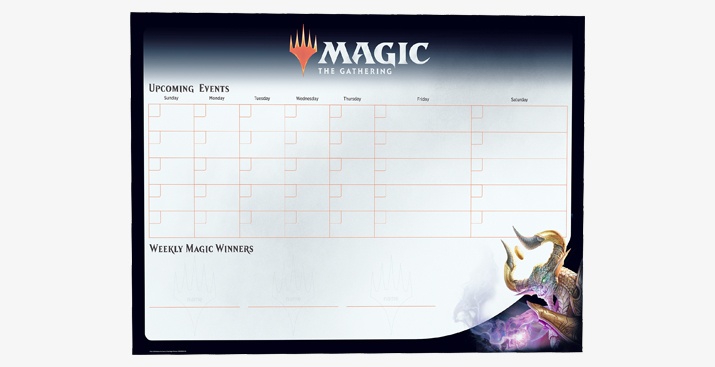 Quantity—1
Use this editable event calendar and marker to boost the signal of your events. You can easily update it each month with your Magic and D&D events.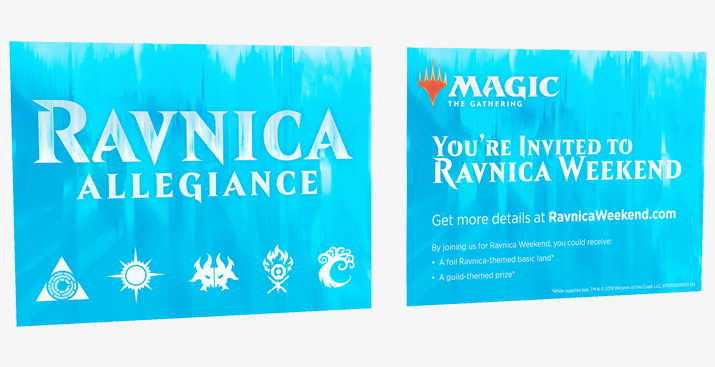 Quantity—15
Invite players back to your store to rep their guild at Ravnica Weekend with these Guild Invitations.
Friday Night Magic
Event dates: January 25–April 26, 2019
The flagship program of the WPN. You'll receive all your FNM promos for the Ravnica Allegiance season at once. Distribute them at FNM as you see fit—just make sure your supply will last the entire season.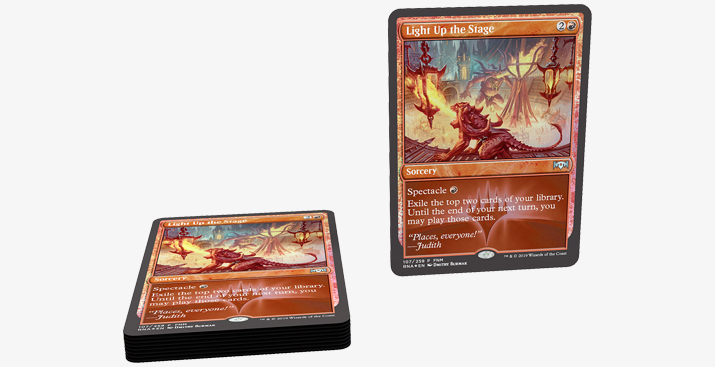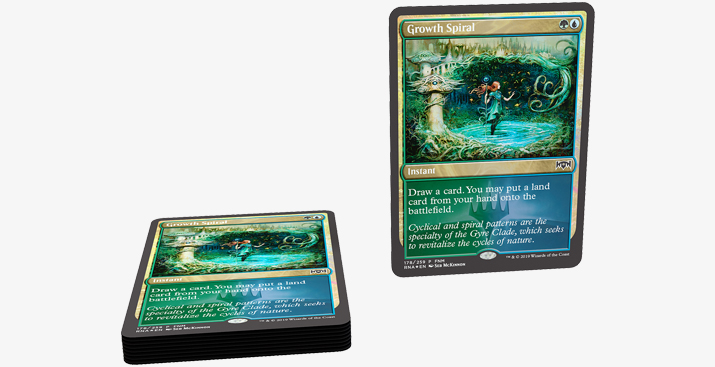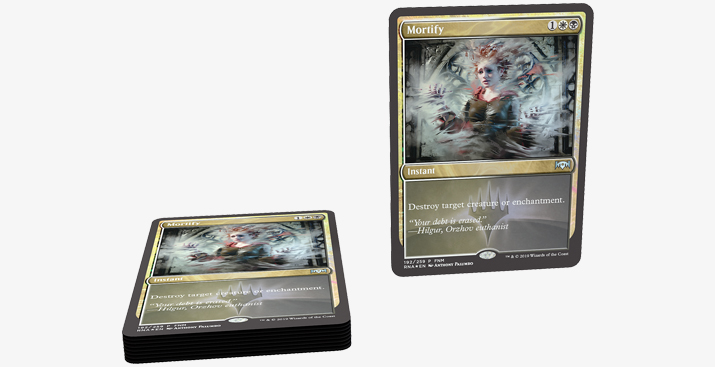 Quantities—Core: 4 per week/Advanced: 8 per week/Advanced Plus: 16 per week
Magic Draft Weekend
Event dates: January 26 and 27, 2019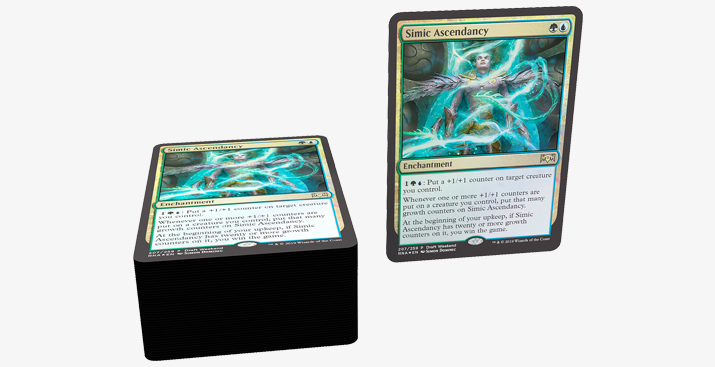 Quantities—Core: 16/Advanced: 32/Advanced Plus: 48*
A weekend of drafting the newest set. Pass out Draft Weekend promos to anyone who drafts on Saturday or Sunday, and give them a promo for each time they draft (while supplies last).
Magic League
Event dates: January 28–February 24, 2019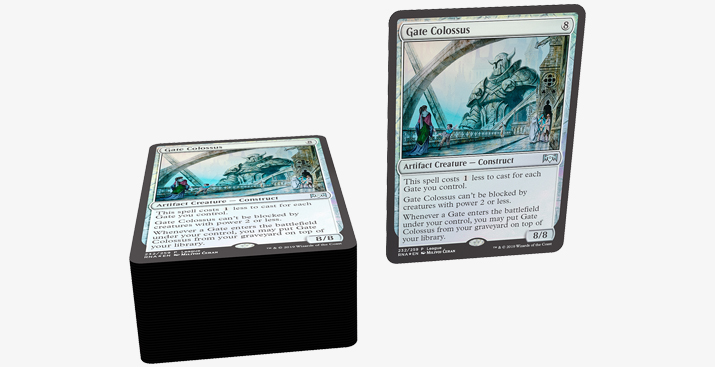 Quantities—30
Magic League helps new players build their collections and ease them into the habit of playing in your store. Hand a participation promo to players who've completed at least 10 matches.
Arriving in stores January 14–18, 2019*
Magic Standard Showdown
Event dates: February 3–April 6, 2019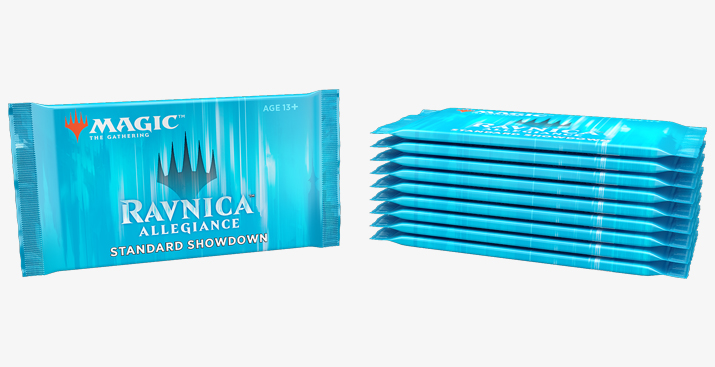 Quantities—Core: 3 per week/Advanced: 6 per week/Advanced Plus: 9 per week
An event for more competitive players to hone their Standard decks. Handout Standard Showdown prize boosters to your top competitors at the end of each event.
Ravnica Weekend
Event dates: February 16 and 17, 2019
Ravnica Weekend for RNA brings a competitive tournament, Guild Kit Battles, and roleplaying with a stand-alone D&D adventure set on Ravnica.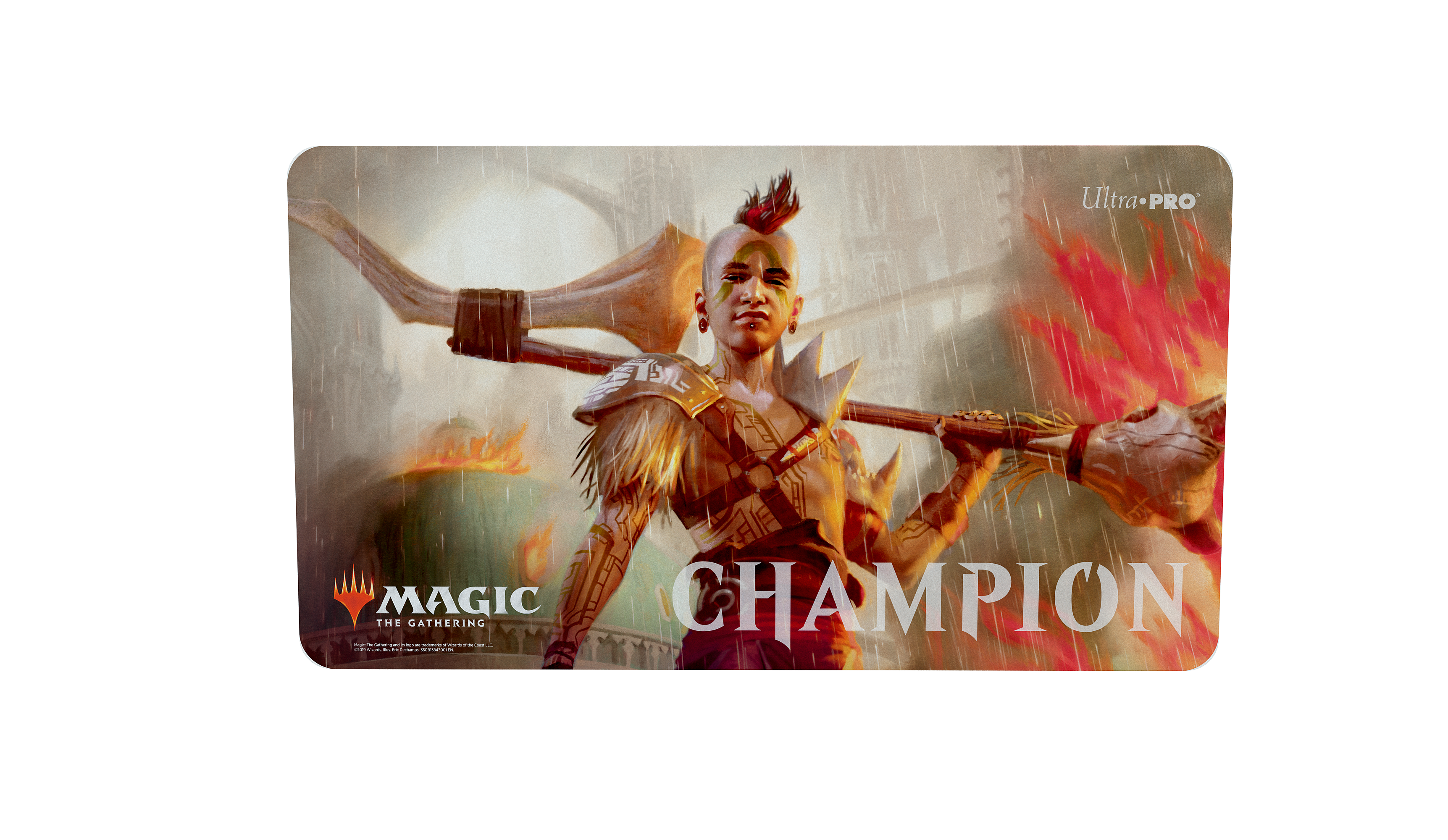 Quantity—1
Award this playmat to the winner of the Magic tournament.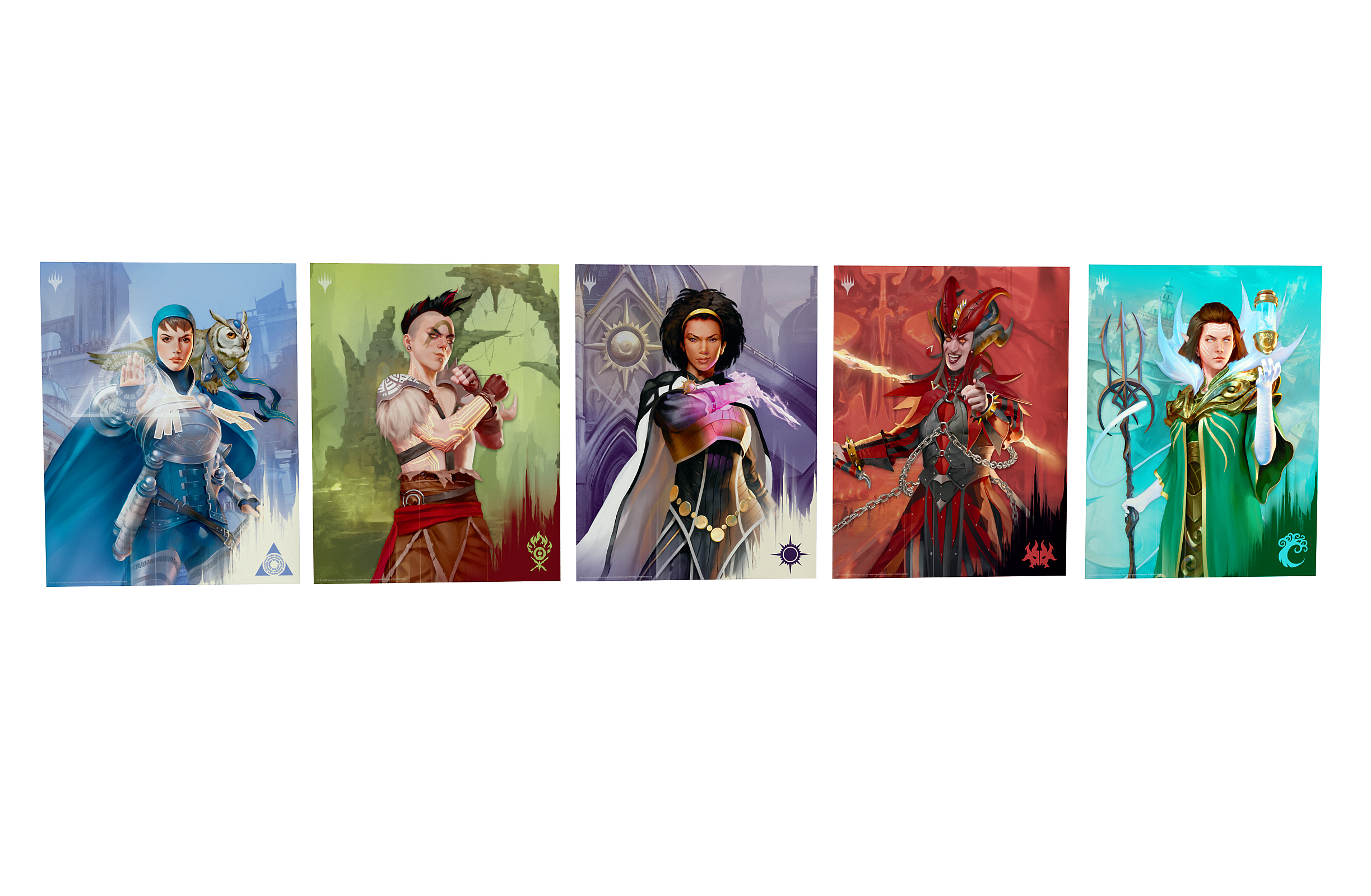 Quantity—10 (2 of each guild)
Use the guild prints as prizes, however you see fit.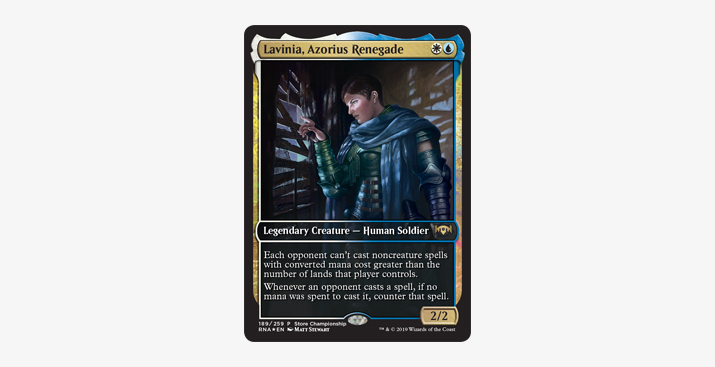 Quantity—30
Issue a Lavinia, Azoroius Renegade promo card to participants in any of your Ravnica Weekend celebrations.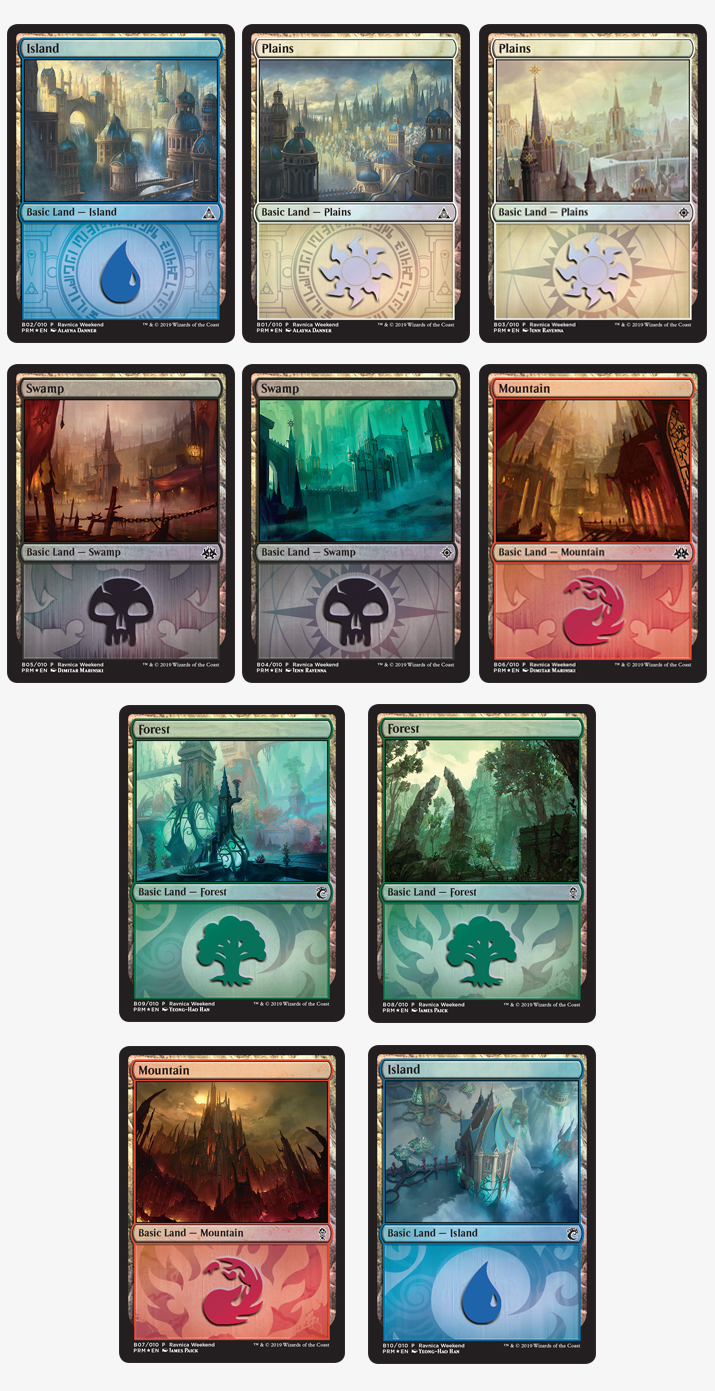 Quantity—20
You'll get twenty of these exclusive basic lands—ten lands, two copies each. Use them to reward players at your discretion.
End of Store Championship
Store Championship has concluded. In its place, we've launched a new rotating, quarterly, mid-season event: Magic Weekend. Details like format, kit contents, and so on, will be different each time (Ravnica Weekend for Guilds of Ravnica was the first of these; the one for Ravnica Allegiance will be the second. Read more here.)
If your kits have any damaged materials or you would like more tips on best practices for using these materials at your store, please contact Retail Support or your Regional Representative.
*Date of kit arrival may vary by region.