Note: Retail Improvement Grants are currently available in the United States and Canada only.
We're willing to bet that you have at least one store project that you'd love to knock out this year—maybe you could use some branded section signage throughout your store. Maybe it's time to update your online storefront. Or maybe you really want to rip out your entire floor and install a new one.
Whatever the scale of your project, you don't have to dive in alone—Retail Improvement Grants are here to help.
Should I Apply for a Retail Improvement Grant? Yes!
If you're eager to make impactful changes to improve your space, Retail Improvement Grants are perfect for your store. And if you're pursuing WPN Premium, applying for a Retail Improvement Grant should be at the top of your to-do list.
We prioritize working with stores that are excited to do the work on improving their space. As we review applications, the question on our minds is this: will the project contribute to a world-class retail experience?
If you're not sure, checking out the WPN Premium Quality Checklist is a great place to start. Each box on the Premium Quality Checklist was chosen because it directly affects customer experience. Each item is the result of careful study—identifying commonalities between the WPN's top performers, workshopping with WPN members and our Retail Advisory Panel, and so on.
Proposals that will help check off boxes on the WPN Premium Quality Checklist are likely to contribute to that world-class retail experience.
Some stores have even reached WPN Premium with the help of Retail Improvement Grants!
Cool Stuff Games—Jacksonville used their grant to check several boxes on the WPN Premium Quality Checklist, including creating a clean, clutter-free, organized environment with new counters to keep overstock and supplies out of view.
Before
After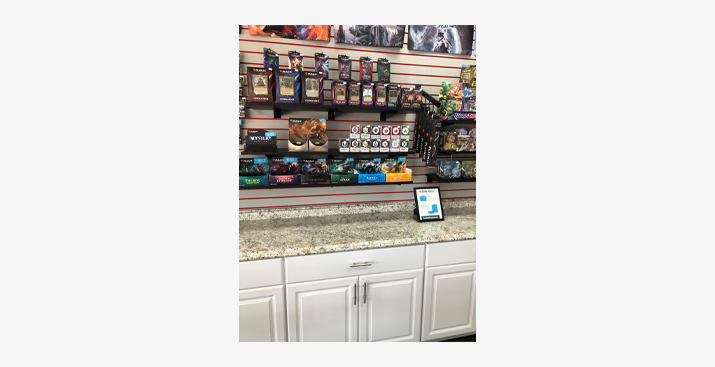 Now, customer focus stays on all the products available instead of any clutter.
Applying for a Retail Improvement Grant—Step 1: Pick Your Improvement and Download the Questionnaire
To streamline the application process, we've broken the types of work the grants can cover into four different categories: Furniture, Design, Operational, and Construction.
You'll need to download and fill out a short, improvement-specific questionnaire to attach to your application—links to download these questionnaires are included under each type.
Furniture Improvements
No project is too small! Do you need new tables or chairs (one of the most common unchecked items for stores working towards Premium)? Are you looking for shelving that better fits your inventory? This is for you.
Download the furniture questionnaire.
Design Improvements
The design category is perfect for making your store stand out. Fresh branding, custom-made fixtures, and amazing décor like a full-wall mural all fall under this project type.
Download the design questionnaire.
Operational Improvements
If you want to expand the reach of your business and better connect with your customers, start here! This category covers a wide range of digital storefront, website, and ecommerce solutions, like tools for managing inventory, contacting customers, running promotions, processing and shipping, and more.
Download the operational questionnaire.
Construction Improvements
This project type is the most extensive—it covers a wide range of structural improvements like electrical work, plumbing, new flooring, a new roof, and more. These projects can be especially hard to manage alone, so they're a great candidate for a grant.
Download the construction questionnaire.
Applying for a Retail Improvement Grant—Step 2: Submitting Your Application
Once you've selected your project and filled out your questionnaire, you'll need to send it to us!
First, go to our Retail Improvement Grant form.
In the subject line, write [[Store Name]]—Retail Improvement Grant Application.
In the description box, let us know how much you expect the project to cost. It's okay if the final cost ends up being different—we just need somewhere to start. (If you're planning to use the grant to update your website, add your website's URL to the description box, too.)
If you're already Premium or have applied, click the checkbox.
Read the short Terms & Conditions, click the checkbox, then pick your country from the dropdown. Retail Improvement Grants are currently available in the United States and Canada only.
Finally, you'll find an area for attachments—attach your filled-out questionnaire from the section above, a walkthrough video of your store, and high-quality photos with no people and good lighting that showcase the area you're planning to improve. (If you're submitting an operational grant, the walkthrough video and photos are not required.)
That's it! Time to hit submit.
We'll review your complete application package and forward it to Sitelines, the design agency managing the renovation projects and distributing grants. They can also help you set up professional photography for your before and after photos.
If your project is selected, you'll work with a project manager at Sitelines to make the proposed changes to your store!
Are you ready to make the changes that'll bring your store to world-class level? Log in to apply for a 2021 Retail Improvement Grant today!